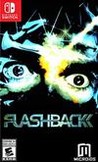 Summary:

THE ACTION-ADVENTURE CLASSIC IS BACK TO CELEBRATE ITS 25TH ANNIVERSARY!

2142. After fleeing from a space ship but stripped of all memory, the eminent scientist Conrad B. Hart awakens on Titan, a colonised moon of the planet Saturn. His enemies and kidnappers are snapping at his heels. HeTHE ACTION-ADVENTURE CLASSIC IS BACK TO CELEBRATE ITS 25TH ANNIVERSARY!

2142. After fleeing from a space ship but stripped of all memory, the eminent scientist Conrad B. Hart awakens on Titan, a colonised moon of the planet Saturn. His enemies and kidnappers are snapping at his heels. He must find a way back to Earth, defending himself against the dangers he encounters and unravelling an insidious extra-terrestrial plot that threatens the planet

On its 25th anniversary, rediscover this classic, consistently ranked among the best 100 games of all time! It was one of the first games to use motion capture technology for more realistic animations, with backgrounds that were entirely hand-drawn and a gripping science-fiction storyline.

In addition to the original 1993 game, this version includes a Modern mode, with:

* Post-FX graphic filters,
* Completely remastered sound and music,
* A brand new "Rewind" function, variable according to the level of difficulty
* Tutorials for those who need a boost!

See if you're up to the challenge with all the demanding gameplay of the period!

…

Expand
Developer:

Paul Cuisset

Genre(s):

Action

,

Platformer

,

2D

# of players:

No Online Multiplayer

Cheats:

On GameFAQs

Rating:

E10+
Flashback on Switch is the definitive edition of a truly special science fiction platform/puzzle solving/shooting video game that already more than proved itself to be a 16-bit classic. If you were too young to play this the first time, this package will give you the best possible way to experience it with current hardware. For veteran gamers, Flashback has lost nothing of what made it special all those years ago. Pass the holocube, please.

Flashback: Remastered Edition remains a stone-cold classic, and old players will love how so little has been done to it, helping to preserve what caught people's attention in the first place as opposed to covering it all up with a more modern sheen. Newer players who aren't accustomed to the classic single-screen style of gameplay might find the control scheme and lack of real help frustrating at first. Stick with it and you'll discover why Flashback was more than just a display of pretty graphics. Overall, this title is a worthy addition to the Switch library.

Flashback was a 90's classic and still is a great experience in the best and most complete version of Paul Cuisset's game.

Flashback is a great game that somehow manages to stand the test of time twenty five years later. The option to adjust the difficulty with the new Modern Mode should allow newcomers to ease into the admittedly brutal gameplay.

25 years after its original release we still love this cyberpunk adventure. The new filters and rewind options don´t add much to the original, but Flashback didn´t need those kinds of improvements. Physical edition is also great.

Flashback 25th Anniversary brings us the nostalgia of playing a game which was a hit some time before. We will play like we did then, with the same graphics and soundtrack, but on our portable console this time. Playing this game again is nothing but worth it.

Flashback brings back one of the 1990s 16-bit classics in a perfect nostalgia exercise that also includes some interesting new elements. Its gameplay remains as demanding as it was, which will delight Flashback's fans and possibly frustrate more recent players who are not used to this kind of old school difficulty.
Good nostalgia game, i realy love it. Its short game for a few hour's on one or two day to compleate game

Albeit minor technical issues, great package overall and pretty nice port of the game. Recommended to all fans (I'm a long time fan myself,

Albeit minor technical issues, great package overall and pretty nice port of the game. Recommended to all fans (I'm a long time fan myself, and have beaten the game 10+ times on various platforms during past 20 years). Pretty good selection of image filters, nice rewind feature. New soundtrack is average, better off with original.

…

Expand

Flashback un juego de 1992 que no conocía para nada y la magia de las "ofertas" de nintendo switch hizo que lo comprase, viendo apenas unas

Flashback un juego de 1992 que no conocía para nada y la magia de las "ofertas" de nintendo switch hizo que lo comprase, viendo apenas unas capturas y un trailer muy retro con toques de Bladerunner y ya estaba dentrísimo, juego de plataformas y toques de aventura gráfica, lo mezcla con unas cinemáticas primitivas pero que tienen su encanto, la banda sonora pega de maravilla en cada situación, la historia te intriga pero no es su punto fuerte, cosas malas tiene como todo quizá el movimiento tosco del personaje sea lo más destacable pero teniendo en cuenta que estamos hablando de un juego de hace casi 30 años pues... Quizás se deje pasar por alto, lo recomiendo si tienes intriga de cómo eran esos juegos de antes o te gusta mucho lo retro, ojalá algún día Conrad vuelva

…

Expand

I played this game back in the 90s on my SNES and I loved it. I really hoped they would port it quite well and hey, they did! It is nice to

I played this game back in the 90s on my SNES and I loved it. I really hoped they would port it quite well and hey, they did! It is nice to replay and relife my childhood memories. Thanks for that!

…

Expand

I remember seeing this in Nintendo Power way back, but never played it. It is a cool game and I probably would have loved it as a kid, but

I remember seeing this in Nintendo Power way back, but never played it. It is a cool game and I probably would have loved it as a kid, but the out dated controls make it rough when the difficulty spikes. I can see how it was a major technical accomplishment for the time though. Still, it's pretty fun and worth checking out.

…

Expand

A great cyberpunk atmosphere with beautiful rotoscoped animations. The archaic controls require some time to adjust to and retain a clunkiness

A great cyberpunk atmosphere with beautiful rotoscoped animations. The archaic controls require some time to adjust to and retain a clunkiness throughout. The addition of a rewind mode makes the experience easier to digest. It's an interesting piece of gaming history, but it certainly won't appeal to a wide audience.

…

Expand

Hmm, with hidden items essential to the plot, awkward controls that make even jumping and shooting look difficult, vague direction for the

Hmm, with hidden items essential to the plot, awkward controls that make even jumping and shooting look difficult, vague direction for the plot or the next course of action, and the need of precise placement and action of your character, otherwise you may think you're stuck or not doing the right thing. This game might have been good back then, but it does not hold up to today's standards.

…

Expand