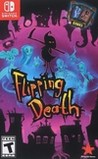 Summary:

Welcome to Flatwood Peaks, a small whimsical town with a problem -- Death is on vacation. Play as Penny and help trapped ghosts with your trusted scythe. Flip the entire world around to solve puzzles on both the living and the dead side and slowly uncover the mystery surrounding your own demise.
Developer:

Zoink!

Genre(s):

Action

,

Action Adventure

,

General

# of players:

No Online Multiplayer

Cheats:

On GameFAQs

Rating:

T
Please enter your birth date to watch this video:
You are not allowed to view this material at this time.
Flipping Death - Nintendo Switch Trailer
Everything about the game is a bright shining star. The story and character design, the voice talent, music and art design. If I was going to compare it to something, which I'm going to, I'd say it's on par with that of a Tim Schaffer game. This is only a good thing. Flipping Death is a fun tale with a mostly laid-back gameplay style, possibly just a tiny bit too short. Another chapter or two certainly wouldn't be a hindrance, but still, the replayability is there with the challenges in each.

The humor is top notch like usual, but the game is such a refined product. The puzzles are clean and easy to grasp, there is some solid replay value, and every character you possess does something unique. The only disappointing thing is that it feels cheap to rely on the game's helpful tools. Personally I felt that I lost a little something in the process by doing so. In the end though, it all depends on the experience players find most desirable. All what matters is this though: Flipping Death is an adventure game everyone can enjoy.

Flipping Death is a truly unique experience. Boasting beautiful art design, stellar voice work and gameplay like no other, it's a game that will have you in fits of laughter. If only it lasted just a bit longer.

Zoink Games still has the touch, and Flipping Death is the living proof of it. An original game with plenty of platforming/puzzles that may entertain you while it lasts, even with its minor problems.

The characters are mesmerizing.

Flipping Death is a solid and deep puzzle game, topped off with platform mechanics and exceptional humor.

Despite my complaints with the game, it's still a hugely enjoyable time.
I really enjoyed this game. The puzzles were fun and understandable. I've played through twice and I believe I will play through again.

The game is clever and has potential but the controls are so sloppy that they render it almost unplayable.

The design is sloppy and hard to discern, sections of the level have no actual purpose. The jokes are stale. The economy of collectibles

The design is sloppy and hard to discern, sections of the level have no actual purpose. The jokes are stale. The economy of collectibles doesn't make sense. And there's not enough information to help you solve problems without just follow the instructions provided by the hints. There is barely any story to make you invest. I've given this game a chance multiple times, and it does not pay off.

…

Expand

The controls are rather horrendous just in general gameplay, but if you manage to slog through long enough to meet a certain projectile I'm

The controls are rather horrendous just in general gameplay, but if you manage to slog through long enough to meet a certain projectile I'm sure you'd discover they're even worse. (Sorry, don't want to include spoilers so I need to be vague.)

Worse, though, is that the checklist for the collectables appears randomly, there's no way to turn off hints for the main mission and there is no warning before you're booted to the next Chapter.

If you want to go back and get missed items you'll be rewarded with list progress.

…

Expand