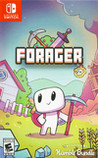 Summary:

Forager is a 2D open world game inspired by exploration, farming and crafting games such as Stardew Valley, Terraria & Zelda. Start small and improve your base, skills, equipment, network of friends (and enemies!) and build your future as you see fit! You can play Forager in a very varied

Forager is a 2D open world game inspired by exploration, farming and crafting games such as Stardew Valley, Terraria & Zelda. Start small and improve your base, skills, equipment, network of friends (and enemies!) and build your future as you see fit! You can play Forager in a very varied array of playstyles.

…

Expand
Developer:

HopFrog

Genre(s):

Action Adventure

,

General

# of players:

No Online Multiplayer

Cheats:

On GameFAQs

Rating:

E10+
Please enter your birth date to watch this video:
You are not allowed to view this material at this time.
Nintendo Switch Indie Highlights - January 2019
Reviewing this game was a ton of fun. I enjoyed every minute I have put into it. With so much more to be discovered, I can't wait until the next time I have a chance to play it again. Forager is easily one of my favorite games. Players who enjoy crafting, farming, and exploration should definitely check this game out.

Every now and then, a game comes along that captures our hearts and reminds us why we love the medium in the first place. Forager is the latest in a line of stellar independent games to grace the Switch, featuring wonderfully designed crafting mechanics, addictive progression systems and more charm than you can possibly handle. It has very minor drawbacks, and its longevity will ultimately depend on how comprehensive its upcoming DLC will prove to be. Nonetheless, there's enough good stuff present here for us to confidently declare that Forager is a game all Switch owners should look into adding to their collection.

I am addicted, my sons are addicted and we have to share a Switch. Frankly, its hell. Once Forager gets its long claws into you, you're in trouble. Its so moreish, its a lot of fun and there is always something to be doing, some new items to find or build. Just go and buy this game now its great fun. Its definitely one of my favorite games of the year so far.

Despite some unevenness, Forager is absolutely worth a look. If anyone ever asks me for a relaxing game that they can throw themselves into and become obsessed with for a week, this is my pick.

I had a ton of fun with Forager for the first 10 hours or so but once I got to the point when the pacing becomes tedious, that fun quickly came to a halt. Nevertheless, I would still recommend Forager to fans of similar games.

Forager brings forth a good open-world simulation game that successfully transmits to the player a rewarding feeling of growth and involvement, along with simple and fun mechanics. Watching the growth from a simple plot of land to a large empire is very satisfactory, even if the game's performance seems to deteriorate as the player's fiefdom expands.

Ultimately, Forager has potential, but a little more scavenging is needed to take it from an appetizer to a main course.
Great game, perfect on Switch. Don't understand low ratings also. For me it's 10.

Why does this have so many low reviews? I am giving it a 10 to raise the rating more.

Awesome setting, extremely addictive and nice gameplay. The game is nice to play in handheld mode. It is a mix between stardew and don't

Awesome setting, extremely addictive and nice gameplay. The game is nice to play in handheld mode. It is a mix between stardew and don't starve. The developer has created a roadmap with future updates!

…

Expand

its okay i guess. Performance dwindles after some progress has been made though.

Прошёл ее на все экстра и игра неоднозначна. Геймплей не очень, сюжета нет, саундтрек приятный, управление нормальное, сложность низкая.

Прошёл ее на все экстра и игра неоднозначна. Геймплей не очень, сюжета нет, саундтрек приятный, управление нормальное, сложность низкая. Длительность зависит от вашего процента прохождения - от 2-5 часов ради "просто побегать" и +50 при попытке пройти полностью. Русификация в игре ужасна - некоторые слова неправильно переведены и написаны, а с середины игры вместо текста одни символы. Основного сюжета нет, ведь передать сюжет отдельными комиксами - хуже внутриигровых записок. Даже на сложном режиме и с одним ХП игра очень легкая. Игра вначале очень затягивает интересным гриндом и явным прогрессом, но чем дальше и больше игрок играет - тем меньше виден прогресс и тем больше становится гринд и игра становиться просто скучной. Пройти игру на 100% просто невозможно для нормального игрока из-за просто ужасных достижений, которые никто в здравом уме не будет выполнять из-за ужасной длительности в их выполнении и гринда ради них. Хоть я и знаю, что игру создал всего один человек, но если игру просто уменьшить в несколько раз или уменьшить количество гринда - игра станет намного лучше. Если поиграть в нее 5 часов, то этого вполне хватит, чтобы получить все удовольствие, а чем больше вы будете играть - тем сильнее будете видеть ее минусы. Надеюсь в следующем проекте этого автора будет намного меньше гринда и сама игра будет поинтересней

…

Expand

iIt's alot of fun, but i just can't recommend it. As explained in the other review by Geta-Ve this version of the game is getting completely

iIt's alot of fun, but i just can't recommend it. As explained in the other review by Geta-Ve this version of the game is getting completely ignored. Compared to the 'normal' version on pc, there's just not a lot of content. Do not buy it

…

Expand

As of April 18 2020 the switch version has received none of the promised updates and dev responses have been abysmal. They've said the port

As of April 18 2020 the switch version has received none of the promised updates and dev responses have been abysmal. They've said the port has changed hands 3 or 4 times now and there's been ZERO progress. What's included in the switch version is FINE, but compared to the PC release it's night and day. They are basically two different games.

…

Expand