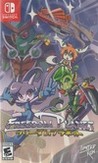 Summary:

Freedom Planet is a combat-based platform adventure that pits a spunky dragon girl and her friends against an alien attack force. Theres trouble around every turn, from insects to giant robots to sheer explosive destruction, but youll have a variety of special fighting abilities to blast

Freedom Planet is a combat-based platform adventure that pits a spunky dragon girl and her friends against an alien attack force. Theres trouble around every turn, from insects to giant robots to sheer explosive destruction, but youll have a variety of special fighting abilities to blast your way through each stage.

- As Lilac, you can use Dragon powers to whip enemies with your hair, spin like a cyclone, or fly through the air at high speed like a comet.

- As Carol, you can bust through foes with a flurry of punches and kicks or summon motorcycles that let you ride up walls and ceilings.

…

Expand
Developer:

GalaxyTrail

Genre(s):

Action

,

Platformer

,

2D

# of players:

No Online Multiplayer

Cheats:

On GameFAQs

Rating:

E10+
Please enter your birth date to watch this video:
You are not allowed to view this material at this time.
Freedom Planet Nintendo Switch Announcement Trailer | E3 2018
Freedom Planet is a wonderful Sonic the Hedgehog-esque game that mixes nostalgia with something new. The quirky characters, fantastic levels, and interesting story will make you not want to put the game down. Each character has their own advantages and disadvantages, encouraging you to test them all out. In the end, it's the whole package, and it's worth picking up.

A great innovation on a classic formula. Any fan of platforming will be more than satisfied with the joy of speeding around the long levels and the derivative gameplay of the different characters.

The Switch port is pretty barebones with no touchscreen functionality or good use of HD Rumble. In terms of visuals and performance, it is excellent but no additions in any form are disappointing. I'm glad all three of the games I was recommended are now playable on the Switch and XSEED and Marvelous Europe have done a lovely job bringing an indie that is perfect for Switch to the platform. I hope it does well enough to get a physical release in the future. This is on the same level as Sonic Mania Plus for me so if you enjoyed that, get on this as soon as you can.

While Freedom Planet doesn't hit the same dizzying heights as Sonic Mania, it is still an incredibly enjoyable platformer that just about manages to carve out its own identity. The great visual style really helps to build the world it is set in and the three playable characters help to give some replay value as you explore their abilities. By the end of the game Freedom Planet establishes its own way of doing things that puts it apart from its inspirations, it's just a shame that it doesn't do more to differentiate itself straight away.

Four years after its initial Steam release, Freedom Planet still stands as a good modern interpretation of the classic platforming formula. The multiple characters play differently enough that it's worthwhile to replay the game to see the different pathways and use different strategies to beat bosses. The two main modes do a good job of pleasing players who value narrative and those who prefer action, and the nice presentation solidifies Freedom Planet as a good choice for platforming fans.

What little flaws there are, are down to the inexperience and budget of the team, something that makes the upcoming sequel very exciting. Imagine what can be offered now. This new release on Switch gives another platform of players the opportunity to see what it has to offer and reminds those who experienced it the first time why Freedom Planet 2 should be on their radar.

Freedom Planet isn't shy about its influences, but what new spins it does add to the tried-and-tested formula is enough to keep it interesting - providing you haven't already played it.
Este juego Indie nació como un sucesor espiritual de sonic y a logrado superarlo en muchos aspectos. Tiene un muy buen control de los

Este juego Indie nació como un sucesor espiritual de sonic y a logrado superarlo en muchos aspectos. Tiene un muy buen control de los personajes y un diseño de niveles muy bien logrado en los cuales tendremos que explorar muy bien para sacarle el maximo partido, estos tiene una duración bastante mas larga que otros de su mismo genero. Los jefes finales es otro punto a tener en cuento, estos son únicos y variados.

…

Expand

Fantastic love letter to the original sonic games, but with its own thing going on. Music is great and the story is fun, and can actually be

Fantastic love letter to the original sonic games, but with its own thing going on. Music is great and the story is fun, and can actually be skipped if its not your thing. I bought this on a whim without any knowledge of the game as the physical is a limited run game, but I'm glad I did as its a hidden gem.

…

Expand

Freedom Planet is a 2D platformer with 16-bit style of graphics, similar to Sonic. If you go into this game expecting Sonic, you might as well

Freedom Planet is a 2D platformer with 16-bit style of graphics, similar to Sonic. If you go into this game expecting Sonic, you might as well play a Sonic game as the controls have similar features, but have different mechanics. Right from the start, you know this game was made with love and adoration by it's team. There's three playable characters, each with their own attributes and levels. The story is a very important part of the game and it's very well written. The voice acting is surprisingly very well done with odes to different characters in pop culture but with its own originality. The music fits the game very well, but wasn't as memorable as other parts of the game. There is an achievement based system, collectibles that earn you rewards (such as music tracks, concept sketches, etc), as well as a time trial mode. The game has a ton of replayability. If you're looking for an old school 2D platformer to play, this one does not disappoint.

…

Expand

Nice platformer, a mix between Sonic, Sparkster and other 16 bit references. My review here concerns only the Lilac character, whose

Nice platformer, a mix between Sonic, Sparkster and other 16 bit references. My review here concerns only the Lilac character, whose imprecision is compensated by her range of movement, we cannot say the same about the two others unfortunately. Nevertheless, the Lilac part is good, 16-bit like graphics are colorful, musics are well worked. Know the game is rather difficult but still feasible with learning mechanics and balanced checkpoints (for the Lilac part once again).

…

Expand

I won't lie and say I'm not very far into this game, only on the 8th level of one campaign, but I don't have the force to continue, as I don't

I won't lie and say I'm not very far into this game, only on the 8th level of one campaign, but I don't have the force to continue, as I don't think this game is not very good. It's not bad by any mean, it's just that I don't see what everyone else saw in it. Maybe I'll update this review once I finished the game, who knows.

…

Expand

This game is deceptively bad. I keep going back wanting to like it, but the thing that it does differently from Sonic are partially what ruins

This game is deceptively bad. I keep going back wanting to like it, but the thing that it does differently from Sonic are partially what ruins it. Not being able to just jump on enemies but instead having to attack them with a move is anti-speed, whilst the stage design is built around going fast. The level design overall is not that good either. Nor does the game keep adding fun mechanics to the stages like Sonic. The cutscenes just drag on forever and can't keep my attention. Just stick with Sonic Mania, skip this.

…

Expand