Publisher:

Gun Media

Release Date:

Aug 13, 2019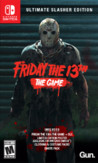 Summary:

Play as Jason Voorhees. For the first time on Switch, you will have the opportunity to play as Jason Voorhees, the most famous killer in horror. Stalk your prey, ambush them whenever you see fit and strike fear in the hearts of so many hapless victims as you become the legend himself! Friday

Play as Jason Voorhees. For the first time on Switch, you will have the opportunity to play as Jason Voorhees, the most famous killer in horror. Stalk your prey, ambush them whenever you see fit and strike fear in the hearts of so many hapless victims as you become the legend himself! Friday the 13th: The Game will include a variety of kills, new and familiar, that will help you set the tone for the Jason Voorhees that you want to be. You'll even get to unlock various Jason incarnations from the movies. Jason will be equipped with a terrifying array of abilities, giving you the control of a hunter at the height of his game. These are his woods, and he knows them all too well. Jason will not only feed off the fear of his victims, but will become stronger as the night progresses. The darker the night, the more terrifying Jason becomes.

…

Expand
Developer:

Black Tower Studios, Nighthawk Interactive

Genre(s):

Action Adventure

,

Survival

# of players:

Up to 8

Cheats:

On GameFAQs

Rating:

M
Friday The 13th: The Game Ultimate Slasher Edition for the Nintendo Switch is the online experience the platform has desperately needed. It's engaging, it's addicting, it's everchanging and it is unlike anything else on the system. Overcoming the odds and escaping Jason is a thrilling chase that will get your adrenaline racing. You never know what is going to happen in Friday The 13th: The Game Ultimate Slasher Edition and that is what makes it so appealing. No two games are identical. It's a killer game and, if given the chance, one that will slay your free time.

With the recent discourse about violence in video games, the launch of Friday the 13th: The Game comes at an inopportune time. It certainly earns its mature rating, with a level of gore and violence that would make most people sick to their stomach, but for fans of the horror genre, this is their bread and butter. The experience of being Jason Vorhees is captured perfectly, and all of the feelings of panic and dread are still felt even after hours of playing. If you enjoy being scared out of your pants on a consistent basis, be prepared to scream.

Friday the 13th: Ultimate Slasher Edition represents the culmination of the last two years of development for the iconic masked murderer and his dippy camp counselor victims. As a result, we find a well-balanced and fun asymmetric 7v1 slasher that we can take on the go. The only thing letting this ultimate edition down is the underpowered hardware of the Nintendo Switch. Come for the pure fan-service cat-and-mouse gameplay, but know that it'll be better on every other platform.

Friday the 13th nails the feeling of the franchise it is based on. It's obviously meant to be played online, with intense matches and a survival horror touch.

This is a feature-packed multiplayer survival horror game, but it's also an unmistakably downgraded experience when comparing it other consoles.

If the super long title doesn't stress it enough, Friday the 13th: The Game Ultimate Slasher Edition is the definitive version of the game.

If you're a die-hard fan of the franchise, you might get a few nostalgic kicks out of Friday the 13th: The Game. But if you're simply looking for a horror-themed multiplayer, this doesn't hold a candle to Dead by Daylight, which itself is coming to Switch next month. Do yourself a favour, and pick that up instead.
Fantastic game. Been playing it for hours and hours. Might have a couple glitches from time to time but it's a very fun game. Totally worth it.

Great game very social and dope! Having a great time with this joint online and offline! Wirth the money, bring the other dance emotes back

Купил на пк, на старте продаж, багов практически не наблюдал, так и на свиче. В школе, на работе, на отдыхе в лесу, да практически везде можно

Купил на пк, на старте продаж, багов практически не наблюдал, так и на свиче. В школе, на работе, на отдыхе в лесу, да практически везде можно окунуться в атмосферу 80х, графика конечно не ахти, но в портативе сойдет, я все-таки надеюсь на дальнейшие длс и обновление этой игры

…

Expand

Amazing game of cat and mouse, now portable, further quotation on graphics coming soon. I rated this a 10 to counter the ridiculously low user scores.

I've played this game for awhile on PS4 and liked it enough to pick up on Switch. If you're a horror movie fan you'll really like this game.

I've played this game for awhile on PS4 and liked it enough to pick up on Switch. If you're a horror movie fan you'll really like this game.

This game is a lot of fun whatever system you're on. Yes it does have glitches and the learning curve learning curve can be tough in the beginning but after an hour or two you'll get the hang of it.

It doesn't take long to find a game on Switch and I almost always get a lobby in less than 2 mins. Overall you'll have a lot of fun even with the glitches and some toxic members in the community. It's kinda fun to kill toxic councilor players when they're toxic

Overall I'd but it again at $40.

ins..

…

Expand

On paper, this is one of the greatest game ever adapted from a movie or franchise. It would be awesome really if another company was in charge

On paper, this is one of the greatest game ever adapted from a movie or franchise. It would be awesome really if another company was in charge of this. Unfortunately for us Gun Media is probably the worst video game company ever, barely unprofessional and don't care about how broken the game is.
Full of glitch and with a toxic community for the most part, the game is barely unplayable. When you can finally find a party and you'll not be stopped by technical issues, you found only morons trolls who have fun by doing crap all the party. But until the recent update this was still possible to play or at least expected to play. Now Gun Media have simply pulled out most of the bandwidth from Ps4 users to give it to their customers on Nintendo Switch. That's totally inappropriate and is a real bull**it since the game is initially intended to be a Playstation / PC / Xbox game not a Switch one that only emerge recently.
The game is basically dead now both on Steam and Xbox and will be soon receive the same treatment on PS4.
Additionally the Switch version is so ugly and have the same technical issues as the real game versions.
The devs are also lying by some statements as they can't add anymore new promised content due to the legal issues between copyrights olders and writer from the first movie. The fact is copyrights older have clearly stated that they don't want to stop these updates and these cancelled updates are in no way associated to the legal issues. So the devs are just too lazy to add the promised content to original users and focusing on the new cow cash from Switch. They even give new created content to Nintendo customers instead of delivering what they promised.
This kind of company must not be supported, don't be fooled by these scammers by avoiding this game. This is really sad since without this awful behavior the game would be a hit.

…

Expand