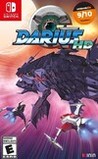 Summary:

"...G. Darius is the best U.S. 32-Bit shooter to date." -EGM
Destined to be the definitive shooter for the PlayStaion game console, G. Darius is a worthy successor to the proud Darius heritage of arcade shooters.
BATTLE 28 HUGE BOSSES CHOOSE YOUR PATH - 5 DIFFERENT ENDINGS MULTIPLE"...G. Darius is the best U.S. 32-Bit shooter to date." -EGM
Destined to be the definitive shooter for the PlayStaion game console, G. Darius is a worthy successor to the proud Darius heritage of arcade shooters.
BATTLE 28 HUGE BOSSES
CHOOSE YOUR PATH - 5 DIFFERENT ENDINGS
MULTIPLE WEAPONS AND POWER-UPS
CONQUER 15 ENORMOUS LEVELS
"The game is truly revolutionary..." -EGM
"...a spectacular shooter..." -Official PlayStation Magazine

…

Expand
Developer:

Taito Corporation, M2

Genre(s):

Action

,

Shooter

,

Shoot-'Em-Up

,

Horizontal

# of players:

No Online Multiplayer

Cheats:

On GameFAQs

Rating:

E
Despite some issues, G-Darius HD is an essential for shoot 'em up fans with its improvements and enhancements. It has been an absolute joy to play on Nintendo Switch.

G-Darius HD is a full-featured port of a terrific game, and a great way to experience this classic for the first time. The capture ball mechanic and beam dueling add some fun twists to the familiar mechanics that just about anyone can appreciate. Just keep in mind that this is still a Darius game, and as such will not go easy on you. With all of the options and extras included in this version at your fingertips, you just might be able to pull it off.

G-Darius HD is a classic shmup, and it arrives on Nintendo Switch in excellent form. While the updates are minimal, it feels true to perhaps the best game in the Darius series. If you're looking for more than that, you won't find it here, but fans who know what they're buying will find a game that holds up, even after all these years.

G-Darius HD does an impressive job of what matters the most: keeping a classic arcade game alive and readily available for old hats to revisit and new generations to discover. And for something as groundbreaking as G-Darius—something that can still make an impression today, almost 25 years since it first hit arcades—that history is an important thing to hold on to.

In the end, G-Darius HD is a challenging shooter from a time when arcades were still relevant. It still looks good and sounds cool, but it's not great as a standalone.
"Whether or not you think the asking price is worth it for a slightly enhanced version of an arcade game, G-Darius HD is still a fantastic

"Whether or not you think the asking price is worth it for a slightly enhanced version of an arcade game, G-Darius HD is still a fantastic shmup with a unique compelling gimmick. The addition of Ver 2.0, the achievements, and a variety of other QOL improvements only help to make this a very replayable package."

https://theeliteinstitute.net/2022/06/04/g-darius-hd/

…

Expand

It's always a bit tough to evaluate re-releases of classic arcade-style shooters coming to the system. Even being remastered or improved in

It's always a bit tough to evaluate re-releases of classic arcade-style shooters coming to the system. Even being remastered or improved in some way they're obviously not particularly new, and familiar franchise gameplay can also tend to fall flat at times. Even with those sentiments in mind G-Darius HD exceeded my expectations, being an iteration of the classic Darius games I'd never played and, aside from making some use of decidedly early polygonal graphics for its bosses, its style of play and flow is a nice change of pace for me. Rather than merely having the traditional screen-clearing "bomb" attack common to traditional shooters you instead have the ability to try to enlist an enemy craft to your aid, adding a layer of challenge, risk, and sometimes excitement to the mix when you're able to wrangle something a bit more powerful to your side. Add in the classic branching path structure and a fairly high degree of challenge and the replayability if you're a shooting fan will also likely be well-fed. After a string of decent arcade-style shooter translations that have been more for nostalgic value than consistent fun G-Darius HD feels like a solid choice all-around.

https://www.nindiespotlight.com/2021/09/mini-reviews-september-28th-edition.html

…

Expand

This is a fun shoot-em-up with nice graphics, varied level designs and strange (highly atmospheric) music. The HD version of the game looks

This is a fun shoot-em-up with nice graphics, varied level designs and strange (highly atmospheric) music. The HD version of the game looks great, but it is excellent that they have also included so many other versions of the game for you to try out and play around with. I wanted to give this game 8/10 but I've settled on a 7 for a few reasons:
1. At full price, this game is not good value for money for the time you are likely to spend playing it.
2. Whilst there is definitely some good replay value due to the 'branching paths' system of selecting the next level, after 5 play throughs you will probably feel that things are starting to get a bit repetitive.
Be warned: This game is hard (even on 'super easy') but there are trainer and free play modes so that anyone can complete it regardless of skill level. They have done a really good job with the menu system to allow you to customize your play experience to your needs.
Overall this is well worth picking up if you are a fan of the genre. My advice is to wait for a sale though.

…

Expand