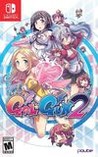 Summary:

Gal Gun is back for an adventure more outrageous than ever! A new army of girls has been overpowered by lust in THE FULL-FRONTAL SEQUEL to Japan's infamous shooter. Fend them off with your Pheromone Shot and use new gadgets to expel demons from their bodies in the most audacious first-person

Gal Gun is back for an adventure more outrageous than ever! A new army of girls has been overpowered by lust in THE FULL-FRONTAL SEQUEL to Japan's infamous shooter. Fend them off with your Pheromone Shot and use new gadgets to expel demons from their bodies in the most audacious first-person shooter you'll ever play!

FEATURES:

* The craziest shooter yet! -- Help swarms of girls exorcise their demon possessions by hitting their pleasure spots with your love gun until they explode in euphoria!

* A gorgeous new cast! -- Woo a fresh set of girls in a brand-new Gal Gun story. With the aid of alluring angel Risu, become romantically entangled with girl-next-door Chiru and childhood sweetheart Nanako.

* Fulfil each girl's desires! -- Manage your schedule to receive jobs from the academy's love-struck girls, and satisfy their requests to unlock new missions and story scenes.

* Suck your way to Pantsu Paradise! -- Equip the Demon Sweeper, capable of vacuuming up Gal*Gun 2's pesky demon menaces... and sucking the dresses right off the girls' bodies!

* Get up-close and very personal! -- Enter Doki Doki Mode, which returns in its biggest, boldest and bounciest guise ever, to rub, caress and poke your way to happiness!

…

Expand
Developer:

Inti Creates

Genre(s):

Action

,

Shooter

,

Light Gun

# of players:

No Online Multiplayer

Cheats:

On GameFAQs

Rating:

M
You may well find Gal*Gun 2 to be offensive and intolerable. But that's all the more reason to experience it and discuss it, and because it's backed by a really good light gun experience that is bigger and (on balance) better than its predecessor, this game is one of the most playable and interesting transgressive franchises the Japanese industry has ever produced.

Gal*Gun 2 is every bit as good as its predecessor, even with its new types of stages not always entertaining as much as they should due to their increased difficulty. It's not as outlandish, which may disappoint some, but its gameplay has been fleshed-out and made more involving.

Gal Gun 2 is a special game, in the way that it's all about half-naked girls moaning every single time they appear on screen. But curiously, it's kind of fun and there are some good ideas in it.

If you can get past the underage ogling thing, Gal*Gun 2 is a fun, if short, game. Once you beat it, you can start a New Game+, which keeps all your phone contacts and goggle/gun upgrades, but the only real motivation for replaying Gal*Gun 2 is to pick different responses and see where the story winds up. Otherwise there's not much meat on these underage bones. I don't know if I can recommend Gal*Gun 2.

Even looking past the game's sordid perversions, Gal*Gun 2 never becomes as entertaining as it needs to be to hold your attention for long. In many ways, that's a shame as, while the game's erotic nature may be an immediate turn off to some, it exists in an uncontested genre on Nintendo Switch.

This is a 12-year-old's (and beyond) sexual fantasy, and a pretty safe one at that - and that's fine. Unfortunately, the game attached to it all is a bore, as Gal*Gun 2 is nothing more than a mediocre, on-rails - sort of - shooter of no importance.

Gal*Gun 2 is a subversive on-rails shooter that toes the line of decency with every step. Even if you can look past its questionable content, you're still left with a rather boring game.
This game is a masterpiece. The audio, the visuals, the gameplay and the characters. The dialog made me cry. I've played this game twice

This game is a masterpiece. The audio, the visuals, the gameplay and the characters. The dialog made me cry. I've played this game twice already and both times I had a completely different experience. It's beautiful, and I will continue playing this game until the end of me. I don't just recommend this game, I'm telling you to play it. If you don't, you are missing out on the reason humans exist. Every single person should play this game. I will fight wars to make sure people can continue playing this game. I have stayed in my room since this came out, which is the day I wrote this, and I haven't talked to anyone except the NPCs in this game. I think this is the next step in human evolution. We will eventually all be plugged into a machine, like in the movie, "The Matrix", where this beautiful masterpiece will be our life. Every day, we will wake up in heaven. Every night, we will go to sleep on the copy-pasted textures on the ground. That soon will be the glorious reality, the reality we are meant to be in. Download this game right now, it should only take you a second, and play it. Enjoy it. Live it.

…

Expand

An... interesting game. more fun that it had any right to be, slightly erotic, game get's a little bit repetitive, slightly erotic, varied

An... interesting game. more fun that it had any right to be, slightly erotic, game get's a little bit repetitive, slightly erotic, varied enough to enjoy the game, slightly erotic, I've completed all endings, and i hate myself for it, but I've never played a game that leaves me this okay with hating myself. Also the game can be slightly erotic.

…

Expand

Gal Gun has always been on the controversial side of things and Gal Gun 2 sticks to the highly imbalanced perspectives of this games

Gal Gun has always been on the controversial side of things and Gal Gun 2 sticks to the highly imbalanced perspectives of this games franchise. Gal Gun is a very selective, hidden and unknown franchise in all honesty. Few know of its existence and those who do are evenly split on the spectrum of whether it's a good game. The answer, a bit of both. In some aspects, Gal Gun 2 has stunning features but also critically disappointing ones too.

Gal Gun is the typical "Doki Doki" cuties high-school anime genre. Already a topic despised by people as the theme of a high school filled with kawaii super-cute girls is overused and generic in the Japanese realm of video games with such games such as Doki-Doki literature club, danganronpa, and assassination classroom the video game. However unlike the games listed, Gal Gun fails to put a unique twist on it, or at least one that makes an impact.

In Gal Gun 2 you are chosen as someone worthy of expelling demons. A beautiful angel from heaven named Risu floats down from heaven to give you a VR headset styled pair of goggles and a gun. The girls in your high school have been inflicted with demons and have become extra sexual and erotic. You must expel the demons from their body and save everyone. It's very erotic which causes a lot of controversies.

In Gal Gun 2 there is a small plot albeit there is not much development and the main story can be completed quickly, literally in a couple of hours which is disappointing for an expensive game. The very basic plot as mentioned before is use your gun and goggles to identify girls inflicted with demons and shoot the demons out of their bodies or suck them as the gun also works as a vacuum. There are a few modes to do this but none groundbreaking. The first and most common is a horde type mode where anime girls will appear from multiple directions and you simply have to shoot them into a state of ecstasy to cleanse them. The second mode you must investigate various rooms to find lost items while avoiding girls otherwise you'll get into a mini-wave of battles. And the final is protecting someone from floating mini-demons. The modes are painfully long sessions of the same repetitive nature as there's never really anything new. It's the same, over and over again. But somehow it's addicting and you still want to play the game later.

Similar to Persona 5 you must complete the main quest by a deadline of days, 19 to be exact as I recall, you must finish the main story in 19 days which can actually be completed in 4 (in-game time). You can play 2 missions per day and although some main quests take a certain amount of points to begin, the points can be racked up in a couple of missions. Once the main mission is complete you have on average about 15 days of utter boredom and nothingness apart from complete irrelevant side quests presented by strangers who notice strange occurrings. You CAN skip to the final day but then you miss out on a possibly the one thing the game does right.

Character development. There are 3 sets of girls you can talk to, your shut-in gamer neighbor Chiru, classmate nanako and two girls from Gal Gun double piece, an earlier game in the franchise. They all have unique stories, and they're enjoyable to watch but they take about 10-14 in-game days to complete all of them meaning you tirelessly have to continue with baseless random missions as you cant skip individual days. Each day will present you further development with those characters which are quite interesting and fun to see but talking to them and watching these developments do not waste in-game time meaning to progress to the next day to find out what happens next you have to complete two stupid missions no one asked for, ever. Unfortunately, you learn nothing about protagonist's backstory, purpose or why he was chosen, it's probably meant to resemble yourself but it's still disappointing

The music, however, is pretty damn good. It's very kawaii anime songs but if you're into that stuff you'll love it, the opening theme, credits and battle music are my favorite which I ended up downloading to my phone because they were that good. There is Japanese voice acting for the game but no English dub option which is a shame since the Japanese voices were low quality and didn't suit the characters, all the enemy girl voice lines were recycled with a slight pitch change leading to no variety, Risu's voice was unfitting and the only people who had fitting VA's were Chiru and Nanako. There are DLC options for the game that are reasonably priced if you're interested, so it's shocking no English dub was available and if there was it was hidden leading to bad organization of DLC content

The UI I found to be pretty though, the Menus were extremely easy to understand and use and I could transition between what I wanted to do seamlessly.

All the mini features like UI and music were perfect. but the core game lacked intensely.

…

Expand

Gal Gun 2
Repetive Nonsense
Gal Gun 2 Is a bit of an on rails shooter. Youre the lucky chosen one to receive a head set that allows you toGal Gun 2
Repetive Nonsense
Gal Gun 2 Is a bit of an on rails shooter. Youre the lucky chosen one to receive a head set that allows you to see angels and demons, youre given a quote by an elite angel named risu to capture a bunch of demons be a certain date…
These demons are possessing the ladies around your school.. and for you to capture these demons and save these ladies you have to give them euphoria with your pheromone shot…
Sounds a bit weird..
But my biggest complaint with this game is that it actually doesn't get weird enough…
This game is split up into a bunch of different missions..
though they all feel identical
ladies are coming at you from wall to wall and your goal is to choot them in their weak spot as they try to knock you down and hurt you with hteir words, racking up as many points as possible to unlock the next mission…
the weak spot is different.. though im sure you could imagine where these spots are spread across,
and again some will try to hurt you with their words so you have to shoot the red character before it gets to you as it is possible to die and have to restart from a checkpoint…
some ladies will be glowing purple.. this means theyre possessed by demons.. you have to shoot these demons away before you can hit their weakspots and then suck the demons up to increase your score..
and in between all of this you can get these 2 love interests to talk to you and spend time with you by giving them snacks rewarded from completing missions, much like real women.
this is the entire game..
and theres nothing done here to keep you hooked..
this is an onrails shoot so oyu basically shoot towards your position, but every area feels like the last area..
nothing is done to make you feel like youre getting away with something naughty which lets be honest… that's the only reason anyone would play such a game..
its just a pointless level of weird…
im getting called master by some angel girl, im shooting ladies that are just trying to love me.. getting yelled at for being naughty with my massage technicques..
but the game really does no teasing, at least not frequent enough.. theres no pay off for continiuing through this game..
its just a repetitive and dull on rails shooter where all you do is give snacks and make girls blush that im going to assume are all in college, japan is weird I don't know and don't want to think about it any further than this.
I give Gal Gun 2
a 4/10

…

Expand

Entiendo que no es juego que tenga mucha profundidad, pero considero que pudieron hacer algo mejor y mas divertido, en general el juego es

Entiendo que no es juego que tenga mucha profundidad, pero considero que pudieron hacer algo mejor y mas divertido, en general el juego es aburrido y repetitivo, generalmente estos juegos son para mirar waifus en toples y considero que hasta en eso falla, en general no lo recomiendo.

…

Expand