Publisher:

Nintendo

Release Date:

Jun 11, 2021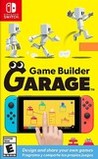 Summary:

Have you ever dreamed of building your own video games? The Game Builder Garage™ software is a great place to start! Anyone can learn the basics of game design and visual programming with step-by-step lessons created by the minds at Nintendo.
Developer:

Nintendo

Genre(s):

Miscellaneous

,

Application

# of players:

No Online Multiplayer

Cheats:

On GameFAQs

Rating:

E
Please enter your birth date to watch this video:
You are not allowed to view this material at this time.
Game Builder Garage – Nintendo Switch Announcement Trailer
There's a very real chance that 10-15 years from now, interviews will feature many up and coming devs attributing their first step and successes to Game Builder Garage.

A quite satisfactory experience that immerses us fully in the world of programming without requiring hundreds of lines of code. It adapts perfectly to object-oriented programming, although with much simpler concepts achieved thanks to 'nodon'. Without a doubt, a great stimulant for your imagination.

Ninty Fresh Magazine

Dec 3, 2021

Game Builder Garage is great at teaching and can be hilarious to mess about with. Perfect for creative types, not so much for those who just want to play video games. [Issue #4, p.59]

An interesting game making tool, easy to learn and powerful enough to create and share our own minigames. Still we miss some utilities such as importing assets or composing music.

If you want to offer your children software that will teach them the basics of professional video game creation, or if you want to discover this funny universe yourself with wacky characters rather than a cranky boss who sets up the "crunch ", The Video Game Workshop is made for you. The lack of an integrated game browser still remains a huge limit to the community dimension.

Game Builder Garage is simplistic and limited, but it's a good first lesson for a lot of players that wish to experience what gaming development is like.

Game Builder Garage feels like the perfect place to build a game prototype. You can create a basic idea, see if it works and is fun, and then maybe take that concept into a real game engine development kit - but not much more. It can truly pique the curiosities of kids, and I hope it does, but it's launched in a world where it has big competition, and the depth and charm of those tutorials which only Nintendo could pull off so well can't carry the rest of the experience.
love..................................................................................

For my money, Nintendo give a far superior crash course in game-building here than Media Molecule did with Dreams. Yes, Game Builder Garage is

For my money, Nintendo give a far superior crash course in game-building here than Media Molecule did with Dreams. Yes, Game Builder Garage is rather more limited in a number of ways but I rate it up there with its PlayStation counterpart. Superb. And I'm a grown man!

…

Expand

It's amazing to have a game that can help gamers and future developers to develop games. And Game Builder Garage is one of those game. It's

It's amazing to have a game that can help gamers and future developers to develop games. And Game Builder Garage is one of those game. It's more than just a game, It's a recommendation. It's a masterpiece.

…

Expand

amazing game/tool; the tutorial tho, it should be reworked and focused in two modes ("new to programming" and "i have experience"), the

amazing game/tool; the tutorial tho, it should be reworked and focused in two modes ("new to programming" and "i have experience"), the dialogue in the tutorials should be in less quantity, too much unnecesary dialogue that doesnt teach programming.
it doesnt have a search system which is sad, but i understand why is made like this, if not NSFW things probably would flood the community

…

Expand

"I had some trepidation going into Game Builder Garage. I expected it to be either too basic, or too complicated. Thankfully Nintendo found a

"I had some trepidation going into Game Builder Garage. I expected it to be either too basic, or too complicated. Thankfully Nintendo found a perfect balance with the creator. It has issues, for sure: it could have done with a couple of more game tutorials to cover the other Nodons, and some music in the creator would have been nice. With that being said, the creator is surprisingly accessible and extremely rewarding – even more so than Super Mario Maker 2 (at least, in my opinion). Hopefully Nintendo will support it down the line with additional lessons and maybe some extra objects. Any creatively minded Switch owners should snap this up, especially considering the uncharacteristically low selling price for a Nintendo game."

https://theeliteinstitute.net/2021/06/22/game-builder-garage/

…

Expand

For anyone who wants to to create games on Switch this tool gives that ability, …sort off. First is the learning part. There are a number of

For anyone who wants to to create games on Switch this tool gives that ability, …sort off. First is the learning part. There are a number of example games you get to build while the game tells you what to do. To me this part was quite tedious, mostly because of the 'Funny banter' between the nodons. Nodons are basically your programming tools. Nintendo gave the various nodons a unique personality. (Possibly to apeal to a younger audience?) This extra text makes the learning segment much longer then needed. After clearing each project you get a couple of 'checkpoint' puzzles where you can practice what you have learned. Then after finishing all projects you get another 50 of those puzzles. Those are great. Had a lot of fun figuring those out. And that's it.
There is still the free programming part of this game, which is obviously the main attraction. You would think after doing all those lessons and puzzles you would have a basic understanding of how everything works, but no. There are many nodons left that did not get explained. The in-game help on each nodon is seriously lacking. There should have been explanations and examples on each nodon but there is hardly any. In the end this software tool gives back what you put into it. It is all up to your imagination, creativity and perseverance. Is it worth the price? Definitely. The 50 'extra checkpoint' puzzles at the end provided me with a lot of fun. The tool in itself is quite complex and needs a person who loves to figure things out around the limitations. This in itself makes it probably not very suitable for the really young. Which makes it weird that the tone of the lessons is clearly aimed at a younger audience. I have fun with it but also a lot of frustrations. Once I figure a thing out when I have been thinking about it and trying things for days is the best feeling, but the price is a serious headache. Perhaps people with a background in programming have an easier time, but I do love to figure things out and Game Builder Garage gives you exactly that.

…

Expand

I pre-ordered this game because the page indicated the Russian language. Now it turns out that it's not there, and the mention of the language

I pre-ordered this game because the page indicated the Russian language. Now it turns out that it's not there, and the mention of the language was removed from the page in eshop. And I already can not get my money back. Nintendo are liars.

…

Expand