Publisher:

Nintendo

Release Date:

Jun 11, 2021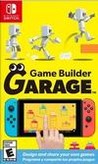 Summary:

Have you ever dreamed of building your own video games? The Game Builder Garage™ software is a great place to start! Anyone can learn the basics of game design and visual programming with step-by-step lessons created by the minds at Nintendo.
Developer:

Nintendo

Genre(s):

Miscellaneous

,

Application

# of players:

No Online Multiplayer

Cheats:

On GameFAQs

Rating:

E
Please enter your birth date to watch this video:
You are not allowed to view this material at this time.
Game Builder Garage – Nintendo Switch Announcement Trailer
Game Builder Garage is typically brilliant Nintendo, offering a way of creating levels that is only stymied by the lack of online community and curation options.

Game Builder Garage is a tremendously powerful and accessible piece of game development software that gives you the tools and guidance to make video games with ease.

Game Garage Builder is wonderful. Nintendo has come up with a new programming language made up of hilarious characters, tasking the player with having them interact with each other to code their games. A real video game laboratory, where you can experiment and learn with a smile on your face.

I don't think I've ever enjoyed learning as much as I did during my time with Game Builder Garage. Game Builder Garage is a powerful game design tool overflowing with charm and personality. Anyone with a little patience and desire to learn can start creating games with its robust system of Nodons. No coding knowledge is required, but you'll learn concepts like evaluations and conditional statements without even realizing it. I do wish it allowed you to look under the hood and see the actual code, but not being able to see all those lines of boring text don't detract at all from the fun of making games. The tremendous variety of Nodons available make it possible to pull off some really complex stuff and I'm really looking forward to seeing what creations the Game Builder Garage community cooks up.

An interesting game making tool, easy to learn and powerful enough to create and share our own minigames. Still we miss some utilities such as importing assets or composing music.

If you would like to create your own video games, this is key that may open that door.

Game Builder Garage feels like the perfect place to build a game prototype. You can create a basic idea, see if it works and is fun, and then maybe take that concept into a real game engine development kit - but not much more. It can truly pique the curiosities of kids, and I hope it does, but it's launched in a world where it has big competition, and the depth and charm of those tutorials which only Nintendo could pull off so well can't carry the rest of the experience.
love..................................................................................

It's amazing to have a game that can help gamers and future developers to develop games. And Game Builder Garage is one of those game. It's

It's amazing to have a game that can help gamers and future developers to develop games. And Game Builder Garage is one of those game. It's more than just a game, It's a recommendation. It's a masterpiece.

…

Expand