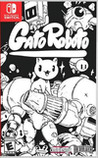 Summary:

Pounce inside of your cozy armored mech and set off on a dangerous trek through an alien underworld full of irritable creatures and treacherous obstacles in a valiant effort to save your stranded captain and his crashed spaceship. Tiptoe outside the friendly confines of your technological

Pounce inside of your cozy armored mech and set off on a dangerous trek through an alien underworld full of irritable creatures and treacherous obstacles in a valiant effort to save your stranded captain and his crashed spaceship. Tiptoe outside the friendly confines of your technological marvel and follow your feline instincts through tight tunnels and mysterious waterways to scavenge for new weapons and gear. Adventure awaits the most curious of cats in Gato Roboto.

…

Expand
Developer:

Doinksoft

Genre(s):

Action

,

Platformer

,

2D

, ,

Metroidvania

# of players:

No Online Multiplayer

Cheats:

On GameFAQs

Rating:

E
Please enter your birth date to watch this video:
You are not allowed to view this material at this time.
Gato Roboto Let's You Control A Cat In A Robot Suit - 11 Minutes Of Gameplay | PAX West 2018
Gato Roboto accomplishes so much with so little. Even those it looks like a game that would be on the Atari 2600 or the big brick Gameboy, every aspect of Kiki's world glows as bright as one of the best of the Metroidvania genre. Plus, it's a cat in a mech suit, does a game get any more charming than that?

A monochromatic tribute to Metroid with a good sense of humor and solid exploration, action and platforming mechanics.

Gato feels like a Metroid mini, not in a diminishing way either. At a tight 3-4 hours, you can see and pick up everything. Over that time you'll have played a tightly-honed game that uses gated progression to steer you around a reasonably linear path. This isn't a bad thing either, it's Metroid boiled and condensed down to its essence. It adds just enough of its own personality that you want to uncover the mysteries of the facility as they unfold throughout the game.

Gato Roboto is another little triumph for Devolver Digital and developer doinksoft. A simple and satisfying metroidvania that keeps the best of the genre and execute it in a fun Cat-Robot space fantasy and ditches all the unnecessary backtracking these games sometimes have. What it has in charm it lacks in ambition though, and it can fall a little bit short content-wise.

A game with a lot of personality and charm... but far too simple in every other aspect, especially when compared with the best examples of the metroidvania genre. Nevertheless, Gato Roboto is pretty fun, and few games let you become the more powerful cat in the entire universe (none, really).

Anyone hungering for a short Metroid homage can certainly satiate it here for a few bus rides' worth of time, but there are numerous games within this genre on the Nintendo eShop, most of which are more absorbing and inspiring than this one.

Gato Roboto has some wonderful aesthetic choices and innovative boss fights, but the awfully short length and generic enemy design hamper an otherwise quirky title.
im sure reviewers are illiterate
how a creative game like this can be yellow meta?
im playing game from atari about above 31 years :|

Great byte sized metroid clone with a cat for a very good price, a must buy if you're a fan of the genre

Short, Sweet, More variety than longer games, good feeling of controls, funny story = Excellent Metroidvania. This deserves at least 1 playthrough.

Développé par le studio indépendant Doinksoft et édité par Devolver Digital, Gato Roboto est un jeu d'action plate forme sorti le 30 mai 2019

Développé par le studio indépendant Doinksoft et édité par Devolver Digital, Gato Roboto est un jeu d'action plate forme sorti le 30 mai 2019 sur l'Eshop de la Switch pour la somme toute douce de 6.79 euros. Se définissant lui même comme un « miaoutroidvania » à l'aspect 8 bits monochrome, Gato Roboto va t-il rentrer lui aussi dans le Hall of Fame bien rempli des indés made in Devolver Digital, aux côtés des Gris, Katana Zero et autres petites pépites?

À la fin des années 90, les licences cultes Metroid et Castlevania étaient sans doute loin de se douter qu'elles allaient donner naissance à un genre à part entière qui allait littéralement exploser avec l'essort du jeu indépendant : le Metroidvania. La définition la plus courante du genre est un jeu d'action aventure plate-forme 2D dans lequel votre personnage evoluera et apprendra de nouvelles capacités qui lui permettront d'avancer dans le jeu.

Les Metroidvania les plus cultes sont tout d'abord les parents du genre que sont Super Metroid et Castlevania Symphony of the night, et puis les jeux plus récents que sont Hollow knight, Owlboy, Ori, j'en passe et des meilleurs.

Gato Roboto va-t-il se faire une petite place dans ce milieu très concurrentiel? Il a clairement des arguments à faire valoir.

Le héros du jeu est donc une petite chatte répondant au joli petit nom de Kiki. Vous faisiez une petite balade intergalactique tranquillou bilou dans le vaisseau de votre maître. Vous étiez paisiblement installé en plein milieu du clavier de pilotage du vaisseau et calmement en train de ronronner et faire la sieste. Tout d'un coup c'est la catastrophe, le vaisseau se crash sur un ancien laboratoire scientifique. Votre maître adoré est blessé et il vous charge d'aller chercher de l'aide.

Nul doute que le scénario de Gato Roboto ne finira pas primé aux Games Awards, mais il a le mérite d'exister, d'être plutôt vite expédié, et de marier humour et côté kawaï de la minette.

Techniquement, Gato Roboto s'inspire des premiers Metroid 8 bits, avec des jolies pixels plutôt bien animés, et y compris de la GameBoy, en lui empruntant le côté monochrome des graphismes de la portable de Nintendo.

Passons tout de suite à ce qui nous intéresse vraiment : le gameplay.

Vous commencerez la partie sur vos 4 petites pattes et on appréciera les animations soignées de l'animal. Vous pourrez courir, nager, vous faufiler dans des **** espaces, sauter et vous accrocher aux parois pour grimper un peu avec vos griffes. Au bout de quelques minutes à peine vous allez faire main basse sur une armure taillé sur mesure pour vous. Et là, changement de décor et de gameplay. En mode Mecha-Félix, vous serez armés jusqu'aux canines et vous pourrez tirer divers projectiles, missiles, laser…

Vous pouvez sortir du robot à n'importe quel moment et cela sera nécessaire pour progresser dans la map car votre robot est encombrant et ne passera pas partout.

Le Game Design est très (trop?) inspiré des premiers Metroid. Que ce soit dans les armes, l'agencement des niveaux et de la map elle même, vous serez en terrain connu. Bien entendu, vous gagnerez de nouvelles compétences au fil de la partie et vous pourrez déverrouiller certaines parties de la map ultérieurement pour arriver à réussir le 100%.

Les ennemis et les boss sont plutôt réussis et sont du même acabit que votre petite héroïne sur patte. Ici aussi, humour et références bien placés sont au programme. Petit spoil, le premier boss est une petite souris qui a également accés à un robot. Les animaux ont pris le pouvoir :).

Comptez environs 5h pour compléter la carte à 100%. Pour un jeu à moins de 7 euros c'est plus qu'honnête. Le rapport qualité/prix-durée de vie est plutôt bien respecté.

Chose intéressante, un compteur chronomètre défile en temps réel en bas de l'écran, pour le plus grand bonheur des Speed Runners.

Gato Roboto est un peu le menu maxi Best-of des Metroid 8bits. Pour moins de 7 euros vous passerez environs 5h à vous rappeler à quel point ces mécaniques de gameplay et d'explorations sont intemporels. L'idée de faire d'un petit félin le héros de cette aventure de science fiction est plutôt bien vue car cela permet une narration pleine d'humour et cela rend le jeu accessible aux plus jeunes joueurs.

Les équipes de Devolver Digital nous prouvent une fois de plus qu'ils n'ont pas leur pareil pour dénicher les jeunes talents indés. Le jeu est une belle réussite.

« See you, Space minette », on ne t'oubliera pas Kiki.

Note: 8/10

…

Expand

It's pretty much everything you'd expect from a Metroid game; it's got the alien planet, the open-world structure, the power ups, the in-depth

It's pretty much everything you'd expect from a Metroid game; it's got the alien planet, the open-world structure, the power ups, the in-depth movement and so on. What this game has however that Metroid doesn't, is cats. That's very important.

Gato Roboto has many similarities to the Metroid games, I feel like I can say that without having to explain myself at this point, it's a pretty well-known type of game. But instead of feeling like a copy-cat, Gato Roboto instead makes some clever little changes and additions to make itself feel like more a hyper-charged little homage to the Metroid series instead. Instead of having limited missiles, your missiles run on a short cool-down timer keeping the game as fast as possible, you have a double jump which lets you bounce off enemies to perform additional jumps which makes for some great platforming moments and lets you absolutely cruise through some enemy-filled rooms once you're proficient using it, and you can perform a dash on the ground or in the air to pass through dangerous obstacles and enemies. All of these changes put an emphasis on speed and movement, and you end up getting a game which feels like Metroid with twice the speed and half the time to play.
The biggest defining mechanic is the ability to leave your mech, while out of the mech you die in one hit, can climb walls and can fit into tight spaces. This makes for some interesting combat encounters and spices up the movement and exploration of the game.

The narrative although simple and cute is very effective and fun, all of the characters are memorable and well written, and there's plenty of great moments where the writing shines - it never overstays its welcome either which is nice, it doesn't try TOO hard to be funny unlike so many other indie games. A stand out feature has to be its music, which half the time sound more like house and electronic music than it does your typical spooky ambient music and soundtrack. The music gets you amped and in the zone, whereas Metroid's music is usually trying to build a heavy and mysterious atmosphere.

Again, this game is speed Metroid with cats. It's simple, it's short. If you like Metroid you'll like this game. It's got crazy boss fights, great movement and tight controls, great music and writing, and a gives you a lot of ways to improve at the game. It's not a genre-defining masterpiece, it knows exactly what it wants to be and it does it well, the game is great and it's definitely worth the small asking price. The game is about three hours give or take, I reckon it would take about four hours first time through if you went for 100% without looking at a guide. It's a very short game, but it has an emphasis on speed-running obviously as well as some well hidden secrets, so if that's your scene then you'll love this game. There's no new-game+ or alternative game modes of any sorts, so if you don't like replaying games, just know that you're in for a short experience if you pick this game up.

…

Expand

As a metroidvania with ZX Spectrum graphics, this game pushes my buttons. Gato Roboto does nostalgia right, by cheating on you: it's an 8-bit

As a metroidvania with ZX Spectrum graphics, this game pushes my buttons. Gato Roboto does nostalgia right, by cheating on you: it's an 8-bit exploration game like you remember them, not like the clunky things they actually were.

Behind its studied retro rawness, Gato Roboto is a slick game that lures you in with its extreme cuteness and the promise of simple mindless fun–and it fulfills that promise until the end, that comes way before the game overstays its welcome.

A couple of facets of the game are mildly annoying. The difficulty is uneven, and sometimes lulls during normal exploration, only to spike suddenly during some boss battles. The game also violates its own rules in a couple of instances, hiding unexplored rooms on the map–a minor nuisance that will frustrate completionists. All in all, however, Gato Roboto is a success. It doesn't reach the heights of certain metroidvania masterpieces on the Switch, but that's not its ambition. Cats just want to play for a while.

…

Expand

Cute little game for what it's worth.
It feels like a cheap Metroidvania, but I enjoyed my time with it. The filters were interesting toCute little game for what it's worth.
It feels like a cheap Metroidvania, but I enjoyed my time with it. The filters were interesting to unlock, especially considering the game is only black and white otherwise.
Maybe one day I'll boot it up again, but nothing to write home about.

…

Expand