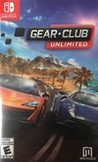 Summary:

For the first time on Nintendo Switch, drive through an authentic world of cars with Gear.Club Unlimited. Get behind the wheel of the most incredible cars from the most prestigious manufacturers. Race through over 400 challenging races. Learn to master the controls of the world's fastest

For the first time on Nintendo Switch, drive through an authentic world of cars with Gear.Club Unlimited. Get behind the wheel of the most incredible cars from the most prestigious manufacturers. Race through over 400 challenging races. Learn to master the controls of the world's fastest supercars and collect them in your garage: you can customize and tune them across the numerous workshops, then take them to the race track for the win. Challenge your friends, competing among up to 4 players on the same screen, or beat their times online. [Nintendo.com]


…

Expand
Developer:

Eden Games Mobile

Genre(s):

Action

,

General

,

Racing

,

Simulation

,

Automobile

# of players:

No Online Multiplayer

Cheats:

On GameFAQs

Rating:

E
Please enter your birth date to watch this video:
You are not allowed to view this material at this time.
Gear.Club Unlimited - Nintendo Switch Reveal Trailer
The Nintendo Switch doesn't allow for too many racing games to shine with the well-regarded Mario Kart 8 Deluxe hogging the spotlight. But Gear.Club Unlimited is stealing the limelight this holiday season with its racing sim action, RPG-lite upgrade system and beautifully rendered licensed cars. Although it's not a true racing sim, this is still the best racing game available on the Nintendo Switch to date.

Aside from sub-par sound design, Gear.Club Unlimited offers up an outstanding racing experience for Switch. It straddles the line nicely between offering up a sim-infused experience while keeping the on-track action fast and exciting. The amount of racing types available is impressive and the sense of progression makes it easy for a quick play session to turn into a marathon. GCU is a flawed experience but winds up being greater than the sum of its few flaws thanks to it providing a lot of fun on the track in all of its racing styles. Off the track, it's fun to expand and customize. It's a great-looking game and a fine showcase of what can be done with the Switch for racing games — even at an early stage in its lifespan.

Gear.Club Unlimited is an all-around simple affair. Almost all of the races are short, which is complemented by the very lengthy campaign. The racing is purely arcade in style, and it's more exciting when playing against others instead of against the passive AI. It may not look like a AAA title, but the performance holds up well, and the sense of speed feels right. While not the greatest representation of what a traditional racing game on the Switch should be, Gear.Club Unlimited will hopefully serve as a catalyst to bring more racing titles to the Switch.

I really like Gear.Club, though it is overly simple as far as "serious racers" go, while also lacking the personality and spirit that makes an arcade game soar. It's a game that's hampered by being on the Switch – a console that's not really mechanically built to enable serious racers. At the same time it benefits from being on the Switch, where there isn't any real competition just yet.

Ultimately, Gear.Club Unlimited may have been better served doubling down on either the arcade or the simulation aspects of driving, not both. In attempting to do both, Gear.Club Unlimited stretches too thinly in trying to cater to both crowds, creating a merely serviceable package filled with content brought down by unsatisfying driving.

A quite passable arcade racer with licensed race cars and with cleary noticable free-to-play roots.

Gear.Club Unlimited is just a bad port of an otherwise successful mobile racing game. Even if the content is generous, the game is expensive, the gameplay is a joke, the AI is crap and the graphics are ugly. Don't bother with this one if you really like cars and racing games.
great game. grafik are not the best but the races are fun, the shop is incredible, playing in split screen is awesome....the details of each

great game. grafik are not the best but the races are fun, the shop is incredible, playing in split screen is awesome....the details of each custom possibility is very nice. For all racing game fan who are looking for an option on switch, GO FOR THIS!

…

Expand

Perfect gameplay, awesome cars (really nice mix, even americans, ohh yes!), soooo many races, cool level-system, nice local-play

Perfect gameplay, awesome cars (really nice mix, even americans, ohh yes!), soooo many races, cool level-system, nice local-play features........Cool leaderboard feature which makes you wanna compete. The graphics aren't the best (lacking details, fx dust and more smoke) - BUT it doesn't mean it's a bad racing game, cause it got the good elements for a "arcade" racing game. Now a days all racing games are too realistic.....I just need gasoline peps......full speed, more horsepower, best time ect. ....... The game brings back memories from the 90s SEGA Rally......
I like it.......and runs smooth on the go!

…

Expand

finally a car game on switch :)
real cars from real brands (not enough tho), fun multiplayer game mode
an great arcade game even if graphfinally a car game on switch :)
real cars from real brands (not enough tho), fun multiplayer game mode
an great arcade game even if graph aren't awesome still love it

…

Expand

El juego no es la maravilla pero tampoco esta tan mal la capacidad de poder jugar 4 personas en una pantalla es mucho de aplaudir el, es un

El juego no es la maravilla pero tampoco esta tan mal la capacidad de poder jugar 4 personas en una pantalla es mucho de aplaudir el, es un buen juego que Merece ser aprovechado a la hora de lo descuentos

…

Expand

So Gear Club Unlimited is pretty solid. I thoroughly enjoyed what I played of it last night. The UI and structure still makes it pretty

So Gear Club Unlimited is pretty solid. I thoroughly enjoyed what I played of it last night. The UI and structure still makes it pretty evident that the game was born on mobile, and as expected, it doesn't do much to challenge the authority of Forza or GT. The controls feel good on Switch, though, and the game is right-sized for its platform in a lot of regards. The races are varied, and progression with level, money, and unlockables goes pretty quick. Graphics are good, especially the car models. Customization features are fairly extensive and provide a great way to make the experience your own. I especially like the garage/workshop customization since it's so different from other racing games. It gives the whole thing a fresh and unique flavor. The only things that make it somewhat difficult to recommend are 1) the $50 price tag seems about $10 too high for it being obviously built on a smaller budget than its contemporaries, 2) while local multiplayer seems great, there's no simultaneous online play, 3) there are a few missing things like a Single Race mode that would've enhanced the package considerably, and 4) it could strike some players as being too generic if they're used to stuff like Forza. None of that really bothers me, but mileage will vary depending on what kind of gamer you are. Still, for the first racing game on Switch with licensed real-world cars, it's a decently satisfying purchase. I'll definitely spend some time with it casually between Skyrim sessions, so at least it's not the type that I play once and shelve indefinitely. There's already a lot of content, but free DLC is promised over the next couple months that could enhance it further. In its current state, I'd give it a solid 8/10, and frankly, that may be a little better than I expected.

…

Expand

Great Game but This game I cannot change cars i Cant Change Cars when Required this game is Broken i pressed all buttons on my Joy-Cons but no

Great Game but This game I cannot change cars i Cant Change Cars when Required this game is Broken i pressed all buttons on my Joy-Cons but no option to change cars How do you change Cars this game is broken because no option of changing cars theres no manual I dont Get it at all. Explain to me how do you change cars because theres NO Option

…

Expand

I played this game for a week, on the switch, but it wasn't a nice experience, I just played it because I felt bad spending 40€ and never use

I played this game for a week, on the switch, but it wasn't a nice experience, I just played it because I felt bad spending 40€ and never use it, the biggest problem of this game is hat on the switch it has half a second of input lag, especially when it's in doc mode. This makes the game so annoying to play, furthermore, the races are really short and the playtime is 50% loading time. Unacceptable for a 40€ game... if I would have been able to ask for a refund I would have done it for sure.

…

Expand