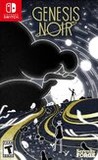 Summary:

A noir adventure spanning time and space. You play as No Man, a watch peddler caught in a love triangle with other cosmic beings, Miss Mass and Golden Boy. When your affair turns into a bitter confrontation, you will witness a gunshot fired by a jealous god—otherwise known as The Big Bang.

A noir adventure spanning time and space. You play as No Man, a watch peddler caught in a love triangle with other cosmic beings, Miss Mass and Golden Boy. When your affair turns into a bitter confrontation, you will witness a gunshot fired by a jealous god—otherwise known as The Big Bang. Jump into the expanding universe and search for a way to prevent or destroy creation and save your love.
A NON-TRADITIONAL POINT AND CLICK ADVENTURE
With a focus on tactile puzzles and exploration, you'll experiment with objects in small slivers of the universe to discover how they can be manipulated to progress your journey. Dial a rotary phone; destroy a civilization; plant a garden; improvise with a musician; create life—all in your search for a way to save Miss Mass.

JUMP INTO THE EXPANDING UNIVERSE
The Big Bang isn't just the birth of creation as we know it, it's also a gun blast frozen in time, with the bullet speeding towards the love of your life. You'll jump into pockets of time, explore moments throughout the lifespan of the universe, and search for a way to change the course of destiny.

WITNESS THE BIRTH AND HISTORY OF MANKIND
You'll observe moments in the history of the universe, from the first microseconds of Life to trillions of years in the future. What will you learn about these new creations, in your search to destroy them?


…

Expand
Developer:

Fellow Traveller

Genre(s):

Adventure

,

General

,

Point-and-Click

# of players:

No Online Multiplayer

Cheats:

On GameFAQs

Rating:

T
The game sizzles with invention, and its hyperactive flits from the cosmic to the prosaic combine to produce an astonishing, memorable and novel piece of work. The game's ambitions lie not in producing a pixel-perfect representation of the world, but in something deeper and truer.

Genesis Noir is genre fiction that slow burns from a hard-boiled detective mystery to a cosmic exploration of potential and possibility. It showcases a form of storytelling exclusive to an interactive medium, not only immersing the player in rhapsodic visual landscapes, but expecting them to find tactile interpretations from its collection of curiosities. Genesis Noir doesn't position chaos as a subject for control, only an objective to be experienced and appreciated.

Genesis Noir may only be a few hours, but I'm still thinking about it days later. The stylish line art and jazz-filled soundtrack help make this cosmic tale stand out even more. While Genesis Noir might not be quite a game or point and click adventure, it is an interactive art piece that's not only enjoyable but also educational. I look forward to seeing what else Feral Cat Den has in store; meanwhile, don't sleep on Genesis Noir.

Genesis Noir shines with impeccable visual and musical style that its mechanics and narrative can't quite match, but don't ruin either.

Genesis Noir is a brilliant story of love, loss, and cosmic forces that provides an amazing experience despite its flaws and performance issues on Switch.

Genesis Noir is a shooting star – an engrossing, mind-blowing marvel in the moment, but its glitter does fade away, and its story does not necessarily stir the soul. The interactive sections of the game gave slices of ingenuity in the storytelling of its world but ultimately lets down its fantastic visual presentation. Still, the ambitious and creative forces that banded together to create such a rich experience are worthy of admiration. If you enjoy artsy games with a whole lot of flair, the game is worth checking out for its style alone.

Here's the thing, and it's a bit of a kick in the pants. Genesis Noir is a very cool, very interesting and exceptionally well-presented game. It tells its esoteric story in an effective, exciting way with a litany of memorable visuals, fantastic artwork and a genuinely brilliant soundtrack. And, unfortunately, we simply can't recommend playing this compromised, ill-fitting, arduous and glitchy Switch port in the slightest. Maybe it's just us, but knowing we could be experiencing the spectacle of this clearly brilliant piece of art in a much higher resolution, at much greater fidelity, and with an order of magnitude less frantically wriggling the left analogue stick because we're convinced the game has broken is just a sobering reason to ask why we would even bother if this version isn't your only option. Even if you do only have a Switch, we'd recommend waiting until you have something else. This is a game that deserves better.
I love this game. I consider this to be high art. The visuals and the sound combined together presented a very unique experience. Something

I love this game. I consider this to be high art. The visuals and the sound combined together presented a very unique experience. Something I've never experienced before. Especially loved one of the puzzles where you're manipulating waves. I would give it a 10 except there was one part where I couldn't manipulate one of the puzzles and this was a bug issue. Had to restart a chapter a few times in order to complete it. But overall this is so fantastic. And it really is pushing me to want to learn more in the area of Science and physics/astronomy (no spoilers). Bravo!

…

Expand

It's an interesting concept, but not worth it for the awful controls. I'm glad I bought this on sale because otherwise I'd be so annoyed at

It's an interesting concept, but not worth it for the awful controls. I'm glad I bought this on sale because otherwise I'd be so annoyed at not finishing it. There's other beautiful games out there that have managed to be aesthetically pleasing and are enjoyable to okay.

…

Expand