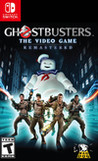 Summary:

Strap on your proton pack once again and join the Ghostbusters on the adventure with the voice and likeness of the original crew as you battle to save New York. Authentic Ghostbusters Experience - The game features the voices and in-game likenesses of Bill Murray, Dan Aykroyd, Harold Ramis,

Strap on your proton pack once again and join the Ghostbusters on the adventure with the voice and likeness of the original crew as you battle to save New York. Authentic Ghostbusters Experience - The game features the voices and in-game likenesses of Bill Murray, Dan Aykroyd, Harold Ramis, and Ernie Hudson in an original story penned by the writers of the original films - Dan Aykroyd and Harold Ramis. Unique Gameplay - Experience unique ghost hunting, wrangling and trapping with upgradeable weapons in widely destructible environments. Test the team's mettle with large scale boss fights. Storyline Campaign - Play through a unique storyline as the player battles and captures ghosts - both well-loved and brand new - throughout New York.

…

Expand
Developer:

Saber Interactive

Genre(s):

Action

,

General

# of players:

No Online Multiplayer

Cheats:

On GameFAQs

Rating:

T
Please enter your birth date to watch this video:
You are not allowed to view this material at this time.
Ghostbusters: The Video Game Remastered - Nintendo Switch Pre-Order Trailer
Enjoyment of Ghostbusters: The Video Game Remastered depends almost entirely on your affection for the movies – we love 'em, but if you don't then knock at least one point off the score below (and perhaps take a long hard look in the mirror). For the rest of us, this is a wonderful form of time travel. It has no business calling itself a remaster and is best approached as a straight port of a ten-year-old game, but it's a fine one. Mechanically-speaking, there's little you haven't seen elsewhere, but it's a good-looking, fun third-person romp dripping in slimy nostalgia, and the chance to spend time in the company of these old friends – some of them dearly departed – is too good to pass up if you've ever strapped on your school backpack and gone out to catch ghosts in the garden.

If you are a Ghostbusters fanboy like myself then I highly suggest this game.

Although Ghostbusters: The Video Game Remastered does include a handful or two of ideas and ghosts from the first two movies, it does a great job of explaining things enough that someone unfamiliar with the franchise can pick it up and play.

Ghostbusters: The Video Game Remastered has some good things going for it. A fun story, excellent voice work from the original cast, and a nice new shine to the visuals, all making the campaign feel solid. The removal of multiplayer and a lack of polish on the cutscenes make this feel a little rushed, though. If you are a fan of the brand, you will enjoy this game, but if you never really cared for the Ghostbusters, then this won't change your mind.

Ghostbusters: The Video Game Remastered is a good recreation of the famous movie world, with plenty of fun moments between the original cast members and a good variety of enemies to catch. The game's value starts running out soon enough, though, with its short main game mode and graphics which have few advances compared to the original game.

Ghostbusters: The Video Game Remastered might not do anything new for the Switch version, but fortunately there was already a good game there with a story that any Ghostbusters fan should experience at least once. We might not get the 4K, frankly, the visuals wouldn't look much better for it, but Switch owners get to play it anywhere. So how could it not be the best version to revisit, or to experience for the first time. More than anything, check out this game if you're having trouble waiting until next year for the reboot and sequel.

Ghostbusters: The Video Game Remastered is still a fun ride for fans of Ray, Egon, Peter and Winston. It's just too bad that no new features were added, that the game lost its multiplayer mode and, most of all, that it wasn't really remastered. Let's just hope that Saber Interactive will keep its promise and add a new multiplayer mode soon.
Possibly the best voice acting in any video game.
This is what its like when source material is respected and a game's story is done right.Possibly the best voice acting in any video game.
This is what its like when source material is respected and a game's story is done right.
If you love the original Ghostbusters this is the best time to play this game if you haven't before. The script for this game is from the original writers and with the original cast. I always wanted a third movie and this is as close as we will ever get. The quality of the actors, writing and art-content is amazing.
Its so much more enjoyable on modern hardware than when it was released (especially the Wii version, which had awful controls).
Its so cool to immerse yourself in the world of Ghostbusters. Its fun just walking around and looking at the art.
I personally put the game on casual because I just want to experience the story. The pacing of searching with PKE and then the action scenes is fun.
My only gripe with this is that some of the story is almost sexually predatory, which feels weird by todays standards. But its a little dated. I get it. Also multi-player is removed. But seems like thats planned to be released later. Also, no customization of the main character is kind of a let-down, but I'm guessing it has to do with customizing pre-rendered scenes. I feel he doesn't really stand out in any way in character design and I often get him confused with Peter or Ray, which shows he's just poorly designed.
The Nintendo Switch version is great on a big TV and in hand-held mode.
In an age with crap re-makes and lack of creativity or respect to source materials, this is the opposite. I highly suggest buying this to cast a vote for games like this.
Also Harold Ramis, rest in peace. He's great in this game!

…

Expand

Definitely a fun game, I have had a blast with it. The game isnt "fully remastered" on Switch, although it does have a better frame rate and

Definitely a fun game, I have had a blast with it. The game isnt "fully remastered" on Switch, although it does have a better frame rate and better resolution docked than PS3 and 360. The textures look better as well. Handheld mode is solid too, even when things become hectic. As for gameplay, its a bit repetitive, although it has a good storyline!

…

Expand

Ghostbusters was in my opinion was one of the best third-person shooters to come out on the Xbox 360, it was a fun and exciting game with

Ghostbusters was in my opinion was one of the best third-person shooters to come out on the Xbox 360, it was a fun and exciting game with pretty good voice acting and a true follow up to the Ghostbusters movies. And the Nintendo Switch version is a bit of a mixed bag. Although the textures have been sharpened and significantly improved compared to the Xbox 360 version, the overall graphics are pretty much identical, and oddly enough the same can't be said for the rest of the game.

Although the gameplay mechanics function similar to that of the Xbox 360 version, some changes have been made. For one thing, the proton stream is now very difficult to aim and control, making it a bit annoying to capture ghosts as most of the time the game does not register where the proton stream is hitting. Now, this is somewhat improved after upgrading the pack which in this version feels mandatory were in older versions it was truly optional.

Now it can't be said that Ghostbusters (the video game) does not have a well-written story. Being written by Ghostbusters creators Dan Aykroyd and the late Harold Ramis, the game in their own words is the Ghostbusters 3 they wanted to make and it definitely feels like that. The voice acting is well done and performed by the original cast offering a true and immersive Ghostbusters experience. Sady the game itself is quite short.

The only other issue I found with the remastered version is that the AI felt dumb downed and completely useless at times, which is such a shame since in the original version the AI players were useful and grate at crowed control in more difficult settings. In the remastered version, most of the time the AI is just standing there doing little of anything and spends most of the time holding ghosts in the air rather than trapping them or truly fighting them.

A weird note I would like to add is that after completing the game and choosing experienced for the difficulty setting, the game tutorial actually prompt and forced me to do the basics before moving on. This is odd seeing how this did not happen in my original casual playthrough. It does not take away from anything it's just an odd thing to have happened that did reveal that no matter what the capture stream (or L button) was completely random and rarely worked on command, most likely due to the game itself having difficulty registering your proton streams.

Now although there are some issues with the new version and that it's not technically a true remaster, the core game is still enjoyable. True the game is a bit short and the gameplay in this version is a bit flawed, the game itself is still enjoyable that offers a fun and casual gaming experence to any ghostbuster fans and a good challenge to those looking for one. This game in my opinion is a must-have for any Switch owners regardless if they are a Ghostbuster fan.

…

Expand

Vendu à petit prix, Ghostbusters Remastered est un cas d'école pour les jeux vidéo tirés de licences cinématographiques. Bénéficiant d'un mode

Vendu à petit prix, Ghostbusters Remastered est un cas d'école pour les jeux vidéo tirés de licences cinématographiques. Bénéficiant d'un mode solo riche et généreux sous la forme d'un scénario digne d'une vraie suite aux films de la saga, le jeu est respectueux de l'oeuvre original. Techniquement, le jeu tourne parfaitement sur Switch mais ne propose aucune amélioration notable vis à vis de la version originale de 2009. Un bon jeu 100% solo qui sera un must-have pour les fans de la licence Ghostbusters et qui sera également un bon divertissement pour les nouveaux venus.

…

Expand

Las mecánicas se hacen algo repetitivas pero es imprescindible para los fans de la saga. El juego es la tercera película.

Un ottimo gioco a cui avrei elargito un 8 normalmente ma flagellato dalla resa su switch. Porting sufficiente e troppi caricamenti

A fan tribute that seems pieced together and heavily scripted. I recommend watching the original GhostBusters and grabbing the game when it's

A fan tribute that seems pieced together and heavily scripted. I recommend watching the original GhostBusters and grabbing the game when it's thrown into the bargain bin.

Gameplay: 5
Graphics: 5
Audio:5
Fun Factor: 5

…

Expand