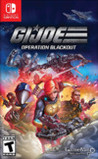 Summary:

YO JOE! G.I. JOE AND COBRA ARE BACK!
G.I. Joe: Operation Blackout is a team-based third-person shooter where you play as your favorite characters from Team G.I. Joe and Team Cobra. Experience the action from both sides as you help G.I. Joe restore order and lead Cobra to world domination.YO JOE! G.I. JOE AND COBRA ARE BACK!
G.I. Joe: Operation Blackout is a team-based third-person shooter where you play as your favorite characters from Team G.I. Joe and Team Cobra. Experience the action from both sides as you help G.I. Joe restore order and lead Cobra to world domination.

G.I. JOE VS COBRA
Play with 12 of your favorite characters from both sides across 17 epic campaign story missions.

CO-OP & PVP MULTIPLAYER
Play the campaign with a friend in local co-op, or compete in 4-player PvP local matches in 4 Multiplayer Modes: Capture the Flag, Assault, King of The Hill, and Deathmatch Arena.

COMBAT TOOLS
18 awesome weapons, 36 weapon skins, 12 alternate character skins and a series of uniquely devastating ultimate abilities.

A LEGENDARY FRANCHISE
Play with 12 of your favorite characters from both sides across 17 epic campaign story missions.

…

Expand
Developer:

GameMill Entertainment, IguanaBee

Genre(s):

Action

,

Shooter

,

Third-Person

,

Arcade

# of players:

Up to 4

Cheats:

On GameFAQs

Rating:

T
Overall I think G.I. Joe Operation Blackout is decent but will quickly fall into obscurity with the abundance of better quality third-person shooters on modern consoles. In my opinion, the diehard genre fans won't give much thought to this without online gameplay. In truth, this game will mostly appeal to a limited niche, mainly GI-Joe fans.

G.I. Joe: Operation Blackout aims to rekindle the campy military antics of the celebrated American toyline. The result is a shooter that's serviceable, yet wholly unsurprising in its execution. You can go at it alone, but it's more fun gunning enemies with a friend.

If we've made this game sound thoroughly generic, that's because it is. But it's not a disaster — Operation Blackout has plenty to do, with unlockable skins and modifiers to mess around with if you get into it, and there's love for the G.I Joe property here, so fans of the toys may get a kick out of it. For everyone else, though, it's a very difficult game to recommend. If you want a third-person shooter on Switch, Rebellion's Rogue Trooper or Zombie Army Trilogy are both better buys. And now you know. And knowing is half the- actually, no, forget it. We're not even going to finish the thought. We're better than that.

G.I. Joe: Operation Blackout is an action game that takes no risks in venturing outside the usual conventions, and while it may be a fun effort for longtime fans of the series, thanks to its wide cast of characters, it will end up feeling like a rather drab work for everyone else. If the variety of game modes and content is worthy of praise, the game's lackadaisical AI and overall monotony make G.I. Joe: Operation Blackout something that doesn't manage to rise above its peers.
12 characters (6 on Cobra's side and 6 on G.I. Joe's side). You can choose between 2 characters in each level (17 levels in total including 3

12 characters (6 on Cobra's side and 6 on G.I. Joe's side). You can choose between 2 characters in each level (17 levels in total including 3 vehicle - tank - based ones) in your first play through of the campaign, then all 6 characters on each side (plus'modifiers') are unlocked.
4 difficulty levels.
Each character has it's own 'maneuver'; sometimes it's just roll, sometimes roll only once but then sprint extra fast for a short while etc. ('Sci-Fi' for example has a computer generated shield to hide behind while he recovers).
You can crouch as well and thereby use various "electric" shields and obstacles in the various levels to hide behind to better recover.
Each character also has an extra powerful 'Ultimate' ability that has to recharge before it can be used again.
There's a regenerating shield (from max. 130 points - Snake Eyes - 180 - Duke, etc.).
The game has the reload mechanic from Gears of War (hit reload, then one more time during a small "window" to reload faster).
4 different control configurations (the game controls well considering all the mechanics it has IMO).
The AI (artificial intelligence) is admittedly a bit "old school" i.e. primitive; most of the enemies just charge at you, maybe going from side to side as you try get a good aim at them. But you just go in with a melee kill, if you can't seem to hit them (or run away and try to hide until your shield has regenerated).
Unlockable covers from the G.I. Joe comics.
All in all a good game for people who like 3rd person action shooters (and of course especially for G.I. Joe fans and kids in general - you don't kill people, it's all bots - and the various characters you fight just run away when they've had enough). It suits the Switch well in handheld mode (I have a Switch Lite - some of the text is pretty tiny though).
The game also has local multiplayer with up to 4 player plus co-op campaign (you play with an AI controlled character in single player).

…

Expand

It's imperfect and the game modes are limited but the nostalgic nods and a surprisingly deep 3PS meta make Operation Blackout a very fun game

It's imperfect and the game modes are limited but the nostalgic nods and a surprisingly deep 3PS meta make Operation Blackout a very fun game that will make any Joe fan more than a little bit happy. The character special abilities and playstyles make for some interesting tactical/playstyle choices. Switch graphics are a definite downgrade on PS4 (no moving lips and contrast issues). Would be great to have bots for multiplayer and online multiplayer too. Devs said they are keen to support with more content post-launch so let's see.

…

Expand