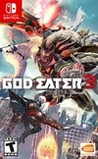 Summary:

All of sudden, unknown life forms called "Oracle cells" begin their uncontrolled consumption of all life on Earth. Their ravenous appetite "devour" and remarkable adaptability earn them first dread, then awe, and finally the name "Aragami". In the face of an enemy completely immune to

All of sudden, unknown life forms called "Oracle cells" begin their uncontrolled consumption of all life on Earth. Their ravenous appetite "devour" and remarkable adaptability earn them first dread, then awe, and finally the name "Aragami". In the face of an enemy completely immune to conventional weapons, urban civilization collapses, and each day humanity is driven further and further toward extinction. One single ray of hope remains for humanity. Following the development of "God Arcs" - living weapons which incorporate Oracle cells - their wielders, the "God Eaters," appear. In a world ravaged by mad gods, these "God Eaters" fight a desperate war... Create your character, and fight for the survival of human-kind in GOD EATER 3 . Select your weapon from a wide range of God Arcs and face brand new Aragamis in dynamic high-speed battles. Explore devastated areas you have never seen in the previous GOD EATER games.

…

Expand
Developer:

Bandai Namco Games, Marvelous First Studio

Genre(s):

Role-Playing

,

Action RPG

# of players:

Up to 8

Cheats:

On GameFAQs

Rating:

T
In short, God Eater 3 more than proves itself to be the best entry in the series. The new and revised abilities give combat an extra layer of depth. Marvelous did a fantastic job ensuring that each weapon-type, new or otherwise, is exceptionally balanced and entertaining to wield. Ash Aragami lend an interesting dimension to each encounter. Players essentially have to learn two move-sets, and one of them is capable of wiping out their entire squad in seconds. Numerous quality-of-life features round out this masterful game.

God Eater 3 was already a great game and the Switch version actually feels like the best way to play it. It runs smooth whether handheld or docked, and the extra content is a bonus. I'd probably go so far as to recommend this over the PS4 version, though if you already own it I wouldn't implore you to buy it a second time unless Switch is your main console or you want something awesome to play on the commute. Either way, God Eater 3 is a prime example of a Switch port done right.

To play God eater 3 on the go, shrinking down some graphics on Switch is inevitable. However, the gameplay experience remains the same as other platforms, and even better on the Co-op part, since the local multiplayer mode is exclusive to the Switch version.

God Eater 3 isn't a substitute for the lack of Monster Hunter on the Nintendo Switch. It is its own thing and should be treated as such. God Eater 3 has an interesting world to explore and the post-apocalyptic setting suits the tone of the game well. The fast-paced and intense combat is fun but is best enjoyed in shorts bursts.

God Eater 3 isn't for everyone. Some will find it too easy, its story is passable, its controls take some getting to… I could go on. Thanks to its engaging fast-paced combat and considerable character development options, however, it's well worth working through its flaws.

God Eater 3 is a middling experience of ideas and gameplay that paradoxically work and don't work. It can be a lot of fun and it can be a slog of dialogue. It can be an intense firefight and epic battle, but only last less than a minute before returning to base. Somewhere beneath the tangled web of ideas lies a wonderful game but for now, in its current state, it's a serviceable experience to pass the time on the go if you ignore the narrative and stick to the hack and slash chaos. I had hoped for more out of the level design and overall presentation but sadly it feels like something from the late PS3 era. Hopefully Marvelous will learn from this experience to make God Eater 4 everything we could ever want in the end times.
Excelente juego si te gusta monster hunter seguro te encantará y si eres de los que les gusta más que todo la acción y la exploración no tanto

Excelente juego si te gusta monster hunter seguro te encantará y si eres de los que les gusta más que todo la acción y la exploración no tanto definitivamente es tu juego, gran cantidad de misiones una historia tipo anime bien narrada y sus dos son totalmente estables,eso sinmencionar que es portátil. 100% recomendado

…

Expand

While some people may dislike the short missions, I love them. For busy people or those with game addiction issues, games like this are

While some people may dislike the short missions, I love them. For busy people or those with game addiction issues, games like this are perfect. The combat is fantastic which is the real point of a game like this. Because this missions or so short, you can play it for 10 minutes, have a blast on your break, and then put it down and do whatever it is you're supposed to be doing instead of playing games. It's a perfect homework respite.

…

Expand

Huge fan of the previous games and this game definitely pushes the graphics and gameplay to the next level. It works well on Switch whether in

Huge fan of the previous games and this game definitely pushes the graphics and gameplay to the next level. It works well on Switch whether in handheld or in docked mode. Well worth playing and better imho than Monster Hunter.

…

Expand

This game is just my cup of tea. Franctic anime action on Monster Hunter series template. Do not expect the same level of challenge though.

This game is just my cup of tea. Franctic anime action on Monster Hunter series template. Do not expect the same level of challenge though. God Eater 3 has a more fast-paced, button-mashing playstyle.
Switch version runs at a solid 30 FPS and graphics in TV mode are comparable to base PS4 version. Graphics in handheld mode are a bit too pixelated for my taste, but the game plays great nevertheless.
Adding portability to God Eater mix, this is the version of the game with most added value IMO.

…

Expand

Nice game. Nice graphics. Short burst missions. Could've been a little longer. Less than 10mins to complete a mission.

I didn't know what to expect from God Eater 3. No one I know did play any of'em. All I know was: its somekind of a Monster Hunter Game. and

I didn't know what to expect from God Eater 3. No one I know did play any of'em. All I know was: its somekind of a Monster Hunter Game. and yes - it is. But it has so much to offer than just copy MH. Its an amazing Game so far. And for the Nintendo Switch - its a perfect Match. The Missions are mostly short (2-10Min). So perfect to play while heading to work or during some breaks. Also the port seems very good. The story is good. Nothing really new, but entertaining. Weapon- and Gear design is really cool. I'm about 10h in and I still want to do some missions when I have time to. I'm really surprised by God Eater 3. I enjoyed it more then Monster Hunter World so far.

…

Expand

A really solid, fun title if you're looking for a faster-paced, less strategy orientated Monster Hunter that's more geared towards action than

A really solid, fun title if you're looking for a faster-paced, less strategy orientated Monster Hunter that's more geared towards action than the more methodical approach of MH (Monster Hunter). It's also a much easier to approach game than MH for newcomers; every control and system is explained to you in a way that's easy to understand, making this a great game to get into if you're on the fence about the depth of these games.

To go over all of the positive aspects about the game, I of course have to first mention the combat. The combat is, bar none, some of the greatest in any video game I've played in recent memory. The music can be hit or miss, but the majority of the time, i found myself either enjoying the score or forgetting it was there entirely as I focused on combat, but it was never intrusive or too much. The game also has an insane amount of customization allowed for your character with the amount of weapons you can choose from, as well as a decent cosmetic customization system. The Aragami design, the monsters in this game, is also very good, and I'd go as far to say even better than recent MH titles.

While this game does have stellar combat and a few other great mechanics, I do want to touch on the flaws as well. The story isn't anything to write home about and the dialogue really isn't up to par with most modern games, but the characters are memorable and charming. Another small issue is the mission design; Every mission you go into is very straightforward, with a path akin to a corridor, a room, another corridor, another room, and copy and paste this formula for almost every map in the game, meaning exploration is out of the picture entirely for this title. All of the maps in the game are also reused multiple times, taking away from the immersion in the game, but considering most people won't be too terribly into the story and its continuity, it's an easy flaw to look past.

The visuals are also nothing spectacular. Take any JRPG from the last few years and you'll see that God Eater 3 looks almost identical to other games that came out years before it. The landscapes and design of some areas is interesting and cool to look at, but overall, it's just a small step below of what we should be expecting at this point, even for a switch title, but that also doesn't necessarily mean the visuals are bad either. I personally think it's a complete non-issue, I never really care about graphics in video games, but for the select few, I think it's worth mentioning that it isn't anything grand.

So to sum this all up, here are the pros and cons of the game so you can decide for yourself what will impact your enjoyment.
Pros:
- Fun, fast-paced action.
- Memorable characters.
- Lots of customization and great weapon design.
- Amazing and unique monster design.
- Good, non-intrusive music.

Cons:
- Bad dialogue.
- A forgettable story.
- Reused mission locations.
- Straightforward mission design.

…

Expand