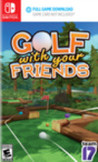 Summary:

Golf With Your Friends is an entertaining, challenging, multiplayer mini golf game for up to 12 players. The game currently has 3 levels containing 18 holes each. The controls are simple and the game is designed for the user to be able to host or join a game within a few seconds.
Fans of crazy golf will find a lot to love in Golf with your Friends, with outlandish levels and chaotic game modes.

At the end of the day, Golf With Your Friends is a fantastic package that is extremely accessible with its large breadth of customization options for both local and online play. It has a lot of content to experience, and while I can't say I will spend much time with it by myself, I know that it has now become a staple game to pull out at any gathering.

Golf With your Friends is a solid example of the phrase "It Does Exactly What It Says On The Tin." Focusing less on flashy visuals, and instead nailing a simple recreation of mini-golf, backed by accessible controls, and plenty of level and mode variety, results in a top gaming option for groups of Switch players.

At its core, Golf With Your Friends is still a decent golf game. Get an online multiplayer game going with some similarly-skilled pals and you'll have a great time making your way through its weird and wonderful courses (don't even get us started on the Worms course and the jetpacks you can get). Its main problem is that every time you change these optimum conditions – playing with strangers, playing offline, playing solo, playing with a mix of experts and beginners – you're going to get diminishing returns from your experience. As long as you take the title literally, you'll have fun.

Golf With Your Friends might not be the ultimate multiplayer golf experience but there is still enough variety here to have a good time. Even when playing single player the intricate courses will keep you entertained.

I'm actually disappointed that I didn't like Golf With Your Friends more. I enjoy party games, I enjoy minigolf, and I do think that the fundamentals of good minigolf are in there. However, it's worth remembering that right back at the start with the Nintendo Switch Zen Studios released Infinite Minigolf - a minigolf game with character avatars, personality AND the ability to create and share courses, giving it much greater value as a single-player experience. It doesn't have the ability to provide the kind of wildly entertaining large party experience of Golf With Your Friends, though, so I guess the question then becomes which of the two scenarios will more likely describe how you're playing games most of the time?

Golf With Your Friends on Switch is probably the worst way to experience this game. When compared to the PC version, you are missing a lot of value for your dollar. The game costs $20 on Switch while it only costs $10 on Steam. For twice the price, you are getting half the game, and honestly, that makes this version not worth it. However, I still highly recommend Golf With Your Friends, just make sure you get the PC version.
In its current state the game is not worth buying on Switch. Local multiplayer is shambolic, with no multi-controller (and as such multi-user)

In its current state the game is not worth buying on Switch. Local multiplayer is shambolic, with no multi-controller (and as such multi-user) support, glitches ranging from poor physics to round-destroying bugs where the game doesn't update your position in its memory, and more.

…

Expand

one of the worst games i've played in the last few years!!

the physics are SO off. you shoot in an 45 degree angle on an even boundary andone of the worst games i've played in the last few years!!

the physics are SO off. you shoot in an 45 degree angle on an even boundary and the ball doesn't only NOT bounce in the same angle, it just bounces 90 degrees in the wrong direction.
the bar where you can set the power to shoot is completely random. you can do it exact the same way multiple times and it will differ every single time. for example: on the same spot you should uphill with full power. sometimes the ball is too short to reach the edge to the next level & sometimes it's way to much power and it goes out of bounds.
also if you have to shoot and there is a gap in-between you can land 1 meter after the obstacle and the ball glitches through the floor and you have to start again.

it is unplayable and a torture. definitely won't recommend this game.

the music and the level designs are awesome, that's why it gets 2 instead of 0 points

…

Expand