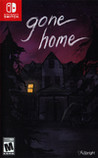 Summary:

June 7, 1995. 1:15 AM.

You arrive home after a year abroad. You expect your family to greet you, but the house is empty. Something's not right. Where is everyone? And what's happened here? Gone home is an interactive exploration simulator. Interrogate every detail of a seemingly normalJune 7, 1995. 1:15 AM.

You arrive home after a year abroad. You expect your family to greet you, but the house is empty. Something's not right. Where is everyone? And what's happened here?

Gone home is an interactive exploration simulator. Interrogate every detail of a seemingly normal house to discover the story of the people who live there. Open any drawer and door. Pick up objects and examine them to discover clues. Uncover the events of one family's lives by investigating what they've left behind.

Go home again.

…

Expand
Developer:

The Fullbright Company

Genre(s):

Adventure

,

3D

,

First-Person

# of players:

No Online Multiplayer

Cheats:

On GameFAQs

Rating:

M
When I first played Gone Home five years ago, I remember sitting and staring at my computer screen for a long while after completing the game. I didn't want to move or speak. I just wanted to think about what I had experienced over the course of an evening. The Fullbright Company knows how to tell a story and they succeed at making the player feel that he or she is part of that story. If you want a narrative experience that demonstrates what the video game medium is truly capable of, play this game, but do so slowly. Gone Home is not a game to hurry through, but one to savor and remember.

Ultimately, Gone Home is the same game no matter what platform it is played on. It brings the same emotions, anxieties, and intrigue to the table now as it did years ago. There is no denying, however, that the versatility offered by the Switch version fits the calm nature of the walking sim, whether it is played docked or not—plus it's just plain cool to experience the story in such close quarters.

While it is a five-year-old game, there's no denying the cultural and developmental impact Gone Home has had on the game industry. Both as a near-perfect exercise in interactive storytelling and an example of how to handle complex and very real ideas in a game, only Life is Strange has ever come close to matching its significance. While there still isn't much 'game' to be found here, the story you unravel through exploring an empty home will stay with you long after you've put down your Switch. Essential.

It's quite amazing what Gone Home was able to accomplish through minimal action and a highly believable, immersive setting. It still resonates even after all these years — and not many games have accomplished what it has in terms of a slice-of-life, heartfelt story that comes together in a realistic environment.

Recommended for people with detective spirit, explorers or voyeurs. For those who do not look for a game to be eternal but to get lost. Play it in English because in this way it offers the best experience, do it in the dark, on a rainy night, in portable mode.
This is not for everybody. You will rank this game very high, or very low.

What looks like a 3rd person point-and-click adventure isThis is not for everybody. You will rank this game very high, or very low.

What looks like a 3rd person point-and-click adventure is actually an interactive novella, which you piece together from clues scattered around the house.
There are no action sequences in the game, no real puzzles, you will not get stuck, and it becomes obvious pretty soon what you need to look out for to proceed with the story.
The "challenge" of the game is to keep up with the story threads and the timeline they present - though it makes no difference to your ability to advance in the game, only in your ability to enjoy it.

Ultimately, whether you like the game comes down to whether you like the story and empathize with the characters. Gone Home makes it easy, by being very well told. keeping you exited about what will happen next, fearing for dark turns and the well-being of the characters. But it is not everybody's cup of tea.

If you are a traditional value person, in video games or otherwise, you probably will not like this. If you want something different, and can enjoy what feels like a more personal story, told in an unconventional way, this is for you.

Considering how often I had to save the world (or a MacGuffin) from a villain with simple motivations, along with Night in the Woods, this is the best narrative experience I had with a video game.

…

Expand

Not a game, but an intensely emotional piece of interactive fiction. Tells a lot by showing little. Its value would diminish quickly if it

Not a game, but an intensely emotional piece of interactive fiction. Tells a lot by showing little. Its value would diminish quickly if it were longer, but for a short game that can be completed in one long sitting, it's very much worth playing.

…

Expand

Gone Home features a great reminder of what the 90's felt like and has tremendous voice acting. Apart from that, the exploration gets pretty

Gone Home features a great reminder of what the 90's felt like and has tremendous voice acting. Apart from that, the exploration gets pretty dull once you've picked up the umpteenth identical cup or toilet paper roll, and the story is incredibly boring and hard to piece together; vague clues and tidbits throughout the house seem like artificial pandering of the game's short length, as you'll likely need to play it again just to ask, "Wait, what did I just read?". Coupled with a terrible cliffhanger ending and no redeeming moral qualities to the characters, and you've got a game that's only good if you REALLY want to re-live the 90's.

…

Expand