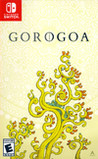 Developer:

Jason Roberts, Buried Signal

Genre(s):

Puzzle

,

General

# of players:

No Online Multiplayer

Cheats:

On GameFAQs

Rating:

E
I wish that this was an actual storybook, a heavy thing bound in leather and built from parchment.

Gorogoa is a very subtle and brilliantly innovative visual experience that will let your wide wide open long after its conclusion, thanks to a clever structure from start to finish. Jason Roberts' first game choose to mute this narrative puzzle tale, only to focus on strong visuals that navigates somewhere between surrealism and melancholy. Gorogoa may be quick to finish, but a second run seems clearly mandatory once you saw the ending. Too bad that all the available versions of the game display such different prices.

Gorogoa is a good fit for the Switch. The four panel interface is a good fit for a portable game and you can play the game entirely using the touch screen. While it makes for a good portable game, you should probably make your way through the game without long breaks in between as it can be hard to remember what panels led you to the current stage of the puzzle and how you last manipulated the current panels. Overall, Gorogoa is an unusual and unique puzzle game, and it's easy to recommend to anyone who enjoys games of this genre.

Gorogoa crafts its inventive, sliding-tile puzzles and magical world with a graceful simplicity across a compact but fulfilling adventure. The excitement of solving each puzzle may be lost on a repeat playthrough, but its hand-drawn art and clever payoffs are no less satisfying to watch unfold again and again. Gorogoa manages to say so much without uttering a single word, endowing it with a mystery that invites a more attentive, thoughtful revisit — and one that I was more than happy to accept.

By allowing you to play with paintings, Gorogoa takes form as one of the most impressive and smart puzzlers. By mixing up the ethereal and tangible, it plays around with your perspective in the form of a handcrafted kaleidoscope. Despite its short duration, it's a touching experience, one of the gems of 2017.

Gorogoa is worthy of everyone's attention. Writing about it doesn't do the game the favor it deserves so walk away, grab your Switch, a cup of tea and unwind through the calming waters of Robert's evocative creation!

I've seen articles mentioning that Gorogoa was created by a single man over a number of years, and it's clearly a monumental labor of love. I want to respect that and I appreciate the amount of work that must've gone into this title… I honestly can't even imagine. That said, as someone coming to this project knowing nothing about it beforehand, I found the Swiss-watch mechanics and detailed illustrations to be impressive, but the experience fell short in all other aspects. I'd love to view an edited Let's Play of all the sequences being solved in order, but I have a tough time recommending it as something to play.
Una prueba de que los vídeo juegos son arte, "Gorogoa" pertenece al género puzzle, donde una gran serie de dibujos en acuarela construyen una

Una prueba de que los vídeo juegos son arte, "Gorogoa" pertenece al género puzzle, donde una gran serie de dibujos en acuarela construyen una hermosa experiencia narrativa y visual.
Por el precio es mejor conseguirlo en dispositivos celulares, pero tenerlo en Switch me gustó. La definición es mejor y los controles responsables.
Lo recomiendo mucho, es una experiencia artística muy satisfactoria e introspectiva.

…

Expand

This review contains spoilers

, click expand to view

. I wish they would have narrated the story a little or shown it in some sought of galley in a sorted order once you fished all puzzles.

The story is that of a boy who goes through various stages of life and draws on his past experiences or as he journeys grows old and reflect on what he could have done differently. The non use of narrative allows the user to draw there own conclusion of the story and the never ending circle of life in gorogoa.

…

Expand

Beautiful, relaxing puzzle game with clever and fun-to-discover game mechanics. While short, the delight of completion means this will

Beautiful, relaxing puzzle game with clever and fun-to-discover game mechanics. While short, the delight of completion means this will definitely stay on my "replay" list in the future.

…

Expand

Gorogoa
stacks up with the best of them
Gorgoa is a bit of a dream, it's a weird story to describe without spoiling whats going on.. soGorogoa
stacks up with the best of them
Gorgoa is a bit of a dream, it's a weird story to describe without spoiling whats going on..
so basically you're a boy that sets out to gather 5 fruit..
And to progress through the story you'll be lining up pictures and stacking pictures on top of each other..
This game took me around 2 hours to complete my first time and I found the puzzles here to be clever..
There is just enough to handle at any given moment..
It gets close to the line of overwhelming towards the end of the game.. but it dances on the line.. never quite crossing it, keeping this challenging brain teaser to be satisfying and fun…
and times making me feel like a genius when I solved a puzzle instantly after remembering an alignment I was playing with earlier..
some may be turned off by the game length, however I felt 2 hours to be a great amount of time..
im not a huge fan of having to use my brain when I play games.. at least for not a long period of time..
so I was definitely happy gorogoa doesn't drag on forever..
it sets out to tell a story, deliver it through clever puzzle solving and picture stacking and it does just that..
right to the point, no time wasting.. no filler..
This is a great game every puzzle fan should check out
I give Gorogoa
an 8/10

…

Expand

Gorogoa is a relaxing puzzle based on shifting tiles, but it couldn't have existed as a physical object: it only makes sense as a videogame.

Gorogoa is a relaxing puzzle based on shifting tiles, but it couldn't have existed as a physical object: it only makes sense as a videogame. It's also unique in its mechanics, and beautifully illustrated in a hand-drawn, pleasantly old-fashioned style.

Gorogoa is clearly a labour of love. As you play it, you can feel the childlike passion and care that went into it. It's an artsy game that always seems to hint at some deeper meaning through its graphics and its slightly hypnotic mechanics. Is the meaning actually there? That's not the point: Gorogoa is evocative and sometimes almost moving, even if it's hard to make sense of its imagery.

Gorogoa is short game that respects your time, and it's very much worth playing.

…

Expand

It's definitely impressive that this game was essentially the work of one person over many years, with a clear and interesting vision. It's a

It's definitely impressive that this game was essentially the work of one person over many years, with a clear and interesting vision. It's a unique puzzler unlike any I've played before, and I'm glad that I played it and supported the indie developer. But at the end of the day, it didn't quite leave me fully satisfied.

There are some really clever puzzles, but the game doesn't do a good job of explaining it's mechanics. You just have to basically figure out how to play on your own. Sometimes, I solved a puzzle by logic and actually figuring it out which felt satisfying, but half the time it seemed like I solved it by pure luck of trial and error. Those times felt a bit disappointing. The puzzles do slowly ramp up in complexity, but the final puzzle was surprisingly straight-forward and easy; definitely a let-down to end the game on. It's also pretty short, which isn't always bad, but I felt like with it's unique and complex puzzle concept, it could have been longer with more puzzles to solve. I was a bit surprised to reach the end when I did.

Although it has an interesting vision and story to tell, the story is so vague I didn't really get much out of it. After I finished the game, I was just left scratching my head. I wish it had given some clearer insight, which also might have helped with the puzzle-solving. It is nice that's it's all music and sound effects, though. Great atmosphere.

Despite its flaws, it's still a unique game worth a try. If you're not sure about the $14.99 price tag, you probably wouldn't regret buying if it's ever on sale.

…

Expand

I don't think there's enough time to get the things done on a Nintendo switch console. Especially when I have to switch between 2 pictures

I don't think there's enough time to get the things done on a Nintendo switch console. Especially when I have to switch between 2 pictures sewell times. This is no problem at the PC console, because you have your mouse to get your things done. In Nintendoi don't have the mouse, and therefor I will take a bit longer, for me.... Actually I stock because of that :-(

…

Expand