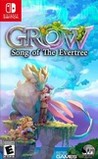 Summary:

Grow your own worlds and nurture a deep natural connection with everything they hold. See your actions change the world for better! Bring the Evertree back to life in this breathtaking world-crafting sandbox, with life management and adventure elements.
Developer:

Prideful Sloth

Genre(s):

Action Adventure

,

Sandbox

# of players:

No Online Multiplayer

Cheats:

On GameFAQs

Rating:

E
Without a doubt Grow: Song of the Evertree took on board what worked and what did not work so well in Yonder: The Cloud Catcher Chronicles and produced an engaging, time consuming game that is hard to put down with virtually no issues aside from occasional weird camera angles. It was not possible to finish the main story for this review because of how long it takes to complete each section, but there are dozens of hours to be spent creating new realms to explore and harvest from, creating settlements that are eye-catching and meet all residents' needs, with few issues that make it an epic title in its own right on Nintendo Switch.

Grow: Song of The Evertree is a great game for fans of both the simulation and relaxing exploration titles. It's also an ideal title to introduce younger players to open-world exploration thanks to forgiving gameplay and clear explanation. With so much to discover, it is likely Grow will offer a fresh, exciting journey no matter how many times a player restarts.

While some will almost certainly find Grow: Song of the Evertree to be a bit too menial to keep their attention, those who simply want to enjoy a quietly beautiful adventure need look no further. From working on garden-like worlds high in the Evertree, to building a town to your own specifications, and exploring an ever growing world full of secrets to uncover, a rich experience is packed into this adventure. Performance concerns are certainly worth being aware of on Switch, but they rarely hamper the actual gameplay. If you need a break from Animal Crossing or want something even calmer than Story of Seasons, Grow: Song of the Evertree isn't likely to steer you wrong. This is without a doubt one of the most pleasantly cozy experiences I've had playing a game.

A little slow in the beginning and a little repetitive in the long run, overall Grow: Song of the Evertree still offers a pleasant and relaxing experience, with its simple but effective playful loop, its ability to motivate the player without pressure or forcing and that sense of freedom and progression that it transmits in a concretely satisfying way. It has obvious technical limitations and a localization to review, but it makes up for it big with the gameplay and raw but fine art style. In short, the perfect game to be played without commitment, perhaps as a pastime between one AAA and another, or as a decompression tool after a hard day at work.

Grow: Song of The Evertree is reasonably compelling for the first few hours. But in juggling a lot, some of its more commonplace elements are uneven. While the story sings a familiar tune and long load times add up, this is still a worthwhile adventure with many surprises. Just be prepared for some feeling of recognizable repetition as you play at your own pace.

Thematic inconsistencies aside, Grow has its heart in the right place. It's a constant delight and a calming place to visit. Ultimately, it may be little more than a glorified checklist of chores, but as you venture outside to "find work" once more, sometimes labour is indistinguishable from leisure.

Grow: Song of the Evertree is a surprisingly complex and rewarding world builder that offers an abundance of opportunity to relax and unwind. It's far from perfect, yet what it aims to achieve, it manages to do well.
Stumbled across this yesterday morning just by browsing and I am so glad I did. If you want an amazingly beautiful and uniquely chill

Stumbled across this yesterday morning just by browsing and I am so glad I did. If you want an amazingly beautiful and uniquely chill experience than this game is for you! Was happily blown away by the quality of this game. For $25 it is an amazing value and would highly recommend picking this up.

…

Expand

With so much stress out there in the world right now I've been enjoying the bevy of great titles over the last year that have focused more on

With so much stress out there in the world right now I've been enjoying the bevy of great titles over the last year that have focused more on passive or relaxing themes and moments over more traditional tendency towards just action and intensity of some kind. To its credit, Grow does do a good job of putting you into a sort of sandbox situation with basic tools that you'll be able to use to help everyone out, work the land, and simply seek out activities that suit you, whether catching bugs, fishing, farming, or maybe a little bit of everything. My problem is just that the bar for quality in many of these activities is relatively low, robbing them of a sense of accomplishment or satisfaction when they require so little skill. Couple that with the lack of drive in the game towards more meaningful goals and more often than not while you certainly have the freedom to do what you like without real direction it ends up feeling a bit aimless and dull. If you're just out for some peaceful activities it may suffice, but there are other titles out there with similar beats but that are still much more satisfying without being terribly stressful either.

https://www.nindiespotlight.com/2021/11/mini-reviews-november-19th-edition.html

…

Expand

A quiet and enjoyable game that, for me, was marred by poor performance on Switch. Frame rates routinely dip below 30 FPS in populated areas

A quiet and enjoyable game that, for me, was marred by poor performance on Switch. Frame rates routinely dip below 30 FPS in populated areas and, because this is a town-building game, the performance gets steadily worse as you add more buildings, decorations, and people. It somehow runs better in Portable mode than in Docked mode, perhaps because it turns stuff off in Portable mode, but it still chugs along frequently.

…

Expand