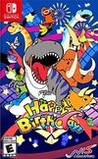 Summary:

From legendary creator Mr. Yasuhiro Wada (TOYBOX Inc.) comes Happy Birthdays: a sandbox game in which players create cube-shaped worlds that give rise to diverse and unique lifeforms. With careful experimentation, players can shape the geography and alter the temperature of the world to

From legendary creator Mr. Yasuhiro Wada (TOYBOX Inc.) comes Happy Birthdays: a sandbox game in which players create cube-shaped worlds that give rise to diverse and unique lifeforms. With careful experimentation, players can shape the geography and alter the temperature of the world to create the conditions for life and witness the birth of an entire ecosystem.

…

Expand
Developer:

Arc System Works

Genre(s):

Action Adventure

,

Sandbox

# of players:

No Online Multiplayer

Cheats:

On GameFAQs

Rating:

E
For such a bright, happy, cute game, the core of what Happy Birthdays tells us is both potent and important. This is a game about environmentalism, respect for the ecosystem, and it's a chance to watch the form that evolution takes in a palatable and enjoyable manner. Wada's most famous work, Harvest Moon, did a remarkable job of highlighting the life of a farmer to people who may have never comprehended what a country lifestyle might look like, so too has he made the basic idea of evolution accessible to people of all ages in Happy Birthdays. This game's predecessor was remarkable. This game itself is a remarkable evolution of that original vision.

Happy Birthdays is a great game of a much forgotten genre. It's good to see something so innovative and fun. I highly recommend the game to fans of God's simulation games. Dozens of hours are reserved for those who seek to dwelve deeper into this world.

If you enjoy the god sim/sandbox genres you will be in for a treat with this title. Graphically, the game is adorable with some really lovely character models and landscapes but this game is so much more than cute dinosaurs and sweet looking lizards! Underneath it all is a surprisingly fun and addictive game with a huge amount of depth and replayability. A must have game for fans of the genre.

Happy Birthday's takes a simple idea, decorates itself with some adorable aesthetics, and somehow manages to weaves together a multitude of different genres. It is an enigmatic experience that can't be categorized, and that is its appeal. If you want something different then this is definitely for you.

Two strong points in its favor. First of all the touch screen, which allows you to bypass the physical commands for faster, more convenient and immediate feedback. Secondly, portability: finally it is possible to put our miniature world in hand wherever we are.

Happy Birthdays is a truly unique way to learn about ecosystems, evolution, and the changing world. As a game, its slow pace and passive gameplay isn't for everyone, and its content isn't necessarily enough to justify the fairly steep retail price. Happy Birthdays is a title that fosters experimentation and observation, but its demand on stat management may go over the heads of younger players.

The saccharine visuals and bold colours will easily attract the eye and when new species appear you'll be begging for a photo mode. But that's only if you aren't looking at the endless lists or stats, or charging the ever-depleting energy banks. Interesting, educational and pretty, but ultimately soulless and a little boring.