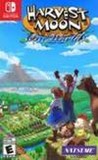 Summary:

Take a trip around the world in the latest entry in the long-running Harvest Moon series! You'll ride camels across the deserts of Pastilla, venture deep into the snowy mountains of Salmiakki, and even visit a volcano near the cozy mountain town of Lebkuchen! Can you imagine a world without

Take a trip around the world in the latest entry in the long-running Harvest Moon series! You'll ride camels across the deserts of Pastilla, venture deep into the snowy mountains of Salmiakki, and even visit a volcano near the cozy mountain town of Lebkuchen! Can you imagine a world without cabbage, tomatoes, or even carrots? Believe it or not, that's the world you'll find yourself in at the beginning of Harvest Moon: One World, as the Harvest Goddess, the queen of crops herself, has vanished... However, before the Harvest Goddess disappeared from this world, she imbued the tiny Harvest Wisps with the knowledge of various seeds, thus ensuring the various fruits and vegetables of the world would not be lost. Using the power given to these Harvest Wisps, you'll unlock various seeds as you progress through the game! But the Harvest Wisps can be tricky to find, as they all appear at different times and places. You'll need to use your noggin to make sure you seek out as many of them as you can.

…

Expand
Developer:

Natsume

Genre(s):

Strategy

,

Management

,

Business / Tycoon

# of players:

No Online Multiplayer

Cheats:

On GameFAQs

Rating:

E
If you've always wanted to try out a Harvest Moon title, then Harvest Moon: One World is a great entry point. As I can attest, no prior knowledge of previous games is required. So go forth, farm, and save the world, one crop at a time.

Harvest Moon One World lives up to its name and lets players travel through a world with different climate zones and challenges. There are countless plants to grow, which creates the typical farming pull very well. It would be a good game if quest givers didn't just fade away and someone would put more effort into the graphics.

Game World Navigator Magazine

Jun 17, 2021

One World stays faithful to the series: once again you'll need to slowly build up your farm and improve relationships with the neighbors. "Slowly" is the keyword here: the process is so monotonous, it takes a particular kind of gamer to enjoy Harvest Moon. [Issue#253, p.64]

Harvest Moon: One World is a game that is weak against its rivals with its structure reminiscent of mobile games. It's not bad, but it's definitely not a $50 game either.

Harvest Moon: One World is the latest game in the Harvest Moon franchise. It can be relaxing but it feels like it's stuck in the past. We would definitely recommend to wait for a discount.

While the changing biomes and surfaces are a nice idea, the core with its simplified farm labor is presented too lackluster and monotonous.

If you're looking for the next Stardew Valley, this doesn't even come close. Harvest Moon: One World is a poor imitation of what the series once was, and it feels more like a rushed mobile game than a full-fledged Switch game. These games have always been about chores, but this one feels like a chore to play. In our opinion, your money is better spent on something that respects you as a fan of the genre.
This game is getting too much unfair hate. People need to give it more of a chance before hating on it.

This review contains spoilers

, click expand to view

.

I give this game a 10 rating scale I love it the graphics are so different I dont see how anyone can't see that the horse look so much better and the other animals to I love the different land s you can go to so much more fun best harvest moon I have ever played

…

Expand

I give this game a solid 8. Could there be improvements? Yes. Unlike previous titles this does feel more like a Harvest Moon game and I got

I give this game a solid 8. Could there be improvements? Yes. Unlike previous titles this does feel more like a Harvest Moon game and I got some Animal Parade vibes from it. Stamina could be fixed and after you sort the goddess out, seeds should become available in shops for reasonable prices. The negative reviews I have read so far seem to have a bias about Natsume and their treatment towards the series and previous teams reflecting on this game. Rather than an actual review of the game itself. What they did with the original bokuno games was awful but this game does show that they are trying to get back towards their roots. The harvest sprite seed foraging system is fun and unique. The expando farm is also a fun idea which helps with stamina depletion. The major npcs and their families could be fleshed out more. But maybe we will get some patches? Overall: approach this game with an open mind. It's one of the best farming games released during the pandemic.

…

Expand

I consider myself to be a veteran gamer as I actually played the original Harvest Moon eaons ago in 1997. And oh boi - for a long time I

I consider myself to be a veteran gamer as I actually played the original Harvest Moon eaons ago in 1997. And oh boi - for a long time I played nothing else but HM. But time doesn't sit still you know. 24 years in video games is like eternity. Yet... they took that 24 old template and somehow - made it worst. Really, in age of Animal Crossing or Stardew Valley - this game looks like a joke if not blunt cashgrab attempting to monetize on people's nostalgy.
Simple put EEeewww.

…

Expand

Possibly the worst HM game in recent memory...

(1) The Graphics are pretty bad in general, with significant stuttering and pop-in whilePossibly the worst HM game in recent memory...

(1) The Graphics are pretty bad in general, with significant stuttering and pop-in while walking.
(2) They attempted to "simply" things, by making everything function with a simple press of the "a" button. It feels generic and geared towards a very young audience (i.e. mobile gaming feel).
(3) Walking reduces stamina, which is just insane given the size of the maps and the idea of an expanded "world".
(4) Navigating the menus is trash.
(5) The entire way you farm has completely changed. No longer are you buying seeds and creating a massive garden/business. Instead, seeds are nearly cost prohibitive and you randomly find seeds on the map from sprites. It's dumb and makes less sense given that you drain stamina while walking.
(6) Time flows when you enter buildings, which can be annoying.
(7) Not a fan of the farm migration and seed collection mechanics, which are untraditional and don't offer much engagement.
(8) Game feels lazily made and lacks polish and charm.

…

Expand

Absolutely terrible. Unmemorable characters, this game doesn't deserve the harvest moon game, yet again does any harvest moon nowadays? If you

Absolutely terrible. Unmemorable characters, this game doesn't deserve the harvest moon game, yet again does any harvest moon nowadays? If you don't know (who doesn't know by now?) the original team that does harvest moon now goes by the game Story of Seasons, so now harvest moon is just a game only similar by name. I don't know who signed off on these harvest moon story lines but they need to just stop.

…

Expand

El videojuego es insufrible, todo mal hecho, gráficos que no son aceptables ni para una ps2, una dirección artística que da vergüenza ajena,

El videojuego es insufrible, todo mal hecho, gráficos que no son aceptables ni para una ps2, una dirección artística que da vergüenza ajena, la jugabilidad de "mundo abierto" es la peor decisión y hace que el juego sea increíblemente aburrido, es muy aleatorio con el tema de las semillas, en fin. lo peor que he jugado en muchísimo tiempo. Por lejos es el peor Harvest Moon

…

Expand