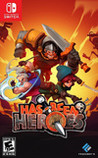 Summary:

Embark on an epic journey with the Has-Been Heroes, a group of legendary champions once celebrated throughout the kingdom - almost forgotten until the King has one more quest, the most epic of them all:

TO TAKE THE TWIN PRINCESSES TO SCHOOL! Key features: * Meet the epic band ofEmbark on an epic journey with the Has-Been Heroes, a group of legendary champions once celebrated throughout the kingdom - almost forgotten until the King has one more quest, the most epic of them all:

TO TAKE THE TWIN PRINCESSES TO SCHOOL!

Key features:

* Meet the epic band of heroes as the young and eager Rogue, joining the company of the wise monk Metacles, the giant-wrestling warrior Crux... wait until you meet the others, incl. the Anthropologist turned Mexican Wrestler, the ever-vigilant and paranoid Bodyguard, and many more!

* Unlock and collect hundreds of game-changing items and spells, boosting the heroes' powers and making each run unique!

* Combine spells for devastating effects, learning the power of magic as you gain more elements.

* Face countless monsters, each bigger and more menacing than the next. Can you wipe out the army of evil led by the Great Ghoul?

* In roguelike fashion, die and try again - choose your heroes wisely and prepare for battle!

…

Expand
Developer:

Frozenbyte, Inc.

Genre(s):

Strategy

,

Turn-Based

,

General

,

Tactics

# of players:

No Online Multiplayer

Cheats:

On GameFAQs

Rating:

E10+
In the end I became dangerously addicted to Has-Been Heroes. I couldn't put the game down because of how much depth there is to the gameplay. Chaining melee and spell attacks across the 3 heroes and landing a ton of damage on an enemy is incredibly satisfying. Or that rewarding feeling you get when finally figuring out a strategy to defeat the boss and progressing further into the game. Make no mistake, Has-Been Heroes is a hard game and not for the faint of heart but if you enjoy a fun, rewarding challenge, at $20 it's a must have for your Switch collection.

I wish I would have gotten an opportunity to meet more of the Has-Been Heroes, like the anthropologist who became a luchador, and someday I will get there. Most roguelikes cause me to give up in frustration, but Has-Been Heroes is fun enough that I want to keep playing and someday have "teh urn".

Has Been Heroes is a tough game and not for everyone. The longer you play, the more items and stuff you will get. But you will suffer. Just hang in there and keep playing.

Has-Been Heroes has a genuinely inviting and involving combat system that requires real strategic thought to master. However the rest of the game just doesn't pull together to form a cohesive whole, with brutal difficulty, frustrating permadeath and an under-utilised premise all serving to taint the end product. It does at least benefit from the Nintendo Switch's portability, and this is where it's at its best, but at home you'll likely be turning it off far quicker than Frozenbyte were hoping for.

Has-Been Heroes is a game that is full of great ideas but gets dragged down by poor execution. The way it combines RPG and roguelike elements with basic tower defense gameplay has so much potential that it unfortunately can't live up to in the face of imbalanced difficulty curves and unwieldy controls. It feels much more like a proof of concept that, with time and updates, could some day lead to a great adventure.

Has-Been Heroes is a brilliant idea that overreached itself in difficulty. A mix of incredibly complex strategy, RNG, weak tutorials, poor UI explanations, and a limp story drag a strong concept into the mud. If you're patient, skilled, and attentive, you might be able to master the core concepts of Has-Been Heroes and relish the goodness hidden beneath the bad design choices. But had I not been reviewing the game, I would have been done after just a few hours. I just don't like skeletons that much.

A tedious trawl through the worst aspects of roguelikes, turn-based strategy, and bad interface design. Only somehow less fun than that sounds.
Amazing game perfect for handheld on the go. It doesn't handhold, it is unforgiving, and I love it! For a long time the challenge in games has

Amazing game perfect for handheld on the go. It doesn't handhold, it is unforgiving, and I love it! For a long time the challenge in games has been pushed aside, glad to see skill and learning is making a comeback. I haven't been able to put it down since I got it.

…

Expand

I'm absolutely loving this game so far. All of the complaints that are listed in every negative review are things that I find to be the

I'm absolutely loving this game so far. All of the complaints that are listed in every negative review are things that I find to be the backbone of the rogue-like genre. Your chances of success are largely based on random luck. For instance, you may spend all of your money and get skills that just simply aren't good. That is the case in many of my favorite games. Darkest Dungeon, Binding of Isaac and Dungeon of the Endless are all heavily influenced by luck and random chance. All three of those games have huge appeal for me. Many of the legitimate complaints have already been corrected in a day one patch. The most helpful change that was made in the patch is that the game now automatically pauses after each attack. This was something that just about every reviewer asked for. All in all, I'm very happy with my experience so far. Definitely worth the $20.

…

Expand

Addictive, neat mechanics and pleasant art style. The 'downside' reviewers point out is mainly the difficulty. If you don't enjoy a steep

Addictive, neat mechanics and pleasant art style. The 'downside' reviewers point out is mainly the difficulty. If you don't enjoy a steep learning curve just move on.

…

Expand

This game is actually really good. Chances are you've seen the critic reviews that are... mixed to say the least. Look at them carefully.

This game is actually really good. Chances are you've seen the critic reviews that are... mixed to say the least. Look at them carefully. From what I've read the complaints fall into three main categories:

1. Most enemies are just skeletons. This is fair. You do see some variety, but most are just skeletons in different costumes. This can be cute at times, but I definitely agree more variety would have been nice.
2. The game doesn't do a good job of teaching you the rules. This is true. They have added tips to the home page which may help, and the tutorial tries to teach you what you need to know... much like Dark Souls did, but it appears to not have been enough. If you get into the game, I recommend you watch a video or look up explaining how it works - namely about the stamina system. That or have a friend to give you the quick rundown.
3. It's impossibly hard/lacks progression/randomized. Look, do you like rogueli(k/t)es? If you're here, the answer is probably yes. You've maybe played Binding of Isaac, FTL, or Necrodancer. If you are used to the roguelite experience, I can tell you that this isn't any different from those. Yes, it's hard, but I think part of it is reviewers honestly not understanding the game because of point 2. Yes, whenever you start a new game, you start it fresh, but you've unlocked new items similar to BoI, so there is progression in that sense. Yes, it's randomized, but it feels like other roguelikes where sometimes RNG blesses or curses you, but you should be able to make the most out of bad situations.

So if you're reading this review, debating if you're on the edge, look at the critic's reviews and ask "does what they just complained about apply to all other roguelites?" If so, then disregard that complaint. If you like roguelites, then you'll probably like this game as long as you're willing to go online to understand the system a bit better than the game teaches you (but personally, I remember looking at wiki pages for all other roguelites I've played).

It definitely has flaws: the elements of stories and the characters you unlock could be better presented. Enemies could be more diverse. But it is very fun and addicting which is what you want from roguelites. It's not remotely as hard as reviewers made it out. I won the first two games I played, lost the third, won the fourth. (it is like Binding of Isaac in that 'winning' becomes harder as the dungeon gets longer once you've won before)

…

Expand

l'ho appena preso per nintendo switch e c'ho giocato per due ore di seguito. davvero bello. meccanica divertente. per chi lo valuta male

l'ho appena preso per nintendo switch e c'ho giocato per due ore di seguito. davvero bello. meccanica divertente. per chi lo valuta male perchè troppo difficile: avete provato ad usare le pozioni? magari al tempo giusto? senza pozioni è ovvio che il gioco diventi impossibile ma, se si hanno delle pozioni fin dall'inizio, serviranno pur a qualcosa ;)

…

Expand

Has-Been Heroes is a super solid rogue-like that deserves a look from anyone who is into the genre, or is looking for something that is

Has-Been Heroes is a super solid rogue-like that deserves a look from anyone who is into the genre, or is looking for something that is addictive and will soak up a lot of your time on your newly purchased Switch. The game does have it's short-comings as it has quite a steep learning curve and no real good way to learn the mechanics beyond trial and error. Also, the slow, plodding nature of progress is barely noticed, making for a frustrating game at times. However, the game displays fun gameplay, and some cool ideas, that are worth a shot. I would recommend this game to anyone who enjoys games like The Binding of Isaac or Rogue Legacy, but remember this game really doesn't hit that level of precision, or greatness.

…

Expand

Plants VS Zombies clone done so wrong. An absolutely unfathomable control scheme makes the already difficult game a nightmare to play. I

Plants VS Zombies clone done so wrong. An absolutely unfathomable control scheme makes the already difficult game a nightmare to play. I wasn't able to win a single battle after the tutorial due to how much this game throws at you without really teaching you in the first place. I bought this game about an hour after receiving my Switch and it got played and deleted faster than it took to download. Next time I'll just flush a $20 bill down the toilet.

…

Expand