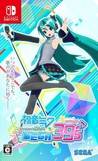 Summary:

[Also known as "Hatsune Miku Project Diva Mega39"] Based on the popular Hatsune Miku: Project DIVA Future Tone, Hatsune Miku: Project DIVA Mega Mix takes the series to a new dimension on the Nintendo Switch, giving both new fans and Project DIVA veterans ways to play at home or on the go.

[Also known as "Hatsune Miku Project Diva Mega39"] Based on the popular Hatsune Miku: Project DIVA Future Tone, Hatsune Miku: Project DIVA Mega Mix takes the series to a new dimension on the Nintendo Switch, giving both new fans and Project DIVA veterans ways to play at home or on the go. Rhythm game modes features both traditional button controls, as well as a new game mode exclusive to the unique functions of the Nintendo Switch.

…

Expand
Developer:

Sega AM2

Genre(s):

Action

,

Rhythm

,

Music

# of players:

No Online Multiplayer

Cheats:

On GameFAQs

Rating:

T
In the end, Mega 39 does one, very special thing: it takes the incredible Hatsune Miku Project Diva Future Tone, and makes it portable. You can bellyache all you like about a relatively thin tracklist, but "relatively thin" to the ridiculous bloat of Future Tone isn't really a fault. Not when what is in the pack is still more than any other rhythm game on the Switch, and with the optional DLC to come. Most importantly of all, however, is that Mega39 is a celebration of the world's greatest digital idol, and a digital celebrity I truly care a great deal about. As such, it fills a major gap in something that I've wanted on my Switch since the day it released. I am now fully on board with the Nintendo Switch being the greatest console ever.

For the series debut on the Nintendo Switch, Hatsune Miku: Project DIVA Mega Mix does a fantastic job at offering an enjoyable experience for players new and old.

Like its predecessor, Hatsune Miku: Project DIVA Mega Mix is astounding. The music remains catchy across all of the genres it tackles, and while the playfield can be busy almost all of the time, the mechanics will place you in a trance once you get into the groove. The more straightforward arcade approach works very nicely, and the alternate control methods do well as far as easing players into the manic rhythm action. The only real drawback is the smaller selection of songs out of the box, but if you can live with that and the hope that more DLC will fix this issue, the game is another must-have rhythm title on a system that has no shortage of excellent titles in the genre.

Minor shortcomings aside, Project DIVA MegaMix is a wonderful representation of why so many of us cherish Vocaloid-based music and, by extension, these rhythm games starring Hatsune Miku and friends. Sure, there might be a silly aspect to personifying virtualized characters like pop idols, but the music behind it is very real. Vocaloid has given a voice to the voiceless, letting incredible multi-instrumentalists create songs with actual lyrics even if they themselves don't have the ability to sing. And those of us who don't have their level of talent can at least take part in playing some of their best songs through the Project DIVA rhythm games, which now lives on Switch in excellent form.

Project DIVA MegaMix feels very much in line with Project DIVA Future Tone. It's all about the sheer amount of songs and costumes, while avoiding any semblance of a campaign. Players will have to make their own path and enjoy the songs on their own terms. The brand new Mix mode is delightful once you get past the initial learning curve and the tried and true Arcade mode is what we've come to love about these games. A solid rhythm game through and through, Project DIVA MegaMix returns the series back to its portable roots.

Hatsune Miku: Project DIVA Mega Mix is as fun as always. The franchise feels fresh and young despite being 10 years old at the moment. The music is highly diverse across a wide variety of genres and modes. Plus, the mechanics are so precise as we could expect from the previous entries. However, the alternate gyro control method are not precise; nor even to novel players. Overall, the game is so fun and well equipped with content that offers dozens of hours of play… even in your pocket.

Project Diva Mega Mix is a welcome return to Nintendo's portable platform for the rhythm game series. While it doesn't scale well to portable and its Joy-Con motion control mode is a dud, the main mode remains as brutally satisfying as ever. Whether a diehard Miku fan or just a rhythm game enthusiast, Hatsune Miku: Project Diva Mega Mix is yet another great entry in the series.
Almost a Future Tone port with different tone shades that gives it a more anime feel. It does have new songs and new game modes with the joy

Almost a Future Tone port with different tone shades that gives it a more anime feel. It does have new songs and new game modes with the joy cons and even touch screen mode. All in all its Hatsune Miku so I'll buy it anyways.

…

Expand

A great game, Nintendo really needs more Miku games for its console, not all users have Ps4 to enjoy them right there and this type of

A great game, Nintendo really needs more Miku games for its console, not all users have Ps4 to enjoy them right there and this type of attention to the console is great, having more than 100 songs along with its DLC makes it the best game music beat on Switch, I love this game.

…

Expand

Very good game, really enjoyed the rhythm based gameplay and fun music– until I got to Jitterbug, that is. Very infuriating song. Way too

Very good game, really enjoyed the rhythm based gameplay and fun music– until I got to Jitterbug, that is. Very infuriating song. Way too fast, and with bizarre time signatures. Hatsune Miku's Big Gay Adventure was overall very fun, but hot damn, Jitterbug is way too hard! And so was I after seeing the Leprechaun. Hatsune Miku's Big Gay Adventure gets a 10/10

…

Expand

It's "Hatsune Miku: Project Diva Future Tone - Colorful Tone" but update for Nintendo Switch.
If you want more you're at the wrong place. IfIt's "Hatsune Miku: Project Diva Future Tone - Colorful Tone" but update for Nintendo Switch.
If you want more you're at the wrong place. If you want to play Project Diva on the Switch, then get it.
One thing I really loved was, that I can switch to the Playstation symbols. That's a nice feature.

Verdict: It's Project Diva...

Rating:
Gameplay: 4/5 - Smooth and challenging as always. The new Joy Con mode is nothing special.
Level Design: 4/5 - Absolutely great levels, but they're the same as last time.
Soundtrack: 4/5 - It's vocaloid songs. Of course, it's good. But there's not much new.
Story: Excluded since rhythm game...
Graphics: 3/5 - Worse than the Arcade and Playstation versions but still pleasing.
Length: 5/5 - There are so many songs in here that you'll play this for months.
Replay Value: 4/5 - Everything a rhythm game needs. But there are no new incentives to play songs again.
Enjoyment: 4/5 - Great. But nothing new if you played Project Diva before.

Overall rating: 28/35 => 8/10

…

Expand

Can't go wrong with Project Diva if you are in any way a fan of rhythm based games. Project Diva gmes are the queen of the crop! While still

Can't go wrong with Project Diva if you are in any way a fan of rhythm based games. Project Diva gmes are the queen of the crop! While still not offering any English subtitles is a slight letdown, the game is a joy to play and offers a jumping in point for the least to most skilled players to have tons of fun with. With all the catchy tunes that vocaloid has assembled the past few decades the 100+ songs and 6 fully customizable singers are plenty to offer for the Nintendo Switch's first Project Diva game. With all DLC to come nearly 200 songs will be availiable to those who fall in love with the genre!

…

Expand

I bought this as I enjoy rhythm games, not necessarily as a HM fan, and as such, I was pretty disappointed with the game. Game play is, well,

I bought this as I enjoy rhythm games, not necessarily as a HM fan, and as such, I was pretty disappointed with the game. Game play is, well, it's _fine_, but the sound that is thrown in as the rhythm beat sound is just a tambourine clash, which doesn't add much to the song, and sounds very out of place, detracting from the song. The number of songs that have a plethora of text over the screen makes seeing the prompts harder, and visually it is just kind of an all around mess.

I played a HM game way back on my PSP, and enjoyed it, but playing this one on the switch kind of feels like it is cashing in only on the Hatsune Miku brand and nothing else. Very disappointing game, exacerbated by Nintendos lack luster return policy.

…

Expand