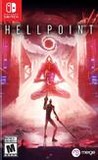 Summary:

Hellpoint is an intense action RPG taking place on Irid Novo, a derelict space station soaked in an intoxicating dark sci fi atmosphere. Fight dreadful creatures, face the Cosmic Gods and unravel their twisted story. Should the challenge be too great, play with a friend in local or online coop.
Developer:

Cradle Games

Genre(s):

Role-Playing

,

Action RPG

# of players:

Up to 4

Cheats:

On GameFAQs

Available On:

Stadia

Rating:

M
If you are a fan of Dark Souls and/or Bloodborne and are looking for a soulslike game on the Nintendo Switch then Hellpoint is absolutely for you. It is an expansive world that is destined to be explored with a fair but challenging difficulty. If you're not so much a fan of this genre then I would say to give this one a miss.

Hellpoint is an action RPG that takes a lot of inspiration from the Souls series. While the combat is engaging, the framerate is a major detraction. Hiding the story as breadcrumbs in hard to find logs or cryptic messages is detrimental to what could be an interesting story. As well, the environments and enemy design did little to stand out overall. The bugs, framerate drops, and rare crashes were present, but as of this review the developers have plans to address these issues in future patches. While this is a new addition to the Soulsborne genre, there are far more successful examples out there. Fans of the genre may want to look elsewhere.

Hellpoint is a satisfying sci-fi twist in the Soulslike universe, it brings an interesting setting and adds a lot of surprisingly positive mechanics to this gender. On the other hand, the Switch version is a bit lackluster as it comes with unimpressive graphics and general performance issues that compromise the experience for most players who are eager for a great Soulslike experience.

It all adds up to a game that is frustrating for all the wrong reasons. It's not unplayable, and it's fair to say the Souls series has suffered its own share of technical issues over the years, but it's awfully hard to recommend Hellpoint in this particular state.

Dark sci-fi Hellpoint sits smack-dab in the centre of soulslikes quality-wise. It's not terrible, but it's far from a good one too. Should you wait for a price drop, and a couple of fixes for its technical issues? Frankly, no. The strong atmosphere and cryptic plot have the capacity to provide the incentive to endure the many flaws and keep on playing, but aggravation and plain 'ol boredom will soon ruin everything. IF still willing to try it out, stay away from the Switch port, as it is the worse one yet.

Hellpoint is a reasonably decent sci-fi/Soulslike effort that sticks closely to FromSoftware's well-worn formula whilst introducing a few neat new tricks and twists of its own. The combat here is solid, the space station setting often spectacular and the narrative as enticingly cryptic as you'd expect from the genre. However, the whole thing suffers massively due to myriad technical issues on Switch. Constant crashes to the console's homescreen, a seriously flaky framerate, long loading times and a pretty huge graphical downgrade result in an experience that's infuriating for all the wrong reasons and one that it's almost impossible to recommend in its current form. Here's hoping Cradle Games has some big patches incoming.

It's not that Hellpoint lacks ambition, but unfortunately it cannot deliver on what it promises. A clunky performance, particularly frustrating in the middle of a combat, exceedingly long loading times, a downgraded visual world and a plot that leaves players in the dark mean that this ends up falling way below the threshold of legitimately high expectations that most players had set.
I have to say this is a pretty good game despite what the other reviewers say. Yea their is not much of a story and i am not a souls fan at

I have to say this is a pretty good game despite what the other reviewers say. Yea their is not much of a story and i am not a souls fan at all. But i cant put this down. I really like the feeling of being in space and duking it out. Yes the PS4 might look a little better but i think that graphics are fine and its portable. Give this game a shot.

…

Expand

An insult to ports. Clearly the devs gave little to no time to this. The switch game crashes constantly and the game feels like something from

An insult to ports. Clearly the devs gave little to no time to this. The switch game crashes constantly and the game feels like something from 10 years ago. I wish I could ask for a refund. Do not buy this for Switch. this game is proof thaT Cradle Games is not into Switch games. Just stay away from Switch if you're going to release such low quality products.

…

Expand