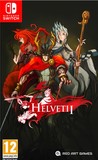 Summary:

Around a hundred years BC, all of Gaul is far from Roman control. In the lands controlled by the Helvetii, a Roman legion was subjugated by young warchief Divico, blessed by an ancient boon brought to him from parts unknown.

However, this victory came at a great cost, as soon the resultAround a hundred years BC, all of Gaul is far from Roman control. In the lands controlled by the Helvetii, a Roman legion was subjugated by young warchief Divico, blessed by an ancient boon brought to him from parts unknown.

However, this victory came at a great cost, as soon the result of the war chief's pact would turn into a curse; an ever spreading rot crawling through his land, and slowly corrupting his mind and heart. Monsters and cultists start appearing throughout the land, and a shadowy figure makes his move, taking advantage of the chaos he helped create.

With the help of the trusted yet reclusive druid Nammeios and the curious half-beast Renart, Divico sets his journey to undo the source of the rot and restore what was lost inside him.

…

Expand
Developer:

Team KwaKwa

Genre(s):

Role-Playing

,

Action RPG

# of players:

No Online Multiplayer

Cheats:

On GameFAQs

Rating:

E10+
Helvetti is a powerhouse of an action game, one that provides a great challenge in a gorgeous 2D world, features fluid combat, and has three distinct characters that each bring something different to the table. When you encompass this with a stunning soundtrack and interesting story, it's hard to think of a reason not to play it.

Helvetii is an interesting and gorgeous looking roguelite action game with a welcoming gameplay and frantic moments that will keep players captivated for a long time, with the added advantage of its procedural generation levels maintaining the player's attention for long. Overall, a welcome arrival to the Nintendo Switch catalogue amid its extensive set of indie games.

As an action/adventure game, Helvetii falls just a bit short on some elements of gameplay and storytelling. However, it's still a solid entry with very appealing looks, sounds, and mechanics.

While drawing you in with an original setting, interesting art and a fun, albeit shallow combat system, Helvetii quickly deflates as the rogue-like elements harm the game more than help it stand out. The reason being that there simply isn't enough variations to make each run feel distinct, making for an incredibly repetitive experience. The foundation is solid, but Helvetii either needed more content to make runs feel unique or ditch the rogue-like elements to deliver a more hand-crafted brawling experience and deepen the combat with new moves and abilities.

If you're craving some flashy, simple button-mashing action, Helvetii just might be worth a look. But a noticeable lack of balance and depth mar the attractive combat. You're better off seeking out one of the dozens of better roguelikes out there.

I think Helvetii could have been a pretty good action game, and to an extent it can still be enjoyed that way. Its visuals and basic gameplay mechanics are well-done and fit together in a pleasing way. Its roguelite elements are less satisfying, with insufficient variety and a balance that leads to a fair bit of unpleasant grinding, putting undue pressure on the combat system that it simply can't carry to that extent. There are things to appreciate here though, and I can see folks who are more forgiving of the game's weak points having a nicer time than I did.