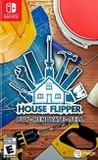 Summary:

House Flipper is a unique chance to become a one-man renovation crew. Buy, repair and remodel devastated houses. Give them a second life and sell them at a profit!

What you've got at your disposal is a set of tools and parts. Use them to hammer, drill, nail and screw things together, andHouse Flipper is a unique chance to become a one-man renovation crew. Buy, repair and remodel devastated houses. Give them a second life and sell them at a profit!

What you've got at your disposal is a set of tools and parts. Use them to hammer, drill, nail and screw things together, and do whatever is necessary to fit, fix or clean up stuff.

Experiment with interior designs and decorating styles you like. Decorate and furnish interiors with hundreds of unique items that you're free to choose from. Express yourself!

Do you love interior design and want to fill up empty rooms using your favorite style? You can buy an empty apartment and furnish it. Do you prefer things only engineers would understand? You can focus on repair and installations. Are you an expert on the "small move, big change" approach? You can buy a decent house and make it perfect by adding some style and fixing stuff.

…

Expand
Developer:

Empyrean

Genre(s):

Simulation

,

Virtual

,

Career

# of players:

No Online Multiplayer

Cheats:

On GameFAQs

Rating:

E
While I'll eventually grow bored with this title, it hasn't happened yet, even with 50-plus hours combined between my wife and I playing. I still have perks to unlock and properties to fix and sell. House Flipper is much better than expected and will keep you busy for a long while, even longer once the game is updated.

Overall House Flipper is a great game to kill time with, and also the perfect game if you find that you need to be able to shut your brain off and just do something for a little while. It's not perfect and it is definitely not for everybody, especially if you're actually in the market for something more exciting, but those who enjoy sitting down to slam out a mundane task should strongly consider this game on Switch. While some of the decisions they made in terms of controls were a bit strange to me, I eventually got used to them and found myself enjoying the process just as much as I did on PC. So get in there and paint those rooms the ugliest colors you can find, and put down a chair for good measure, House Flipper is the place to be if you're just looking to relax.

House Flipper is a simulation game where you purchase and do up houses to sell for profit to do it all over again. It is mindless and monotonous, but there is catharsis in cleaning things up and returning them to some semblance of order.

Despite numerous issues, House Flipper is a slow burn that will frustrate and comfort you, making it a decent game to add to your Switch collection.

I don't understand the appeal of cleaning and renovating in a video game, especially when it's as boring as it is in House Flipper.

House Flipper is emblematic of why every game doesn't need to be on Switch. Its nauseating performance, terrible controls, and laggy menus combine to make an overall awful experience. The game itself, while relaxing at times, seems to want to waste your time in any way it possibly can.

There's truly so little fun to be found in House Flipper, where ugly graphics, awful controls and some tedious UI all combine to create something far too dull to recommend. You're better off watching paint dry.
I loved this game! Yes, graphics could be better, but that's not what the game is about. Who thought cleaning and fixing up houses could be so

I loved this game! Yes, graphics could be better, but that's not what the game is about. Who thought cleaning and fixing up houses could be so relaxing?

…

Expand

Really good game to kill some time, have some minor issues but overall it's great fun, really entertaining. Obviously it's better on PC, but

Really good game to kill some time, have some minor issues but overall it's great fun, really entertaining. Obviously it's better on PC, but porting did quite nice job, and i enjoed it while travelling, keep it up.

…

Expand

Me he divertido mucho con este juego, ¡simplemente perfecto para pasar el tiempo libre! La actuación no me molestó mucho. ¡Y el uso de

Me he divertido mucho con este juego, ¡simplemente perfecto para pasar el tiempo libre! La actuación no me molestó mucho. ¡Y el uso de giroscopios es uno de los mejores que he visto en un juego de Switch!

…

Expand

Really have fun with this. I realized that many bugs from PC version i know, was removed in this version. Graphics could be better, but i

Really have fun with this. I realized that many bugs from PC version i know, was removed in this version. Graphics could be better, but i know, that switch isn't powerful device.

…

Expand

For a little context on why I gave this game such a low score, I'd like to talk about the PC version. The PC version of House Flipper is a

For a little context on why I gave this game such a low score, I'd like to talk about the PC version. The PC version of House Flipper is a brilliant game and a heck of a lot of fun, but not very well optimised. It isn't the most graphically impressive of games, yet it runs like a clogged toilet on anything that isn't a gaming PC. I have two devices that can run Skyrim with no problems, and they can't run House Flipper on the lowest graphics settings for love nor money.

This issue is also present here in the Switch version. The controls sometimes feel really sluggish, as does the framerate, and there's just enough input lag to be noticeable. I also swear it's making my Switch run hotter than any other game I own - and this is all in spite of the fact that the graphics are cranked down massively compared to the PC version and really do not look very good at all. The Switch is capable of running better-looking games at higher framerates, so I surmise this game may just be a port of the PC version, and not a very good one at that. Not to mention that as of the launch day, it appears to not have any of the DLC or many of the items that were subsequently added to the PC version.

Still, if you can get past all that it's still the House Flipper I know and love. Get this version only if you don't have a PC that can run it decently, otherwise it's not worth your money.

…

Expand

This game should cost £10 max... hard to control..gyroscope option is a waste a time. They need to fix a drift issue. I can be standing

This game should cost £10 max... hard to control..gyroscope option is a waste a time. They need to fix a drift issue. I can be standing there in the middle of a living room aiming at some rubbish, then suddenly I slide to the left, through an open door and into the garden LOL

…

Expand

As others have mentioned the Switch version of this game is awful. I don't have a gaming PC and the Switch is my only console at the moment

As others have mentioned the Switch version of this game is awful. I don't have a gaming PC and the Switch is my only console at the moment due to funds. I made me mistake of purchasing the Switch version of House Flipper without looking it up first because it was on sale. I didn't imagine it being such a poorly ported edition of the game but it is. Please don't waste your money no matter how low the price is. The frustration and annoyance that builds when trying to play on a Switch outweighs any fun that could be had. It's really sad that there seems to have been no updates along with the fact that none will ever come because the the Switch edition has been abandoned by those who ported it.

…

Expand