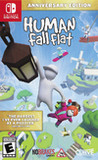 Summary:

Human:Fall Flat is a quirky, open-ended physics-based puzzle and exploration game set in floating dreamscapes. Your goal is to escape these surreal dreams by solving puzzles with nothing but your wits and physics.
Developer:

No Brakes Games

Genre(s):

Action Adventure

,

General

# of players:

Online Multiplayer

Cheats:

On GameFAQs

Available On:

Stadia

Rating:

E
Please enter your birth date to watch this video:
You are not allowed to view this material at this time.
Human: Fall Flat - Official Console Multiplayer Launch Trailer
Human Fall Flat is a fun little puzzler with plenty of hilarity in its scenarios. The levels feel like playgrounds where you could do whatever you want. With the ability to play this alone or co-op, plenty of ways are out there to create chaos. That doesn't mean it is all well and dandy, as holding on to objects can be a bit wonky and playing solo shouldn't be done in long play sessions. That being said, I still really enjoyed what this crazy game tried to do.

Human Fall Flat is a very good port. I would like individual Joy-Con support to be added in a patch but if you've been waiting to check this out and want to on the Switch, go for it.

Human Fall Flat recognises a simple truth - People falling down is hilarious, and when they're seemingly impervious to damage that's just an added guilt-free bonus. Playing as a wobbly, awkward avatar takes a lot of getting used to, and perhaps you never really get used to it at all, but the game leaves each level wide open to a variety of solutions to suit your own personal style.

If you think ragdoll physics are more amusing than annoying, then Human: Fall Flat will be one of the funniest playgrounds you can ever find on Switch. By allowing you to play with objects, mechanisms and all the physics that comes with that then you'll enjoy Human: Fall Flat's fun, if wonky experience.

An experiment made video game. A strange but fun experience that gains whole thanks to its physics engine and a hilarious cooperative mode.

Human: Fall Flat, is a nice puzzle game with funny mechanics that make the first few hours engaging and good but after that the game can get quite frustrating and annoying. The game experience is improved during Co-Op plays, but in regards to the game as a whole, Human: Fall Flat, falls flat.

Human: Fall Flat on Nintendo Switch is neither good if labelled as a purposely "bad" game, nor as a physics puzzler. Why? It is purely because the controls make things more aggravating than hilarious, and, secondly, due to how uninspiring the puzzles themselves are. That's why.
This review contains spoilers

, click expand to view

.

This game is a masterpiece. It starts out as a human documentary. It's such a weird, quirky game with only 11 levels in the base game, but that makes it really fun. Just playing with a friend and messing around or speedrunning on your own is really fun to do and, believe it or not, the controls are easy to get used to. I am currently making a Minecraft map based on the game, using the real game for reference. In the process, I found myself constantly picking up the game and breezing through the levels. The beginning of the game teaches you the basics, but as you get better, you can just climb over a few walls and be done with it. That's what I adore about this game. There is a lot of opportunity for speedrunning. The music is another thing. You wouldn't expect to hear such a good soundtrack in such a weird game. The gameplay is great, the music is amazing, and the two player mode is a blast. Oh and there's also free DLC.

…

Expand

Bazı noktalar insanı kanser edebilir ancak bir arkadaşınızla oynadığınızda mükemmel bir deneyim.

A solid puzzle platformer, Human: Fall Flat offers a unique experience in the genre. The controls take some getting used to, but are a joy to

A solid puzzle platformer, Human: Fall Flat offers a unique experience in the genre. The controls take some getting used to, but are a joy to use once understood. The stages are inspired, the soundtrack is well used, and the developers have occasionally added free extra stages. Definitely worth the $7.50 it costs on the eshop currently.

…

Expand

I don't understand why people give bad rates for such a fun game. It is by far one of the most fun games to play with friends sitting on your

I don't understand why people give bad rates for such a fun game. It is by far one of the most fun games to play with friends sitting on your couch.

Pros:
- very addictive gameplay = 9/10
- very fun and complex "puzzles" = 8/10
- high difficulty = 8/10
- great fun for multiplayer = 10/10

Cons:
- not the most pleasing graphics 4/10
- controls sometimes feel awkward 5/10
- sometimes frustrating 4/10
- full potential only when played with friends 5/10

Verdict:
With this game you get something that you really should enjoy with friends on your couch. Grab a drink or two, make some popcorn and enjoy the ride. You will struggle with the diffuculty sometimes but the more you play the more you get used to the kinda meh controls.
All in all a very solid port and a very addictive gameplay. Lots of fun! = 8/10

…

Expand

Clearly one of the best games to play with your friends, it's incredibly funny

Awesome multiplayer game. I won't recommend it for single player. only for couch co-op and online. you will have a blast with your friends.

Awesome multiplayer game. I won't recommend it for single player. only for couch co-op and online. you will have a blast with your friends. Controls are tricky for the first 10 minutes. after that you will get used to and game will become extremely entertaining to play. Switch version runs really well. even playing two player on same switch. Totally recommended.

…

Expand

This game is boring in single player, and it's a chore to find a good group in online multiplayer, in attempts to pass the "failure to join

This game is boring in single player, and it's a chore to find a good group in online multiplayer, in attempts to pass the "failure to join hosts room", severe lag and delay, crazy glitches that break the game, and the abusive kicking system which probably shouldn't be a thing, I've rarely joined a fun game.

…

Expand