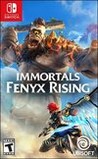 Summary:

Play as Fenyx, a new winged demigod, on a quest to save the Greek gods and their home from a dark curse. Take on mythological beasts, master the legendary powers of the gods, and defeat Typhon, the deadliest Titan in Greek mythology, in an epic fight for the ages.
Developer:

Ubisoft Quebec

Genre(s):

General

,

Action Adventure

,

Open-World

# of players:

No Online Multiplayer

Cheats:

On GameFAQs

Available On:

Stadia

Rating:

T
Please enter your birth date to watch this video:
You are not allowed to view this material at this time.
10 Minutes Of Brand-New Immortals: Fenyx Rising Gameplay
Immortals Fenyx Rising is always going to be compared to Breath of the Wild, but against all odds, it puts up a massively formidable fight. What's excellent about Immortals is not so much what it shares with Nintendo's biggest Zelda game, but rather where it differs, offering a fresh new approach to storytelling, a fantastic progression system, and a world that you'll never want to leave. No game is perfect, but for me, Immortals comes just about as close as you can get.

Immortals Fenyx Rising is not as hyper-polished an experience as its clear inspiration, The Legend of Zelda: Breath of the Wild, but it succeeds at creating its own identity thanks to excellent and comedic use of Greek mythology, a fast combat system that offers lots of satisfying character upgrades for Fenyx, and a wide assortment of unique weapons and armor to collect that keeps exploration rewarding. If you love Breath of the Wild, you would be out of your mind not to try Immortals Fenyx Rising.

Immortals: Fenyx Rising is a superb new IP from Ubisoft. It may borrow heavily from other titles, but don't get hung up on it. This isn't a cash grab. It's a beautiful game and a quality product, crafted with love.

The story can be hit or miss and the bosses are a letdown, but the world of Immortals Fenyx Rising is a lot of fun to explore, and uncovering its slew of secrets will keep players entertained for many hours.

Immortals Fenyx Rising offers a world that you can't help but explore, with some truly impressive dungeon design. The game's only let down is its simple puzzles and painful menu navigation.

Overall, Immortals: Fenyx Rising is a good game. It's a shameless clone, but it's fun, and it's clear that Ubisoft's take on the formula was done with enthusiasm. If you were disappointed that this year's Breath of the Wild game was a Dynasty Warriors title, then Immortals might scratch that itch. It's always going to live in the shadow of the games that inspired it, but sometimes, all you want to do is climb some cliffs and slay some monsters, and Immortals provides exactly what it promises.

Immortals: Fenyx Rising is overall a great game that I'm excited to keep coming back to, but the Switch version is such a disappointment that I'm strongly considering starting my entire playthrough over on another platform. I love the setting based in Greek mythology, and I've been enjoying the adventure almost non-stop, only ever getting bored during the icon hunt whenever I reach a new area once every couple of hours. It's a shame that Switch players will be getting such a compromised version, since I really feel like the weak port does a huge disservice to everything the game succeeds at. I think you should play Immortals: Fenyx Rising, but you should not do so on Switch if you can help it.
Très bon jeu qui est, selon moi, meilleur que Zelda BOTW. Riche en décors, en énigmes, en humour, et en exploration. Ce jeu fonctionne très

Très bon jeu qui est, selon moi, meilleur que Zelda BOTW. Riche en décors, en énigmes, en humour, et en exploration. Ce jeu fonctionne très bien sur la Switch autant sur téléviseur qu'en main. Les dernières patches semblent avoir régler les **** problèmes au lancement du jeu. Je recommande à tous.

…

Expand

I created an account just to rate this game, because it deserves it. I´d like to thank the devs behind it, it´s definitely my GOTY on Switch.

I created an account just to rate this game, because it deserves it. I´d like to thank the devs behind it, it´s definitely my GOTY on Switch. Now if you want more about this game, it´s amazing, it´s an open world game that borrows from RPG and Platformers, it´s similar to BOTW but has it´s own essence based on it´s focus and greek mythology. Now, if you´re more interested in graphics instead of portability, go for the PS5 o Xbox versions, but I´m sure you´ll enjoy the version you buy.

…

Expand

A lot of critics are looking down on this game because it copies a lot of its core ideas from Breath of the Wild. But you know what? This game

A lot of critics are looking down on this game because it copies a lot of its core ideas from Breath of the Wild. But you know what? This game does all of those things better.

It's so much fun to move in this game. You have so much stamina and so many ways to use it after just a little bit of exploration and upgrades. No two players will travel across a field or gap in exactly the same way. Platforming challenges are always a joy, and there's way more variety in puzzles because there are so many ways to move Fenyx around.

Combat is super complex, and with dozens of buffs to choose from based on your two armor pieces and three weapons, there are so many different ways to tune fights to your liking. Even with combos that feel super OP at times, encounters are rarely a cakewalk, and you're encouraged to keep exploring to find potion ingredients even all the way into the endgame.

The game has so many systems and ways that you interact with the world, and there are rewards that help upgrade everything. As a result, exploration always feels rewarding because you're not just going to find a weapon when you've been full for the last 12 hours, and you're not just going to find 1/4 of a heart when you already have 20. You can find shards to upgrade your armor and weapons to help with combat, or you can find coins to upgrade your abilities to help with puzzles or even let you skip some of them entirely.

The writing is funny too, and even though not every line hits, you actually care about the characters and empathize with them when they are sad or feel hurt. The story gives you good reasons to explore the entire environment and its dedication to realistic Greek Mythology (as opposed to Disney nonsense) is admirable.

Basically, the tl;dr is if Breath of the Wild is a 10/10, this game is an 11/10. It's just that good.

…

Expand

I'm baffled at the low scores on this game by some, especially the pro critics. When I pre-ordered the game I was worried that the graphics

I'm baffled at the low scores on this game by some, especially the pro critics. When I pre-ordered the game I was worried that the graphics and performance would be a subpar experience on the switch, but the graphics are as good as one should expect on a handheld (not as detailed as a stationary console, but on par with BoTW or Witcher 3 on switch). I have revealed most ofthe map but haven't had any frustrating framerate issues. Other reviewers have complained about frame rates but I would request that they detail where they are experiencing this as I have not seen anything worth mentioning.

So far I have spent over 55 hours in this game and the more I play the more I enjoy this game. That isn't to say that I started the game disliking it, because it was enjoyable from the start. As you progress through the game you feel noticeably more powerful, which is very satisfying and rewarding.

Currently I only own the switch version, but if it goes on sale on Xbox I will consider purchasing a copy. Ubisoft supports cross platform game saves, so to get the full HD graphics experience at home this may be worth a second copy.

If you are into any of the newest Assassin's Creed games, BoTW, or Greek mythology this game is a must buy IMO.

…

Expand

Un juego bastante adictivo con un mundo bastante denso, es muy parecido a Zelda Breath of the Wild inspirándose sobre todo en mecánicas y en

Un juego bastante adictivo con un mundo bastante denso, es muy parecido a Zelda Breath of the Wild inspirándose sobre todo en mecánicas y en el tema de mazmorras, la historia es algo buena no llegando a un alto nivel pero es aceptable.

…

Expand

This is a poor mans Breath of the Wild. Everything good in this game is owed to Ubisoft aping Nintendos masterpiece. While fun there are some

This is a poor mans Breath of the Wild. Everything good in this game is owed to Ubisoft aping Nintendos masterpiece. While fun there are some really **** vaults which are Immortals version of BotWs shrines. If you havent gotten BotW get that instead if you want an inferior version to tide you over till the sequel then this is a very serviceable game. For those reviewers giving this a ten then that means Zelda BotW is a twenty because that is the more polished game.

…

Expand

Completely unnecessary, forced registration. Another low for Ubisoft, and the bar wasnt too high to begin with