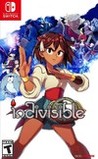 Summary:

INDIVISIBLE is inspired by classics like Valkyrie Profile and Metroid, and has the unique character, world, and gameplay depth Lab Zero is known for.

Meet Ajna, Indivisible protagonist. Ajna is a headstrong girl raised in a remote village. Her father, the town's guardian, has trainedINDIVISIBLE is inspired by classics like Valkyrie Profile and Metroid, and has the unique character, world, and gameplay depth Lab Zero is known for.

Meet Ajna, Indivisible protagonist.

Ajna is a headstrong girl raised in a remote village. Her father, the town's guardian, has trained her to be strong in mind and body to prepare her for things to come. Ajna discovers a mysterious power in herself, and sets off on a world-spanning journey. Along the way, a number of unique heroes will join her on her quest.

…

Expand
Developer:

Lab Zero Games

Genre(s):

Role-Playing

,

Action RPG

# of players:

No Online Multiplayer

Cheats:

On GameFAQs

Rating:

T
Please enter your birth date to watch this video:
You are not allowed to view this material at this time.
Indivisible - Coming to Nintendo Switch
I know I've probably done a horrible job of capturing what makes Indivisible so wonderful, but you've got to believe me: it really is a fantastic game. If I can love it despite it featuring a whole bunch of elements I usually dislike, I think that speaks to just how good it is — and it means that you already are a fan of anime-inspired graphics, metroidvania platforming, or turn-based combat, then you should find even more to enjoy here.

Indivisible is just as good as it ever was, and the visuals hold up well on the Nintendo Switch. The story is engrossing, the gameplay is challenging yet fun, and the hand drawn environments are beautiful.

Featuring genre mastery at the utmost level, Lab Zero Games have created something truly special with Indivisible. Taking such a hefty adventure on the go with the Nintendo Switch is an absolute delight.

A fantastically charming mix of genres that, put together, produce a Metroidvania RPG that is utterly engaging. Even when Indivisible manages to misstep, the gorgeous aesthetic and oddball characters bring this adventure to life in a way that makes it an utter joy hold in your hands. If you can, take some time and grab Indivisible on Nintendo's handheld console.

Indivisible is a game unlike many others. While combining both platforming and exploration with a real-time RPG combat system didn't always keep my interest, the game has an unique style and engaging characters that did keep me coming back. I do feel that this game is more for those looking for an RPG rather than a Metroidvania, due to its slower pace and its 'interrupting' combat system. But it's the characters, music, art-style and worldbuilding that make it truly stand out from other RPG's. Whether it will become a classic like RPG's of old remains to be seen. But Lab Zero Games has shown that they are more than capable of bringing their unique talents to genres other than 2D-fighters and I cannot wait to see what is coming next.

The charming and idiosyncratic mix of platforming and action roleplaying is held back by some design flaws as well as some inconsistencies.
Indivisible es un juego bastante único que combina dinámicas de distintos géneros. La exploración se siente como un metroidvania a medida que

Indivisible es un juego bastante único que combina dinámicas de distintos géneros. La exploración se siente como un metroidvania a medida que vamos aprendiendo nuevos movimientos para desplazarnos, con algunas zonas de plataformeo estilo Celeste, mientras las batallas son estilo RPG por turnos en tiempo real con cada personaje con un botón asignado y tres tipos de ataque además de los especiales (sistema que tampoco me parece lo mejor, pero parece puesto de moda en muchos indies, y aquí esta muy bien llevado). Todo esto con una muy buena historia del crecimiento y realización de la adolescencia en un mundo que usa la mitología del hinduísmo y budismo bastante bien llevado, dandole un soplo de aire fresco, y con los gráficos bellamente llevados a cabo y muchas sidequest para realizar. Tienes también muchos personajes entre los que elegir, aunque generalmente cuando encuentres a un grupo te acostumbraras a jugar solo con ellos, excepto que hay situaciones que te obligaran a cambiarlos (enemigos que absorben ataques mágicos, que necesitan trampas para no tener que hacer bloqueos perfectos nonstop, que necesites generar mucho indhi (para los ataques especiales), etc). Y todo esto con los suficientes cambios de ritmo como para mantener el interés.
A pesar de todo el juego tiene algunos fallos, como algún momento que resulta confuso lo que tenemos que hacer. Lo peor sin embargo, considero que son todos los NPCs de relleno colocados en los diferentes pueblos, que parecen ser personajes para representar usuarios que colaboraran en el kickstarter, pero acaban resultando un pegote en el mundo y rompen la inmersión en el juego

…

Expand

Fun game! I like the graphics, story and Valkyrie Profile fighting style. Recommend!

One of the best games we've played this year; many interesting and multifaceted characters with a very funny but also extremely deep plot

This game's story and game play have no right to be as good as it is. It reeks with charm. I thought having a massive cast of playable

This game's story and game play have no right to be as good as it is. It reeks with charm. I thought having a massive cast of playable characters would be a downside for an RPG but it works really well and there are few characters I don't enjoy playing. The graphics are massive but unfortunately this game lacks in almost every other technical department. Some tight platforming sections are just not fun to do unresponsive controls and having the battles take place in an area where platforming is a factor leads to some problems like the AI falling off cliffs when trying the attack, starting a battle on a temporary platform only for it to disappoint mid battle and way too many strange interactions to list off. There are a lot of glitches, at one point I some how removed text from the game and it required and hard reset to fix. If theses problems could be fixed in an update this could easily be one of the best games on Switch. And even with the game acting strange some times, the story and amazing combat system are well worth the few hiccups.

…

Expand

There are many things to love and enjoy about Indivisible being that it's a Metroidvania over world with Superstar Saga-like battle mechanics,

There are many things to love and enjoy about Indivisible being that it's a Metroidvania over world with Superstar Saga-like battle mechanics, but it still falls short of what I was hoping to get out of this genre mashup.
It's a cartoony, silly world that we learn about through the characters you recruit. On paper, the idea of many playable characters to switch between sounds great, but in reality I never got the chance to connect to even half of them. Once I found the 5 or 6 characters I liked, I didn't care who else got recruited. Part of the reason why is the way leveling up works is by finding items called Ringels and trading them in for attack or defense. At the end of a battle, an experience bar says that a character increased in level but there is no obvious change in strength. Boss battles weren't terribly hard, but the window of opportunity to attack for bosses like the serpent queen didn't flow well between platforming and turn-based battle.
I enjoyed the platforming bits and backtracking wasn't that bad in the main worlds because it felt organic, but I was not a fan of the retreading climb that I had to face each time I went up Sumeru (the villain Kala's place). Which I find ironic because Metroidvania's are all about retread, but something about the lack of hidden discoverable and the lack of enemies made the climb up Sumeru pretty brutal.
The music fits each area perfectly and sometimes found myself sitting at the pause menu for background tunes.
The NPCs in this game offer no clues or insight to the game. After the first random cameo from [insert indie-title hero here], I was hoping that they would add to the story or have an opinion about our quest, but everyone offers smalltalk banter or mention not wanting to talk to Ajna.
Overall, this game is better than average and an ambitious attempt, but I feel like its sequel could offer more depth.

…

Expand

Quick review : Frustrating platform game, boring fight mechanic, and honestly ... the most useless dialogs I ever read in a video game

Great art style, but the controls are not responsive enough to make platforming enjoyable and while the combat is fun at first it does get a

Great art style, but the controls are not responsive enough to make platforming enjoyable and while the combat is fun at first it does get a little stale with the exception of Pheobe as her moves can be linked connecting all her moves together is satisfying.

It is actually frustrating especially towards the end.


A few bugs here and there resulting in speech text disappearing, being trapped in a secret area resulting in a restart.


I'm more disappointed more than anything as the game had so much potential.

I do however look forward to their next game :)

…

Expand