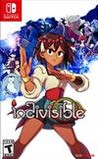 Summary:

INDIVISIBLE is inspired by classics like Valkyrie Profile and Metroid, and has the unique character, world, and gameplay depth Lab Zero is known for.

Meet Ajna, Indivisible protagonist. Ajna is a headstrong girl raised in a remote village. Her father, the town's guardian, has trainedINDIVISIBLE is inspired by classics like Valkyrie Profile and Metroid, and has the unique character, world, and gameplay depth Lab Zero is known for.

Meet Ajna, Indivisible protagonist.

Ajna is a headstrong girl raised in a remote village. Her father, the town's guardian, has trained her to be strong in mind and body to prepare her for things to come. Ajna discovers a mysterious power in herself, and sets off on a world-spanning journey. Along the way, a number of unique heroes will join her on her quest.

…

Expand
Developer:

Lab Zero Games

Genre(s):

Role-Playing

,

Action RPG

# of players:

No Online Multiplayer

Cheats:

On GameFAQs

Rating:

T
Please enter your birth date to watch this video:
You are not allowed to view this material at this time.
Indivisible - Coming to Nintendo Switch
Indivisible is just as good as it ever was, and the visuals hold up well on the Nintendo Switch. The story is engrossing, the gameplay is challenging yet fun, and the hand drawn environments are beautiful.

Indivisible is a title that combines very well mechanics of platforms, metroidvania and turn-based RPGs, all in one. It offers a proposal that is visually wonderful. Indivisible is one of the best indie games on Nintendo Switch, so if it catches your attention, don't hesitate to play it.

Although it's lacking the day one patch, Indivisible is as enjoyable on the Nintendo Switch as on the rest of the platforms. With a unique style and mix of genres, it can be considered one of those games that you either love or hate, but it's so refreshing that deserves a chance.

A fantastically charming mix of genres that, put together, produce a Metroidvania RPG that is utterly engaging. Even when Indivisible manages to misstep, the gorgeous aesthetic and oddball characters bring this adventure to life in a way that makes it an utter joy hold in your hands. If you can, take some time and grab Indivisible on Nintendo's handheld console.

Indivisible is a game unlike many others. While combining both platforming and exploration with a real-time RPG combat system didn't always keep my interest, the game has an unique style and engaging characters that did keep me coming back. I do feel that this game is more for those looking for an RPG rather than a Metroidvania, due to its slower pace and its 'interrupting' combat system. But it's the characters, music, art-style and worldbuilding that make it truly stand out from other RPG's. Whether it will become a classic like RPG's of old remains to be seen. But Lab Zero Games has shown that they are more than capable of bringing their unique talents to genres other than 2D-fighters and I cannot wait to see what is coming next.

Indivisible is an ambitious game, and there are moments where it seems to buckle somewhat under that ambition. The oddly-paced story, watered-down RPG elements, and inconsistent platforming indicate that this one maybe could've used more time in the oven. On the other hand, the beautiful visuals, excellent voice acting, great writing, and top-notch combat prove to be strong elements of an argument in its favor. Indivisible may have some rough edges, but these don't prove to overly hinder the generally enjoyable and charming nature of this adventure. It may not be perfect, but we'd still recommend you give Indivisible a look; this one's certainly worth your time.
There are many things to love and enjoy about Indivisible being that it's a Metroidvania over world with Superstar Saga-like battle mechanics,

There are many things to love and enjoy about Indivisible being that it's a Metroidvania over world with Superstar Saga-like battle mechanics, but it still falls short of what I was hoping to get out of this genre mashup.
It's a cartoony, silly world that we learn about through the characters you recruit. On paper, the idea of many playable characters to switch between sounds great, but in reality I never got the chance to connect to even half of them. Once I found the 5 or 6 characters I liked, I didn't care who else got recruited. Part of the reason why is the way leveling up works is by finding items called Ringels and trading them in for attack or defense. At the end of a battle, an experience bar says that a character increased in level but there is no obvious change in strength. Boss battles weren't terribly hard, but the window of opportunity to attack for bosses like the serpent queen didn't flow well between platforming and turn-based battle.
I enjoyed the platforming bits and backtracking wasn't that bad in the main worlds because it felt organic, but I was not a fan of the retreading climb that I had to face each time I went up Sumeru (the villain Kala's place). Which I find ironic because Metroidvania's are all about retread, but something about the lack of hidden discoverable and the lack of enemies made the climb up Sumeru pretty brutal.
The music fits each area perfectly and sometimes found myself sitting at the pause menu for background tunes.
The NPCs in this game offer no clues or insight to the game. After the first random cameo from [insert indie-title hero here], I was hoping that they would add to the story or have an opinion about our quest, but everyone offers smalltalk banter or mention not wanting to talk to Ajna.
Overall, this game is better than average and an ambitious attempt, but I feel like its sequel could offer more depth.

…

Expand

Great art style, but the controls are not responsive enough to make platforming enjoyable and while the combat is fun at first it does get a

Great art style, but the controls are not responsive enough to make platforming enjoyable and while the combat is fun at first it does get a little stale with the exception of Pheobe as her moves can be linked connecting all her moves together is satisfying.

It is actually frustrating especially towards the end.


A few bugs here and there resulting in speech text disappearing, being trapped in a secret area resulting in a restart.


I'm more disappointed more than anything as the game had so much potential.

I do however look forward to their next game :)

…

Expand