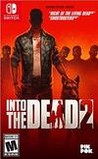 Summary:

Journey through the zombie apocalypse in a race to save your family. Arm yourself with an arsenal of powerful weapons and do whatever it takes to survive. Maim, mow down, and massacre the Dead – anything to keep moving! In a world where no one is safe, how far will you go to make it out alive?
Developer:

PikPok

Genre(s):

Action

,

Shooter

,

First-Person

,

Rail

,

Arcade

# of players:

No Online Multiplayer

Cheats:

On GameFAQs

Rating:

M
Like a zombie, Into the Dead 2 is simple.

There's a massive gulf between "momentarily fun free mobile game" and "Switch game that costs $35," and you can be certain that Into the Dead 2 doesn't come anywhere near crossing the yawning chasm. I hate to reduce the game's worth to how much it costs, but when the game gives you so little for such a high price (relative to free), it's impossible to see anything other than the downsides.

Into the Dead 2 is a pretty fun, well-made auto-run zombie survival game that arrives on Switch at a ludicrous price point that makes it very hard to justify picking up. The central gameplay loop is satisfying enough for a few minutes but it's as deep as you'd expect to find in a game that originated as a free-to-play mobile experience. It's been padded out with a bunch of extra modes, and they're all perfectly serviceable, but you can never escape the core truth that it's just the same thing over and over again in slightly different settings. If you're an absolutely massive fan of running through endless waves of zombies whilst very slowly unlocking weapons to make it seem as though you're somehow changing that experience, fill your boots, but everyone else should maybe check this out for free on a mobile device first instead.

Into the Dead 2 may not have the most original premise but the game does a decent job at creating a grim, apocalyptic environment around itself. Nevertheless, and despite fun mechanics, the game is too much alike its original version for mobile devices and simply does not live up to what a Nintendo Switch game should be.
Игра хорошая , она отличается от мобильной версии - тем что она платная , но из нее убрали донат! и ето хорошо , один раз купил и играй !

Игра хорошая , она отличается от мобильной версии - тем что она платная , но из нее убрали донат! и ето хорошо , один раз купил и играй ! СПАСИБО!

…

Expand

Very mixed game experience.

On the one hand, she dragged me in, liked me and I want to play some more. On the other hand, the game has aVery mixed game experience.

On the one hand, she dragged me in, liked me and I want to play some more.

On the other hand, the game has a number of problems.
1. In the past, this is a mobile donation game. Donuts from the version for the switch were removed, and the grind was left.
2. There is a drop in FPS upon receipt of a level reward.
3. Enemies appear from nowhere, not gradually approaching from afar, but immediately at a certain distance.
4. He opened the story mode (talks about some moments of the main story from the outside), so in the first campaign for 12 or 13 missions I didn't even have to shoot - just run, because there were no zombies at all!

She would be good at virtual reality glasses or arcade machines, but here there are a number of questions.

This is a great game that you can play while you ride the subway, but if there is more time, it is better to choose something else.

P.S. how the story is presented seems to be as banal as possible, but very atmospheric.

…

Expand

If you enjoyed Into the Dead 1, don't buy this game. I enjoyed the feeling of getting further and further each attempt, saving ammo and really

If you enjoyed Into the Dead 1, don't buy this game. I enjoyed the feeling of getting further and further each attempt, saving ammo and really making my shots count. This game pushes an aggressive "Use all your ammo! Kill 20 zombies within 500ft!" play style which feels very different from what I loved in the first one. $35 on Switch and then they use aggressive microtransaction tactics to try to pull more money out of you. With slow load times, poor story telling, and a level select that preys on completionists (Can't 100% the first area without paying money for the SMG), I believe anyone should stay away from this game.

…

Expand