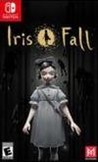 Summary:

Solve clever puzzles and uncover an intriguing story full of mystery and wonder. With "light and shadow" as a core concept, Iris.Fall takes players on a monochrome adventure unlike any other. After awakening from a dream, Iris follows a black cat into a dilapidated theater, traveling back

Solve clever puzzles and uncover an intriguing story full of mystery and wonder. With "light and shadow" as a core concept, Iris.Fall takes players on a monochrome adventure unlike any other. After awakening from a dream, Iris follows a black cat into a dilapidated theater, traveling back and forth through a strange labyrinth of light and shadow. As the story unfolds, Iris begins to realise that everything in this theater seems to have some kind of hidden connection to herself.

…

Expand
Developer:

NExT Studios

Genre(s):

Adventure

,

General

# of players:

No Online Multiplayer

Cheats:

On GameFAQs

Rating:

E
While Iris.Fall is a bit shorter than we'd like for it's $39.99 USD price tag it's still a journey we're glad we took! The game has some of the most innovative puzzles we've seen in a game on any platform! Couple the innovation that uses objects in the light and shadow worlds with some spectacular animation and you have a clear cut winner for one of the best puzzle games ever on the Nintendo Switch platform!

The puzzles in Iris.Fall can sometimes be momentum killers, and they will likely cause some players to leave the game unfinished despite its short duration. However, those who stick with it will be rewarded with an experience that never ceases to visually delight (and reward) the player.

With its short playtime, Iris.Fall doesn't overstay its welcome and presents an interesting distraction that never bores. Variety is the spice of life in this instance, so it's unfortunate that new elements are sometimes introduced that are so baffling that players may be discouraged from seeing the story through to the end credits. For those that do, however, a beautiful and unsettling adventure awaits with some great mechanics laid over some even greater visual design and cues.

Iris.Fall continues the trend of shadow-based puzzle games, finding plenty of opportunity to build on the core concept of moving 3D objects to create paths among the shadows cast. It doesn't quite hit the mark with the sort of introspective, abstract storytelling it tries to deliver, but its clever puzzles and stunning presentation nonetheless make Iris.Fall a few hours well spent.

Iris.Fall paints a foreboding challenge, guiding Iris and her shadow (with the aid of a cat) through a neat puzzle environment that ultimately may lack the incentive to revisit. But the journey is an intriguing one.