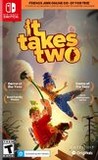 Summary:

From Hazelight comes It Takes Two an innovative co-op adventure where uniquely varied gameplay and emotional storytelling intertwine in a fantastical journey. Founded to push the creative boundaries of what's possible in games, Hazelight is the award-winning studio behind the critically

From Hazelight comes It Takes Two an innovative co-op adventure where uniquely varied gameplay and emotional storytelling intertwine in a fantastical journey. Founded to push the creative boundaries of what's possible in games, Hazelight is the award-winning studio behind the critically acclaimed A Way Out and Brothers: A Tale of Two Sons.

Something out of the ordinary
Bring your favorite co-op partner and together step into the shoes of May and Cody. As the couple is going through a divorce, through unknown means their minds are transported into two dolls which their daughter, Rose, made to represent them. Now they must reluctantly find a way to get back into their bodies, a quest which takes them through the most wild, unexpected and fantastical journey imaginable.

…

Expand
Developer:

Hazelight

Genre(s):

Action Adventure

,

Linear

# of players:

2

Cheats:

On GameFAQs

Rating:

T
It Takes Two receives its most complete and accessible version to date on Nintendo Switch with new languages and the ability to take the game anywhere. So, although the graphical sacrifice is noticeable, we are still satisfied with what can be considered one of the best cooperative games ever made.

A glorious, pure co-op experience, It Takes Two perfects the balance of give and take through its ingenuitive puzzles, stellar storytelling, and enchanting environments. With communication at its core, it truly takes two to tango with this one, and I couldn't think of a better home for it than the Nintendo Switch.

An absolutely indispensable cooperative work that goes beyond the usual boundaries of co-op gaming and ventures into the fundamentals of human relationships, It Takes Two will captivate its players with an array of vast worlds to explore, a creative and varied gameplay, and an experience that's easily accessible even for those with little or no gaming background.

The best game of 2021 arrives at Nintendo Switch with a wonderful port, which has almost nothing to envy to the other versions. It even adds new elements, like a superfab spanish voiceover (missing on the 2021 release). If you have Switch and you love coop games, you shouldn't miss this one if you don't have played it yet.

It Takes Two takes a hit to run on Switch, but it still works and looks well, becoming a solid choice if you don't own another platform or want the portability.

It Takes Two is a fantastic co-op game, and feels right at home on Switch. Sadly the visuals take a big hit, but in return you get a few more options on how to play. It still remains difficult to get a co-op partner for the full game let alone enough controllers, however if you can manage you're in for a great time.

It Takes Two is a very fun game that should honestly be about half its length, but the Switch very much does not feel like the place you should go to play it. The major graphical downgrades and added loading screens make it hard to recommend no matter how good the gameplay feels or how clever the writing is. If you're looking for a fun game to play alongside your significant other or a friend, It Takes Two is among your better options in general, but you'd likely have a far better experience on PlayStation or PC than on Switch.
I was away from playing games for a few years as the kids were small but as they are now young fledgling gamers I got them this game to play

I was away from playing games for a few years as the kids were small but as they are now young fledgling gamers I got them this game to play co-op together and I am so glad I did. WHAT AN ADVENTURE!!! It is an amazing game that has taken us on a magnificent journey with loads of puzzles and bosses and laughter. It reawakened my gaming spirit. Do not hesitate, just play It Takes Two and be amazed. 10 out of 10. Thank you so much to Hazelight Studios and to everybody else involved. Bravo!!

…

Expand

The game is amazing. I was looking for a game to play coop with my girlfriend e it fits perfectly. We played a few coop games before, but this

The game is amazing. I was looking for a game to play coop with my girlfriend e it fits perfectly. We played a few coop games before, but this one has a great history, a great gameplay and fun puzzles to solve along the way. Yes, it has some graphical downgrades if compared to PS and XBOX. However it runs smoothly on switch. Switch is known for being a family/party game, so this game fits very well.

…

Expand

This game is amazing, the platforming is smooth and satifying and it is super fun to **** around with your friends

Thus, an interesting and affordable title called "It Takes Two" was released for the Nintendo Switch. The developers from Hazelight Studios

Thus, an interesting and affordable title called "It Takes Two" was released for the Nintendo Switch. The developers from Hazelight Studios have done a lot right with this title. You will experience an interesting story with two characters and maybe with the big love. At the same time, the control shows its positive side. Unfortunately, the graphical presentation of "It Takes Two" can't always keep up. However, solo players should rather look for a partner to play the title successfully, because you can't play it alone. Those who would like to play with a friend are welcome to get "It Takes Two" on the Switch.

…

Expand

If you have 2 controllers you need to try it.I didnt try online but its not easy without voice chat.Puzzles,you need to have logic .Every

If you have 2 controllers you need to try it.I didnt try online but its not easy without voice chat.Puzzles,you need to have logic .Every level is something new.

…

Expand