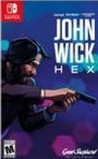 Summary:

Become The Baba Yaga. John Wick Hex is a fast-paced, action-oriented strategy game that makes you think and strike like John Wick, the professional hitman of the critically acclaimed film franchise. Created in close cooperation with the creative teams behind the films, John Wick Hex is

Become The Baba Yaga. John Wick Hex is a fast-paced, action-oriented strategy game that makes you think and strike like John Wick, the professional hitman of the critically acclaimed film franchise. Created in close cooperation with the creative teams behind the films, John Wick Hex is fight-choreographed chess brought to life as a video game, capturing the series' signature gun fu style while expanding its story universe. Players must make quick decisions and choose every action and attack they make, all the while considering their immediate cost and consequences. Featuring a unique blend of strategic time-based action, John Wick Hex captures the feel of the tactical combat from the films and blurs the line between the strategy and action video game genres. Perform well and progress in the main story mode to unlock new weapons, suit options and locations. Each weapon changes up the tactics you'll use and the manner in which you'll play. Ammo is finite and realistically simulated, so time your reloads and make the most of weapons you scavenge on the job. Experience an original new story set prior to the events of the films which sees John on a desperate mission to rescue Winston and Charon from a dangerous new adversary seeking his birthright. This story is brought to life by the world class voice talents of Ian McShane and Lance Reddick, reprising their iconic roles from the films, and voice acting legend Troy Baker, joining the stellar cast as the game's eponymous villain 'Hex'. John Wick Hex compliments the style of the films with a unique graphic noir art design and an original score by renowned composer Austin Wintory.

…

Expand
Developer:

Mike Bithell

Genre(s):

Strategy

,

Turn-Based

,

Tactics

# of players:

No Online Multiplayer

Cheats:

On GameFAQs
John Wick Hex was a great experience. Players looking for a straightforward third-person shooter should probably steer clear of the game. But it was so much more than I expected for a game based on a movie since they decided to add the strategic element rather than a straightforward third-person shooter. The strategic component of it is where the game shines.

John Wick Hex is an example of what can be done when someone approaches a movie-based game from an outside-the-box perspective, taking an action movie more naturally at home in that type of game genre and molding it wonderfully to a more methodical, tactical experience. Small nicks like the imperfect replay system or underwhelming story are insignificant in the face of just how satisfying it feels to embody Baba Yaga, and it's a laudable effort that I hope gets reiterated and refined in a potential sequel.

John Wick Hex is a very fun game that allows us to put ourselves in the shoes of the popular assassin John Wick and that will delight fans of the saga and turn-based strategy games. Although technically it can be improved, it is very addictive.

Nintendo Force Magazine

May 17, 2021

A flawed but fascinating addition to an excellent action film franchise. [Issue #51 – March/April 2021, p. 70]

Rather than capitalise on the John Wick IP with a generic shooter, Bithell Games has carefully captured the spirit of the franchise.

John Wick Hex is a game that lacks the flair and identity of the franchise it's trying to represent. A decent enough attempt, but a few key issues and lack of replay value diminishes its otherwise earnest effort.

John Wick Hex is a clever turn-based strategy offering with some cool mechanics that, when everything comes together, can absolutely make you feel like you're Keanu Reeves' unstoppable assassin, kicking, punching and shooting your way through an endless procession of hapless goons. However, there's an unpolished element to proceedings, with a lot of repetition across the seven levels on offer, janky animations, shoddy replays and some unreliable AI behaviour that begins to grate after a time. With some more variety and a touch of polish, this could have been a really nice little movie tie-in, however, as it stands it's just alright; a brilliant idea that needed more time in the oven.
John wick hex is a good game. It could have been a better game, but it really gives you a sense of what goes on inside an assassin's head.

John wick hex is a good game. It could have been a better game, but it really gives you a sense of what goes on inside an assassin's head.

The gameplay is awesome, strategically planning your moves and reacting to the enemies surrounding you gives an excellent sense of fulfillment. However, the game crashes quite frequently. I've experienced completing levels only for the game to suddenly crash during the replay segment; invalidating my previous gameplay and restarting back to the start of the previous level. However my biggest gripe about the gameplay is the randomly spawning enemies.
For a game that focuses in planning your moves this is such a letdown. There were instances when I cleared the sections only for a random enemy spawn from behind me and throw off my plan of action for the level.
This could have been implemented better.

Other than that, its a good game, but could still have been better

…

Expand

Bad game. Very unfair, the difficulty becomes way high as you progress, in a bad non satisfactory way. It's stupidly unfair. It's almost

Bad game. Very unfair, the difficulty becomes way high as you progress, in a bad non satisfactory way. It's stupidly unfair. It's almost impossible near the end. I hardly finished. Wick moves one step at a time, making it hard as hell against a swarm of enemies.Not a lot of bandages. Make wise your decisions. Extremely repepetitve. You need to rely on the weapons your enemy drops. The enemies spawn from anywhere and sometimes they shoot where you can't see them. It's just too frustrating and unfair. This is completely cheap. It sucks. It's worst than the movie, the enemies come in hoards and re-spawned. I just forced my self to finish for the purshased. Also it crashed like a dozen times, during gameplay. And this breaks the game for me.Not recommended.

…

Expand