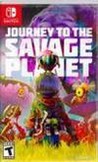 Summary:

Welcome to the Pioneer Program! In this upbeat & colorful, co-op adventure game you play as the newest recruit to Kindred Aerospace. Dropped onto an uncharted planet with little equipment and no real plan, you must explore, catalog alien flora and fauna and determine if this planet is fit

Welcome to the Pioneer Program! In this upbeat & colorful, co-op adventure game you play as the newest recruit to Kindred Aerospace. Dropped onto an uncharted planet with little equipment and no real plan, you must explore, catalog alien flora and fauna and determine if this planet is fit for human habitation. But perhaps you are not the first to set foot here... Onward to adventure! Good luck - and mind the goo!

…

Expand
Developer:

505 Games

Genre(s):

Action Adventure

,

General

# of players:

2

Cheats:

On GameFAQs

Available On:

Stadia
Basically, I'm just happy that Journey to the Savage Planet on the Switch finally has it living up to the potential the game showed back when it was first teased. It's kind of ironic it had to be visually downgraded to achieve that, but if I have to sacrifice a bit of performance to get a lot more fun out of a game, that's a trade-off I'll take every time.

Journey to the Savage Planet is a wonderfully unique mixture of No Man's Sky-style exploration and Metroidvania puzzling and platforming with a wonderfully dark sense of humour that arrives here on Switch in a slightly compromised but still eminently playable state. ARY-26 is a fantastically vibrant planet to explore, filled with cute creatures, bizarre flora and fauna and super-slick platforming and environmental puzzle design. The monolithic tower that sits at the middle of this alien planet is a compelling mystery to work towards and the game doles out plenty of fun new tools and toys at just the right rate to keep you highly entertained as you jump, grapple, boost and blast your way to the secret at its core. There have been obvious graphical concessions made and the framerate does wobble from time to time – performance definitely feels worse in docked than handheld – but overall Typhoon Games has created an adventure that's strong enough to transcend any of these slight technical shortcomings and absolutely remains an experience you should check out, if you get the chance.

At its core, Journey to the Savage Planet is an incredible game that only misses a couple quality of life issues that make navigation a little more frustrating than it should be. That being said, the rest of its excellent design blows right past that oversight. The Switch version in particular brings with it its own unique issues, but once again the design outshines these issues. While I can't say the Switch is the ideal way to play this game, it is worth playing in whatever form you can.

Journey to the Savage Planet is a bit of a modern classic, and so giving Switch monogamists a chance to play it too is something to be celebrated.

Journey to the Savage Planet is a fun and involving first person adventure game that is filled with humour and with interesting details to explore in its vast world. While its technical performance on the Nintendo Switch could be sharper, there's plenty here that will keep players captivated in this witty and addictive adventure.
Great game, but without installation and fast load it's even better.
The quality of graphic is amazing
10

The gameplay itself is mostly solid, with plenty of elements typical of the metroidvania genre. It also runs well on the Switch, and the

The gameplay itself is mostly solid, with plenty of elements typical of the metroidvania genre. It also runs well on the Switch, and the simplistic colourful style lends itself well to the console's hardware limitations. It's a mostly solid game, has a neat art style and some fairly good comedic writing. Fans of games like No Mans Sky or the Metroid games for Gamecube and Wii will surely feel at home here. The world building is neat but rather shallow. The satire mostly works, but it is rather one-note. And there is no real sense of wonder when exploring the alien world, not much in the way of learning new lore or meeting new fascinating life-forms.

In other words, it is mostly fine but quite obviously not a AAA production. It could have been one of those games that are just good mindless fun for a while, that are somewhat derivative but do their thing well. However, there were some problems related to game design that, for me, ended up being deal breakers.

The first of these was the decision to often not introduce new mechanics to the player. For example, to progress past one point I had to sneak past a creature and do a take-down. Doing so was not particularly difficult – once I looked in a tutorial and learned how. But at that point in the game, this mechanic had never been used or explained. I'm all for that sense of discovery that comes with getting a new thing and using it to access previously inaccessible areas, but being expected to just magically know about a mechanic mostly leads to frustration.

The second problem I had with the game is one that mostly comes down to preference. I get that this has elements of a rouge-like and that lots of people like that type of game. But having a game-play that consists of lots of trial and error while at the same time forcing the player to start back at the beginning after each death felt more frustrating than rewarding. I think it mostly has to do that the game-play itself is serviceable rather than enjoyable – I'm okay with doing this in a game like Hades, but here the exploration is far more rewarding than the combat and platforming. Dying meant going through the same environment again and again, discovering nothing and seeing nothing new, and that mostly felt like a slog.

What really did it for me, however, was one specific bug. There was this one platforming section using the grapple hook where I make that final jump, use the grapple – and then fall off the edge instead of landing on it. Over and over again. Despite having made that jump before. So I'm stuck, not able to progress, and after each unfair death I have to start back at the beginning. With each death the game became less fun, and this particular set of deaths kind of sealed it for me. I'm sure I would have had some more enjoyment out if it had this particular roadblock not occurred, but that game-play loop of trial-and-error problem solving, dying, and then backtracking was getting old by this point.

This is all very subjective of course, but to me this was simply not the right balance between game-play elements. It does not have that meditative slower pace of a game like No Mans Sky, despite superficial similarities in things like art-style, scanning, and crafting. Nor does it have the tight controls and satisfying run-and-gun game-play of something like Doom Eternal or, for that matter, those first person Metroid games. The tone and art-style are neat, but it's all rather shallow when compared to something like Outer Worlds. In other words, the game is aggressively okay but never more than that. As long as you do not encounter a progress blocking bug – those are decidedly less than okay.

…

Expand