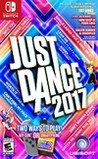 Summary:

Grab your friends and family because it's time to dance! The biggest music video game franchise of all time is back, with over 60 million units sold. Just Dance 2017 brings you over 40 new tracks, six game modes, updated content all year long and access to 200+ songs through Just Dance

Grab your friends and family because it's time to dance! The biggest music video game franchise of all time is back, with over 60 million units sold. Just Dance 2017 brings you over 40 new tracks, six game modes, updated content all year long and access to 200+ songs through Just Dance Unlimited!
Join a community of more than 118 million players around the world and bust out your best moves! Dance your heart out to Cheap Thrills by Sia Ft. Sean Paul, Lean On by Major Lazer & DJ Snake Ft. MO, and Sorry by Justin Bieber. Relive classics including Don't Stop Me Now by Queen, or if J-Pop is your thing get down to Po Pi Po by Hatsune Miku!

…

Expand
Developer:

Ubisoft Paris

Genre(s):

Action

,

Rhythm

,

Dancing

# of players:

No Online Multiplayer

Cheats:

On GameFAQs

Rating:

E10+
Please enter your birth date to watch this video:
You are not allowed to view this material at this time.
Just Dance 2017 - Nintendo Switch Launch Trailer
Just Dance 2017 is, simply put, fun. It's fun with others. It's challenging both mentally (to learn the choreography) and physically. And it has a lot of music to offer. Just Dance 2017 gets that way not by being a technical program obsessing about judging the details of your physical movements, but by doing everything in its power to make you forget everything but the music, the choreography, how they intertwine, and how you're ever going to be able to catch your breath in time to keep up with it.

This year's edition of the Just Dance series lifts the game beyond its former releases thanks to its focus on treating players to various extras the more they play, as well as integrating the online component so smoothly. There will always be a tendency to jiggle the Joy-Con randomly - as with the Wii Remote in the past - in the hopes of cheating to get a decent score, but some of the fun factor is removed by doing that. Just Dance 2017 on Nintendo Switch is as close to perfection in the genre as possible, even if this version has lost some of the features included in the already released Wii U edition.

Just Dance 17 is both refreshing and stale. On one hand, it's great to see a late port from a third party that has as many features, if not more than the other versions available. On the other, the Just Dance franchise itself is pretty much the same as it was last year, or the year before, or the year before.

While a step up from last year in terms of included tracks, Just Dance 2017 doesn't bring a lot new to the table — the meat and potatoes lies in Just Dance Unlimited. The Switch version specifically functions as well as you might expect, offering up an easy second player controller courtesy of readily-available Joy-Cons, though the experience becomes difficult visually once undocked. At this point, it's what you'd expect from Just Dance, but on a new platform. Consider this tiny cartridge your portal into Just Dance Unlimited as I imagine 2017 might be where physical entries to the series end.

Sure, we've seen it all before but it's not about that, it's about allowing other people to experience the Just Dance phenomenon and even though the controls are not totally accurate in how it tracks your dancing, the fun and entertainment factor of the title more than makes up for this short-fall. All in all, it's an enjoyable game for people of all ages as they dance to their hearts content, backed by some of the world's hottest singers and bands.

Great at what it does – serving as a surprisingly jam-packed offering for solo players as well as being a great addition to parties, sleep-overs and gatherings of friends; yet it isn't perfect. Although it has a pleasing amount of unlockables such as avatars and the like, it doesn't feel like enough to keep you wanting more, and considering the game is obtainable at a much cheaper rate on other consoles than the full retail price tag on the Switch version, it is hard to recommend this over other versions, as ultimately the game is identical. This is a good version of a solid dancing game, but whether it's a cost effective launch window offering on Switch is up for debate.

For one of the earliest Nintendo Switch experiences I've had with the console, Just Dance 2017 was a disappointing departure. Though its slick and easy to use interface combined with the Switch-centric Tabletop Mode are boons for those looking to dance, there's little substance here, certainly not enough to recommend shelling out cash for Just Dance Unlimited or even playing this game instead of just turning on the radio and dancing to your own routines.
the game until it is good but you do not have the option to enter the ubisoft club in the game just in the application just dance control but

the game until it is good but you do not have the option to enter the ubisoft club in the game just in the application just dance control but anyway it precludes the music let me love you but the game deserves a chance

…

Expand

Nintendo for me has always been about having fun with my friends and playing games together with different people. The switch does not yet

Nintendo for me has always been about having fun with my friends and playing games together with different people. The switch does not yet have a lot of those kind of games and Just Dance fills that void just fine.

The best thing about this game is that anybody can play, even my grandmother, you can't say that about almost any other game. Sure there are many things that can be improved, more songs (you get a 3 month premium trial though), no mic, no video, no new features etc. But even with this in mind I still think Just Dance Switch is one of the must haves if you play the switch primarily with friends.

Big bonus is that no extra controllers are needed since you can play with your phone. The portability of the switch is also a big factor in my scoring for this game, perfect at parties.

…

Expand

El juego cumple lo que promete excepto que requiere mebresia, de ahi en mas, con unos buenos amigos te la pasaras de lujo, tiene bailes muy

El juego cumple lo que promete excepto que requiere mebresia, de ahi en mas, con unos buenos amigos te la pasaras de lujo, tiene bailes muy dificiles, bailes muy divertidos, y ha mucha gente le gusta y le trae recuerdos por el amplio catalogo, pero en realidad que la membresia te pona a pensar si es que es buena idea comprar el juego, esta clase de juegos quizas si seria mejor ser una suscripcion que una compra

…

Expand

Hey man, it's only the just dance 2017 game now for the nintendo switch, look interesting but the game inself it's only dance, and with

Hey man, it's only the just dance 2017 game now for the nintendo switch, look interesting but the game inself it's only dance, and with friends get more interesting.

…

Expand

Another year, another instalment in the Just Dance franchise. Established fans will know exactly what they're getting, however, the irony with

Another year, another instalment in the Just Dance franchise. Established fans will know exactly what they're getting, however, the irony with the Switch edition is the absence of a few features that were available in the Wii U (and even the Wii!) versions. Due to the absence of a camera *and* microphone in the Nintendo Switch, there is no option to be scored on your vocal prowess in this version of the software (even though the Switch has a USB port when docked). Just Dance TV is also limited to watching the most popular and recent performances of players from other versions of the software.

On the plus side, the Switch edition includes a 3-month subscription to Just Dance Unlimited (which unfortunately activates upon first booting the software), affording you a far wider range of routines to choose from at no extra cost. The downside? You have no option to permanently download any of the routines as DLC, and performances of any of the Unlimited routines frequently result in buffering, connection failures and bitrate fluctuations. Another downside is the omission of Zayn Malik's "Like I Would" and a cover of Wham!'s "Last Christmas"; two very popular songs that would be favoured in a party environment, and they are conspicuously absent in this release ("Like I Would" and the deceptively advertised "How Deep Is Your Love" are exclusive to Just Dance Unlimited). The software supports up to six phone/tablet devices with the free Just Dance Controller app, or six Joy-Cons for local multiplayer, but not a combination of the two control methods.

Prospective dancers should ultimately consider whether the additional modes and slightly superior song selection of the Wii U version is worth forfeiting for the convenience of portability that only the Nintendo Switch can provide. Both versions are competent in their own right, and the cons are arguably negligible for those whose interest lies in the core experience. I'm not terribly impressed with the song selection in Just Dance 2017 and I hope that the song selection will be improved in the next release. Recommended for established fans or those who would like to take this sort of game with them on the go.

…

Expand

Steer clear from Just Dance 2017 for the Switch. Sure it's the same built-in routine from previous consoles, but buying this directly right

Steer clear from Just Dance 2017 for the Switch. Sure it's the same built-in routine from previous consoles, but buying this directly right ahead will ruin the Switch hype for your to-get future list of games. Look for something else instead.

…

Expand

i don´t link this game it was a waste of money don´t buy just dance 60 dollars is way to much for a game like this maybe if it way 30 dollars

i don´t link this game it was a waste of money don´t buy just dance 60 dollars is way to much for a game like this maybe if it way 30 dollars but not 60 dollars.

…

Expand