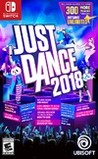 Summary:

No matter where you come from, how old you are, if you are a panda or a carrot: turn up the volume and get ready to unleash your inner dancer, because Just Dance 2018 brings out the dancer in everyone. Whether you are a party starter, a young dancer in the making or a pro dancer looking for

No matter where you come from, how old you are, if you are a panda or a carrot: turn up the volume and get ready to unleash your inner dancer, because Just Dance 2018 brings out the dancer in everyone. Whether you are a party starter, a young dancer in the making or a pro dancer looking for new challenges, it's never been so easy to Just Dance. Dance your heart out to 24K Magic by Bruno Mars, Side to Side by Ariana Grande ft. Nicki Minaj, The Way I Are (Dance With Somebody) by Bebe Rexha ft. Lil Wayne and Chantaje by Shakira ft. Maluma. Relive classics including Daddy Cool by Groove Century, or if K-Pop is your thing get down to Bubble Pop by Hyuna.

…

Expand
Developer:

Ubisoft Paris

Genre(s):

Action

,

Rhythm

,

Dancing

# of players:

Up to 8

Cheats:

On GameFAQs

Rating:

E10+
Just Dance 2018 continues to provide the great content that has made the franchise so successful. Most of the tracks included are from the past two years so if you've been a fan of music lately, then it's worth the purchase. Personally I preferred what was offered on Just Dance Unlimited as it included lots of old favorites and a wonderful collection of Halloween-themed songs that my kids thoroughly enjoyed. No matter the reason you enjoy Just Dance, whether it's on the on go or in the privacy of your own home, you're likely to enjoy the 2018 version in any environment.

Just Dance 2018 does not offer much new, but it truly does not have to at this point. The things it does offer adds to the already great experience in unexpected ways. The mojo gashapon adds yet another addictive component to the mixture of feel-good-hormones the game has offered for ages in a way that is obviously clever once explained. What players are here for, though, is the fun and addictive dance gameplay, which is as strong as ever with the ever growing Unlimited library. This makes Just Dance 2018 well worth a go for fans and newcomers alike.

Besides the lack of some other great hits besides "Despacito", Just Dance 2018 makes another nice game, specially for the kinds at home and all of the people that might get it for the Nintendo Switch. Playing it on a Nintendo Switch with HD Rumble technology and both Joy-Cons just feels like the way it was meant to be.

In a strange twist for a series that you would expect to be built around drawing in new consumers, Just Dance 2018 feels like a perfect match for those who already love the games and are really serious about their dancing, yet does nothing to draw in newcomers. In some ways, this year's edition feels like it is almost a 'greatest hits' for its hardcore fans – the one entry that you'll always fall back to just to play through the best stuff. Yet with such a hefty cost needed to access all of the game's content, only the most serious will get true enjoyment here.

Just Dance 2018 keeps its predecessors' gameplay mechanics, which work wonders at parties and other gatherings and the track list is varied enough to provide some entertainment during several gaming sessions. This does not mean, however, that it does not need some innovation, preferably in the form of new game modes.

Just Dance 2018 it's a software with a precise purpose and an even more precise audience. If you're looking for an excuse to dance you're in the right place, but everyone else won't find anything interesting here.

It's hard to fathom what Ubisoft plans for this series going forward, but they should figure it out sooner rather than later, because continuing to release the core game for the Wii and ignoring the potential of the streaming service seems like a sign of regression. As for the core game itself, there's an innovative new mode on the Nintendo Switch version, the interface is easier to navigate and the song list is decent enough, if typically underwhelming. There's hints of Ubisoft doing the right thing, like throwing in a song or two from an unknown artist and trying out new modes, but they never see it all the way through. Frankly, it's time for a reboot if Unlimited isn't the future of Just Dance.
Great game for Nintendo Switch worth it I wish I had more songs,songs like I Got You by Bebe Rexha and also in the place of just mario puts if

Great game for Nintendo Switch worth it I wish I had more songs,songs like I Got You by Bebe Rexha and also in the place of just mario puts if the music of the super mario odissey , but the game is 10

…

Expand

An excellent game that combines fun controls, incredible track selection, and lots of unlockables to provide a strong feeling of progression.

An excellent game that combines fun controls, incredible track selection, and lots of unlockables to provide a strong feeling of progression. Online play is icing on the cake which will keep you dancing into the new year. Love it.

…

Expand

Es un gran juego si lo que buscas es pasar un buen rato con tus amigos, pues contiene varias canciones que te pueden entretener pero no son

Es un gran juego si lo que buscas es pasar un buen rato con tus amigos, pues contiene varias canciones que te pueden entretener pero no son muchas, me parece que pudieron agregar unas cuantas más. Si quieres jugar con otras canciones deberás contar con una suscripción, el cual puede utilizar aproximadamente 300 canciones que deberás estar conectado a internet. El uso de los Joycon para Switch funciona muy bien e incluso puedes utilizar una aplicación desde tu smartphone cómo un control extra.

…

Expand

We bought this for our 5 year old kids, for PS4, the camera detection is absolutely awful, left our kids crying and frustrated because it was

We bought this for our 5 year old kids, for PS4, the camera detection is absolutely awful, left our kids crying and frustrated because it was not working most of the time. It could detect adults instantly but not kids. We moved camera around and tried everything and no improvement.

…

Expand

welcome to something about just dance getting worse, i never wanted to buy any other just dance, except for one, just dance 2015. i can't

welcome to something about just dance getting worse, i never wanted to buy any other just dance, except for one, just dance 2015. i can't believe ubisoft decides to add a subscription to be able to let you play other games, it's so stupid and even though i got a used version of this, after the subscription ended.. i immediately stopped playing this horrible game, the song choice was alright for the game, but man the subscription thing should be out of here.

…

Expand

I paid for 3 months of Just Dance Unlimited, but it never activated. Ubisoft ignored my tickets.

I got scammed by Ubisoft, I paid for an additional yearly subscription to play more songs and it is not working no matter what I do. No

I got scammed by Ubisoft, I paid for an additional yearly subscription to play more songs and it is not working no matter what I do. No response from Ubisoft.

Do not buy this game. Do not support a company that cheats its customers and can't get its service in order.

…

Expand