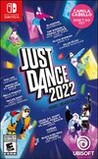 Summary:

Just Dance 2022, the ultimate dance game, is back with new universes and 40 hot new tracks from chart-topping hits like "Believer" by Imagine Dragons, "Level Up" by Ciara, and more.
Developer:

Ubisoft

Genre(s):

Action

,

Rhythm

,

Dancing

Cheats:

On GameFAQs

Available On:

Stadia

Rating:

E10+
Just Dance 2022 brings with it the revamp players have been waiting for in choreography and scenarios to make the experience of the title much more enjoyable and to justify itself as a true sequel to the Just Dance franchise. The party is guaranteed to be on for buyers of the game.

Just Dance 2022 is a dance without a revolution, but what a dance, ladies and gentlemen. Strengthened by a sensational line-up that ranges from the old glories of the past to the new stars of the present (even virtual ones), the last chapter of the series focuses on the quality of the selected pieces and on choreographies of indisputable specific weight. The various levels of difficulty ensure an experience within everyone's reach.

While the Just Dance series reek of a yearly subscription based model, it still is a lot of fun, especially with the bops released in the year to date. Can't beat dancing to your hearts content with your friends and family in this wholesome and colorful game.

Just Dance 2022 is here: are you ready to dance again with friends?

Just Dance 2022 brings established modes and a good playlist of songs for your party, but it lacks any new features.

Just Dance 2022 has worked really hard to add several fun choreographies and a rich and varied song selection: these efforts will certainly be appreciated by the long-time fans of the series.

The new songs are pretty nice, but everything else is more of the same. Also, if you really want to gain access to the whole game you have to subscribe to Just Dance Unlimited. Get it on sale.
Amé la selección de canciones y coreografías para esta entrega de just dance

3rd Best Just Dance game, great graphics, choreos and tracklist, but the world dance floor is the same as just dance 2021 but you get the song

3rd Best Just Dance game, great graphics, choreos and tracklist, but the world dance floor is the same as just dance 2021 but you get the song rewards and the menu is the exact same menu as JD19, JD20 and JD21

…

Expand

In the new edition of "Just Dance", you'll once again get a lot of fun and funny moments. If you already know some of the franchise's

In the new edition of "Just Dance", you'll once again get a lot of fun and funny moments. If you already know some of the franchise's predecessors, you'll feel right at home after a few seconds. All those who have every spin-off on their shelf so far can get started right away and are happy about the new songs in "Just Dance 2022". The gameplay gets right into your blood after a few moments and is a lot of fun. The controls on the console are once again convincing and help you dance much more successfully than before. On the whole, "Just Dance 2022" is another good title in the series. Let's Dance!

…

Expand

The creative developers at Ubisoft have absolutely outdone themselves this year in terms of visual effects, song choices, and choreographies.

The creative developers at Ubisoft have absolutely outdone themselves this year in terms of visual effects, song choices, and choreographies. Many Just Dance fans' prayers have been answered through the inclusion of several tracks that have been requested for years, especially fans of K-pop, who are able to dance to four new K-pop songs with their "official choreographies". However, in terms of modes and features that lie outside of the main game, the exact opposite is true. Those who have played the previous Just Dance entry, Just Dance 2021, will be quick to notice that the user interface has remained identical. In fact, it has not changed at all since its initial use in Just Dance 2019. Furthermore, there appears to be a lack of new gameplay modes within this installment, nor do modes introduced in previous games make a reappearance, such as Mash-Ups or Battle mode. Existing game modes, such as the World Dance Floor and Quick Play mode, are left completely unchanged. It's also worth noting that the Kids mode, which has become a staple of the games since the 2018 entry, has not been updated either. Instead, dance routines created for earlier versions of Kids mode are simply reused. Another feature making a return is the gift machine, in which one can spend 150 coins, a reward gained by leveling up, to unlock various profile customization options such as avatars, skins, and titles, which are merely cosmetic. In previous entries, alternative dances to certain songs were available as a reward from the gift machine, but now, one must simply get a high enough score on those songs or play them enough times to unlock the alternatives. If you don't really care about what your profile (or "Dancer Card" as it is called in game) looks like, there's really no point.
The absence of fresh content within the Just Dance series has caused the new games themselves to become somewhat stale, as the only thing that is truly "new" about them nowadays is the selection of approximately forty songs included with the game (along with the alternative dances). Sure, practicing to get every last "perfect" on the extreme dances and competing against others online for the best score is fun for a while, but once you have eventually mastered each dance and had your fun, you are left with little incentive to continue playing, that is, unless you purchase the Just Dance Unlimited subscription service, which the game reminds you of quite constantly. In my opinion, though, paying the yearly subscription (even only once) for the vast catalog of songs from previous entries is a pretty decent deal, especially for those who feel nostalgia for the previous games or for newcomers who wish to have that experience for the very first time. There is also a collection of songs that are exclusive to the service and are not present in any previous games, which may be pretty irresistible for hardcore fans looking for everything Just Dance has to offer. Really, that's about all there is to Just Dance 2022.
Just Dance 2022 offers some of the most high-quality and creative visuals and choreographies ever seen in the Just Dance franchise, but those looking forward to new features, a fresh user interface, or different game modes will sadly be out of luck.

…

Expand

They worked to improve the game with more than just new songs each year, but in my opinion it was not cool.
The movements are way moreThey worked to improve the game with more than just new songs each year, but in my opinion it was not cool.
The movements are way more difficult than the previous games, even in the easy songs, sometimes it's impossible to follow, but to compensate they made it easier to get 5 stars. Sometimes i got lost in a big part of the dance but yet was able to get 5 stars.
They improved the graphics in a few songs, not in all, and I felt some of the new avatars kind of awkward.
Alse the new songs did not excite me at all.
I rather stay with the 3 old ones, coller songs and smoother dance moves.

…

Expand

some of the moves you have to do in dis game are ridiculous. there was some point in level 3 that the game literally asks you to spin around

some of the moves you have to do in dis game are ridiculous. there was some point in level 3 that the game literally asks you to spin around 10 times making me nauseous and vomiting's. don't buy

…

Expand