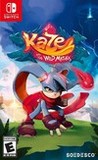 Summary:

Unleash the skills of the Wild Masks to get powers from the tiger, eagle, lizard and shark. Uncover the secrets of the Crystal Islands in 30+ levels with over 50 bonus levels. Relive your childhood memories of classic platformer with high quality frame by frame pixel art. Pave your way

Unleash the skills of the Wild Masks to get powers from the tiger, eagle, lizard and shark. Uncover the secrets of the Crystal Islands in 30+ levels with over 50 bonus levels. Relive your childhood memories of classic platformer with high quality frame by frame pixel art. Pave your way through a satisfyingly smooth, but challenging platformer.


…

Expand
Developer:

PixelHive

Genre(s):

Action

,

General

,

Platformer

,

2D

# of players:

No Online Multiplayer

Cheats:

On GameFAQs

Available On:

Stadia

Rating:

E
Normally this is where I'd note some flaw or issue that stops Kaze and the Wild Masks from being absolutely perfect, but I can't think of a single complaint. It's just a phenomenally well-done that captures its influences without being completely indebted to them, and it's one an early contender for one of my favourite games of the year.

Kaze and the Wild Masks is almost the perfect 90s sidescroller throwback, and a perfect way to fulfill your 5 a day.

Replace its lead rabbit with an ape in a red tie and you might even say that Kaze and the Wild Masks is Donkey Kong Country 4 in disguise. But, at the end of the day, its lack of originality doesn't hurt just how much fun it's been making my way through this eight or so hour adventure. The Donkey Kong Country trilogy was fun for a reason and Kaze and the Wild Masks serves as an excellent reminder of why that was.

A good jump&run reminiscent of Donkey Kong Country wrapped in beuatiful pixelart visuals. I wouldn't mind if Kaze becomes a franchise.

Kaze and the Wild Masks is as gorgeous as it is challenging. Smooth controls feel amazing, and the masks you find truly change your entire gaming experience. While I felt there were too many auto-scroller levels and cheap deaths, there are still plenty of great gameplay moments and replayability to be found. If you want a punishing but rewarding platformer, Kaze and the Wild Masks maybe the humbling experience you're looking for.

Kaze and the Wild Masks is a nice platformer with cool pixel art visuals, but if the gameplay is good, the difficulty waves from too easy to incredibly hardcore, which is quite a let down. Overall a nice game, even if it's no match for the best productions of the industry, like Ori.

I'm settling on the score that I have because I can't reward work that is this derivative. But despite the score I find this one an easy recommendation for certain players out there. Kaze is a genuinely well-made game and if you like Donkey Kong Country you're going to like this one, if for no other reason than it's something of a greatest hits of the best Donkey Kong Country levels. If we see a Kaze 2 (and I hope we will), and the developers show us a little of their own creative ideas in there, then we'll be looking at some really high scores indeed.
I love this game, it's really a great Donkey Kong Country game. Maybe the best one.

An excellent game inspired by classic platformer Donkey Kong Country (especially 1 & 2, for me the best). I hope they do well, we could use

An excellent game inspired by classic platformer Donkey Kong Country (especially 1 & 2, for me the best). I hope they do well, we could use more games like this again. Pure fun, satisfying to complete 100%!

…

Expand

It's Donkey Kong Country. But with bunnies, evil veggies, and lots and lots of sparkly gems.

The Good: Art is gorgeous. Music is bangin'.It's Donkey Kong Country. But with bunnies, evil veggies, and lots and lots of sparkly gems.

The Good:
Art is gorgeous.
Music is bangin'.
Gameplay is flawless.
Rewards for various challenges are great.
Excellent difficulty curve.

The Bad:
Cutscenes are kinda meh.
Who put these bonuses behind fake walls with no indication that they aren't real?!

Details:
I'll be honest, there's basically nothing to say here. It's just Donkey Kong Country. Most of the enemies function the same, the collectables function the same, the bonus areas function the same. Gameplay wise it's just DKC but you can only play Dixie(The best DKC character anyway). The game also features what I believe are the titular Wild Masks, items that temporarily change the gameplay to help Kaze make it through a level she otherwise couldn't solve, each of which are as satisfying to use as the main controls are. Combined with some of the best art I've ever seen the only negative that comes to mind is my frustration with finding bonus challenges.

Verdict:
Art: A+
Gameplay: A+
Using what works: A+
Bananas: Sadly 0.
Shiny things that I have no clue what they do but I grab anyway: Lots.

Recommended for fans of old school titles. Platformer fans have no excuse NOT to buy it.

…

Expand

Kaze knows what it is, and delivers on every level. It's a good mix of Sonic The Hedgehog and Donkey King Country. I played the first two main

Kaze knows what it is, and delivers on every level. It's a good mix of Sonic The Hedgehog and Donkey King Country. I played the first two main areas and it took about an hour to beat each one, and would take longer to go back and get every collectible. There's so much to do in the game and the variations in gameplay never feels stale.

Graphics: 10
Gameplay: 9.5
Audio: 8.5
Story: 8

…

Expand

"Kaze" is a great plataform game with a tons of stuff from the same games ate 1990. Nice envirorment and a lot of enemies to beat. This game

"Kaze" is a great plataform game with a tons of stuff from the same games ate 1990. Nice envirorment and a lot of enemies to beat. This game deserves be played for more people (outside of Brazil, where he be created) especially they that love plataform and 16 bits era.

Nice game! Great job "Porto Alegre"!

…

Expand

Ottimo gioco che richiama lo spirito della serie dei donkey kong country. Se siete fan della trilogia dei DKC del super nintendo, questo è un

Ottimo gioco che richiama lo spirito della serie dei donkey kong country. Se siete fan della trilogia dei DKC del super nintendo, questo è un gioco da provare e sicuramente è più adatto per una console come la switch, che ha un ampio catalogo di platform. Molto bello, difficoltà medio/alta con l'unica pecca che ha solo 4 mondi di gioco e si finisce in meno di 3 ore, se non ci si dedica a completarlo del tutto.In ogni caso è uno dei milgiori platform moderni a cui abbia giocato.

…

Expand

I'm a huge 2D platformer fan, which is why I was pretty excited to get to play Kaze and the Wild Masks. It's also why it hurts me to say that

I'm a huge 2D platformer fan, which is why I was pretty excited to get to play Kaze and the Wild Masks. It's also why it hurts me to say that this game thoroughly bored me. For me, the game felt like it offered me very little challenge as someone who's played countless 2D platformers, and it brought nothing new to the table. That wouldn't be too bad if it did everything that's normal in 2D platformers really really well, but in my opinion it failed at that too. I felt like a lot of the time I was fighting the controls more than I was controlling the character, and this made every death feel like an annoyance that wasn't my fault rather than the game starting to get more difficult.

I don't believe this game is all bad, but when compared to Donkey Kong Country: Tropical Freeze and Yooka-Laylee and the Impossible Lair, the game feels like an unimaginative copy of those sorts of games. It does suck, because I can really see the effort that has gone into making Kaze and the Wild Masks, but maybe this game just isn't for me.

…

Expand