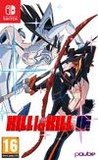 Summary:

You control Satsuki Kiryuin as the main
protagonist of this game, and proceed
along with the story while battling against various characters. All scenarios are completely new and fully supervised under the watchful eyes of the original scenario-writer, Kazuki Nakashima. You will beYou control Satsuki Kiryuin as the main
protagonist of this game, and proceed
along with the story while battling against
various characters. All scenarios are
completely new and fully
supervised under the watchful eyes of
the original scenario-writer,
Kazuki Nakashima. You will be experiencing
the story unfold from the perspective of
Satsuki Kiryuin, the rival of the original
series' protagonist Ryuko.

…

Expand
Developer:

Studio TRIGGER, Aplus

Genre(s):

Action Adventure

,

General

,

Action

,

Fighting

,

3D

# of players:

No Online Multiplayer

Cheats:

On GameFAQs

Rating:

M
Please enter your birth date to watch this video:
You are not allowed to view this material at this time.
Kill La Kill The Game: IF - Gameplay Features Overview Trailer
Kill la Kill: IF has done a lot of work to push the arena fighter genre forward, even if its story mode won't build up new fans.

With TRIGGER's involvement for the design and Kazuki Nakashima's involvement for the story, they managed to help deliver the style, music and hype that fans of the anime – such as myself – loved while creating an all-new "what if" story that may have fans returning to the anime.

Arc System Works delivers a great combat system and a fun story mode, but 8 fighters and 6 levels are too few, even if you are a big fan of the anime.

KILL la KILL IF has all the visual prowess of an Arc System Works competitive fighter minus the substance that they are usually known for. It doesn't necessarily handle badly control-wise, it's just far too simplistic for even the most casual player to get any real longevity or satisfaction from it. Mix that with a horde survival mode tacked on as an afterthought, and you have an unrewarding button-masher masked behind the scribbled down blueprints of a fighting game.

For the fans of the Kill la Kill anime, this would be a great and fun game to have and play with friends. Its button mashy system and crazy action are well presented. But lack of playable characters and high price tag drag it down for now.

Kill la Kill The Game: IF is a unique title for sure. It lacks depth and breadth but makes up for it in wackiness and style. Fans of the anime will likely enjoy it, but fighting game fans in general will most likely pass this one by. There just isn't enough here to make it stand out among the crowd. One thing I can say about it though is that nothing is ever likely to be as bonkers as far as fighting games go…oh who am I kidding?

Kill la Kill the Game: IF has fun gameplay and a very appealing visual style, but it is let down by its inaccessible story mode and lack of content to incentivise prolonged play. The small cast of characters is forgivable because of how unique and fun each one is to play, but it's difficult to justify buying this at the full retail price when it runs so light on content. Nevertheless, the fanservice and unmistakable Kill la Kill flair is likely to delight fans, but aside from a few amusing unlockables in the gallery mode, there is little to sustain them beyond playing online.
The game Kill La Kill IF is lots of fun and the story is great.
I love the anime and now this game.

The combat is simple yet very intricate if and when you practice with them. The characters are balanced when you've found their style. The

The combat is simple yet very intricate if and when you practice with them. The characters are balanced when you've found their style. The story is short, but very exciting if you're a big Kill La Kill fan. You will not regret getting this game. There is a fighter for everyone, if it be a tank or a quick fighter. It's an awesome anime game!

…

Expand

The game itself is great, it features all the main characters, the official voiceactors and great gameplay.
The story however is a bit short,The game itself is great, it features all the main characters, the official voiceactors and great gameplay.
The story however is a bit short, with just about 4 hours and only a handfull of maps....
The other content is a rather standart but fun versus mode, a trainiing mode, a survival mode and an online multiplayer

…

Expand

The game runs pretty well. It looks exactly the same as if I were playing on my ps4.

Kill la Kill: IF is probably one of the best anime arena fighters to date. The combat is satisfying enough for beginners, which can pull off

Kill la Kill: IF is probably one of the best anime arena fighters to date. The combat is satisfying enough for beginners, which can pull off some spectacular moves just by button-smashing, but is also deep enough for a skilled player to always shine in comparison. The basic inputs are the same for every character, but each hero adds his variation to them, as well as different stats and gimmicks which makes them feel pretty unique. The netcode is very solid, and the ranked system is a true ranked system (you lose points for every loss). The story mode is short (~3-4h total) but sweet, with fully voiced and animated cut-scenes, an alternate story (it requires you to have watched the anime) and a variety of exclusive modes.
The negatives include a pretty small roster of characters (12 total as of today), the boring stages and the fact that you need to complete the whole story in order to unlock everything in other modes. I'm having quite a lot of fun with the game.

…

Expand

Fans should watch "Kill la Kill The Game: IF" of course. All other players get a good presentation and fighting system. Also the beautifully

Fans should watch "Kill la Kill The Game: IF" of course. All other players get a good presentation and fighting system. Also the beautifully staged cutscenes can convince, but the rest of the plot can't. Above all the pure playing time of three hours is simply too little, the eight characters and the six arenas are also disappointed for the content of the game. Two additional and free characters were already promised by the developers. But currently the title should only be bought by fans, what a pity. Because simply too much potential has been left behind.

(https://www.playmoregames.de/post/kill-la-kill-the-game-if-ps4--nsw--pc-im-test)

…

Expand

this game sucks so much and there's only 10 characters because this game as a **** roster this is the story **** and the characters are broken

this game sucks so much and there's only 10 characters because this game as a **** roster this is the story **** and the characters are broken **** this game **** you creators

…

Expand