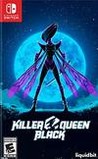 Summary:

Fly solo, or team up with three of your friends as you race to complete one of three possible victory conditions. Killer Queen Black, a new take on the arcade eSport Killer Queen, has been rebuilt from the ground up and optimized for console. The gameplay is immediately recognizable and

Fly solo, or team up with three of your friends as you race to complete one of three possible victory conditions. Killer Queen Black, a new take on the arcade eSport Killer Queen, has been rebuilt from the ground up and optimized for console. The gameplay is immediately recognizable and familiar, yet it introduces exciting new twists and online play for the home audience. Killer Queen Black is the follow up to Killer Queen that fans have been begging for.

…

Expand
Developer:

Liquid Bit

Genre(s):

Action

,

Action Adventure

,

General

,

Arcade

# of players:

Up to 8

Cheats:

On GameFAQs

Available On:

Stadia

Rating:

E10+
Please enter your birth date to watch this video:
You are not allowed to view this material at this time.
Killer Queen Black - Announcement Trailer | E3 2018
I can't really give it more of a ringing endorsement than saying this: it has the potential to be the definitive online multiplayer experience of 2019, and that's coming from someone who plays Tetris 99 every single day. If you can get friends together, local or otherwise, you're guaranteed an awesome time. Dynamite with a laser beam, indeed. My mind's already blown.

Killer Queen Black offers a compelling multiplayer experience for both the lone player seeking glory in the online modes and groups of friends who just want to have fun. The game is easy to pick up, yet challenging to master, as the ways in which the different aspects of the game mesh together means that the player can never be complacent in their methods. Killer Queen Black is an incredible multiplayer title and it has more than earned its shot at the big time.

Black is a little different from the Killer Queen I was used to. But it's still Killer Queen, and that makes it one of the best multiplayer games around.

Even if you aren't big into competitive multiplayer titles, the combined strategy and absurdity that accompanies playing with friends and strangers alike is a joy to be had.

With only a scant amount of truly unique experiences coming to the few reaming arcades in America, it is great that Killer Queen Black exists. This is an experience that you won't get anywhere else, and it deserves to go beyond its current cult status.

Killer Queen Black is a fun and faithful recreation of the original arcade title. While the aspect of simulating ideal 4v4 local multiplayer matches has its technical issues, the transition from the arcade to home consoles surely doesn't lose any of its competitive addictiveness.

Killer Queen Black is a surprisingly superb mix of action and strategy in a 2D arena. Levels, game modes and character choices are rather limited after repeated matches, but the action and strategy are enough to keep players invested simply by having a good time. Killer Queen Black is an exceptional choice for gamers that want quick fun in a 2D space.
I played this at E3 a couple years ago, and it was fantastic! It is so well polished and FUN! Highly recommended - 10/10!

Killer queen black expands what is good upon the arcade and improves it dramatically. The developers keep working to make sure their

Killer queen black expands what is good upon the arcade and improves it dramatically. The developers keep working to make sure their clientele will receive the best possible game. For a cheap price you will have great multiplayer fun!

…

Expand

Really great community on discord and friendly players willing to help players grow and improve. Competitive scene and Indy Gaming League is

Really great community on discord and friendly players willing to help players grow and improve. Competitive scene and Indy Gaming League is amazing with people streaming fights on twitch and announcing them. If you like competitive games that you can hop in and play quick at any time this is my favorite one since smash Bros on the N64, only can play this one online. Game is still evolving and is a great time to join.

…

Expand

I have been watching this since it was announced at E3 in 2018. It did not disappoint. Deceptively simple and surprisingly complex all at

I have been watching this since it was announced at E3 in 2018. It did not disappoint. Deceptively simple and surprisingly complex all at once, KQB really makes teamwork fun. I have not enjoyed a game in some time and I hope the community continues to grow. KQB deserves to be recognized!

…

Expand

Very polished game. Quite a timesink too, matches are short, so "one more game" is strong in here. Easy to pick up and play, hard to master.

This game is really, really fun. It doesn't have much depth, but every match still manages to be fun and engaging.

It feels like this game really came and went. It's essentially just a multiplayer-only game, it has bots that you can play with but I found

It feels like this game really came and went. It's essentially just a multiplayer-only game, it has bots that you can play with but I found the bot play to be boring and mediocre. You can tell how local multiplayer is essentially what would make this game fun, the online capability is there but it's got such a small community that unless you are really invested in playing with a group of gamers you will probably just wait around until you are matched with people way out of your league. To top it off the game always has a zoomed out look to it so unless you are playing on a TV it's a bit straining to look at. In the end this game simply feels useless on my Switch Lite and it's community just doesn't seem to be there.

…

Expand