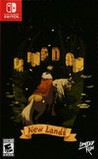 Summary:

Tales spread of far off isles with mysteries waiting to be discovered. Rulers will need all the strength of their subjects to sail away and find new kingdoms in these New Lands. Kingdom: New Lands builds upon the award-winning gameplay and mystery of Kingdom by introducing an abundance of

Tales spread of far off isles with mysteries waiting to be discovered. Rulers will need all the strength of their subjects to sail away and find new kingdoms in these New Lands. Kingdom: New Lands builds upon the award-winning gameplay and mystery of Kingdom by introducing an abundance of new content to the IGF-nominated title while maintaining the simplicity and depth that legions of monarchs have come to experience and enjoy. Travel to the New Lands and welcome the deluge of new mounts, merchants, and vagrants that call these isles home, but be wary of the new obstacles that threaten your arrival -- for not just the greedy creatures block your way but even the environment itself can defeat you. Kingdom: New Lands asks you to puzzle things out on your own. You'll come across items, NPCs, and mysterious statues to help you but you'll have to figure out just how exactly they'll aide you in building and defending your Kingdom. [Nintendo]

…

Expand
Genre(s):

Strategy

,

General

# of players:

No Online Multiplayer

Cheats:

On GameFAQs

Rating:

E10+
Kingdom: New Lands is the same survival simulation game you'll find on Steam, but it feels even more at home on the Nintendo Switch. While the lack of tutorial and clearly defined goals can potentially lead to frustration and some difficult first starts, Kingdom's simple controls lead you right into an incredibly engrossing game. The gorgeous pixel graphics shine on the Switch's screen, and the changing of day to night, and summer to fall is not only visually stunning, it's an ever present reminder that winter is coming. Based upon the principle that nothing lasts, with each new game Kingdom asks: How long can your crown survive?

I have immensely enjoyed my time with Kingdom: New Lands. The set up of randomly generated island variations makes every playthrough both exciting and scary, and the feeling of branching out and fortifying your base is very satisfying. This is not a very action-heavy game, but more a dynamic adventure with the highs of triumph and the lows of defeat all wrapped up in a beautiful simulation game. With a great challenge, subtle and organic strategy and a gorgeous presentation, Kingdom: New Lands brings an excellent title to the Switch, one you won't want to miss.

Kingdom: New Lands is a great experience. At a first glance, it looks like a kingdom management game with a very simple gameplay premise; carefully built with an astonishing beautiful pixel art style. Under its subtle design philosophy, though, lies a deep experience that is both frustrating and fascinating.

A deceptively simple idea that can become laboured and bewildering as well as oddly compelling, Kingdom: New Lands is certainly a curious take on the strategy genre. Its ambiguous, incredibly minimalistic nature will initially intrigue and could easily frustrate in equal measure. Fans of roguelikes or tower defence-style games may prefer more complexity, as the simple mechanics give you control over choices rather than actions and rely on astute observation and perseverance, rather than on skill or improvisation. There is a balance to learn and a set of rules to be discovered, but even with the admittedly gorgeous aesthetic - and progressing beyond the initial stages to where the dilemma of ambition over security ramps up - it may still not be enough of a pay off to reward your time. Definitely one to consider, albeit carefully.

When it hits those lows, it's not unplayable, but it's dang close. I'm more apt to put it down after a particularly choppy run, but I still find myself coming back to it after a while. Despite its technical flaws, I still want to see all of the different areas, and learn all of their secrets.

Kingdom: New Lands may look impressive and feature a very immersive sound component but the game's limits become visible early on, when its simplicity turns more into an obstacle than an asset. The feeling of repetitiveness also becomes dominant early on, which doesn't contribute for an experience that at first seems to set the stage for something grand and ambitious.
At first it can be frustrating and hard. But once you crack how this game works it is compelling and addictive. I had a lot of enjoyment with

At first it can be frustrating and hard. But once you crack how this game works it is compelling and addictive. I had a lot of enjoyment with this game.

…

Expand

Simple. Mobile. Challenging. At first it seems repetitive, but the more time you put into it you find yourself fine tuning your expansion

Simple. Mobile. Challenging. At first it seems repetitive, but the more time you put into it you find yourself fine tuning your expansion strategy. With every failure and lost crown comes knowledge for future success. Definitely worth the 15 bucks.

…

Expand

This review contains spoilers

, click expand to view

. KINGDOM: New Lands es un juego de estrategia/gestión de perspectiva lateral, con un diseño visual pixelado muy hermoso.

El juego consiste en crear una especie de pueblo y defender la misma de una horda de atacantes los cuales asediaran tu pueblo por las noches, de modo que se generara una dinámica la cual durante el día deberás mejorar las defensas o explorar el mapa mientras reclutas nuevos soldados y por la noche ver como estos defienden tu pueblo de las hordas de enemigos las cuales se irán haciendo mas grande cada día y te forzara a estar cada día mejorando tus defensas así como reclutando mas soldados, el juego funciona con una "moneda" la cual la recolectan tus soldados durante el día a través de la caza y es el centro del gameplay de este juego, todo en el juego gira entorno a estas monedas al punto que si te quedas sin monedas y te atacan la "cosas" te veras en una situación muy apretada.

El juego funciona por un sistema de día y noche el cual gradualmente aumenta la cantidad de enemigos, así como la forma en que estos atacan y la clase de los mismos, por ende, llega un punto en que tu única solución es preparar tus cosas para ir a otra isla y volver a empezar todo de nuevo, aunque avanzando un poco mas en el juego desbloquearas una forma de hacer frente a estos enemigos, lo cual nos lleva al sistema de desbloqueos, cada vez que cambias de isla en la nueva abra una especie de desbloqueable, el cual puede modificar el gameplay del juego en diversas formas como cambiando la montura que llevas así como poder construir nuevas defensas entre otros aspectos. es una sistema lineal que no se hace para nada aburrido y te mantiene atento al mismo.

…

Expand

This game is beyond addictive, and is a game I find myself playing over and over again! Simplicity is key here; the game uses very simple

This game is beyond addictive, and is a game I find myself playing over and over again! Simplicity is key here; the game uses very simple mechanics, and the faux-Tower Defense style gameplay in order to hook the player, and the fun just continues. If you're looking for a game you will pick up and play over and over again when you have 15 minutes or 2 hours available, then this is one title to look into. Basically, you pick up coins from your mini-economy (hunters and farmers) and use that to build up your town's defenses as you attempt to move onto the next level. The biggest issue I have with this game is that as the difficulty progresses form night to night, you aren't given any variety in defenses. All you can do is make more archers or catapults. Although, the point of the game is to move on as quickly as possible, and you aren't supposed to just hole up in your camp, but some more units would have added some flavor or strategy, when in reality the game is about how quickly you can get more coins. Still very addictive and fun!

…

Expand

This game is quite addictive, quite beautiful, and quite original... but the difficulty curve and lack on instructions, tutorial, or online

This game is quite addictive, quite beautiful, and quite original... but the difficulty curve and lack on instructions, tutorial, or online manual is almost enough to push it to 7/10.

It's not an expensive game. Not at all. And it is well made. But it falls victim to that classic trap where the desire to make a quick game you can pick up and put down, without sacrificing depth or presentation, leaves you with little to learn from at the onset.

Yes, it might have impeded the flow of the game to include more in-depth tutorials directly into the game. But the developer couldn't include some kind of readme file in the options menu? As far as I know, there's not even any kind of manual on the dev's website. And that's frustrating. But if you're willing to put in the time, it's an incredibly solid experience that can be highly rewarding.

…

Expand

The game is a fairly quick and simple to learn game, but takes some time to master. I played the original Kingdom, and after beating the game

The game is a fairly quick and simple to learn game, but takes some time to master. I played the original Kingdom, and after beating the game a few times, it just wasn't enough to go back to, but the new lands expansion adds a lot to the game. It has a nice pace of adding in new features, and these features usually are combined with new challenges. The game doesn't explain anything, but you pick up on details pretty quickly. You will probably fail more games then you win, but starting a new game is pretty refreshing, the worlds are procedurally generated so there can be a bit of start hunting for the perfect setup, but overall the maps aren't too hard.

The worst part of the game is the way it increases challenge, you have to be very certain of making choices, they can't be undone. Sometimes you will make a choice and just have to live with it, but again, the games can be quick to get back in to. You just learn from your mistakes, and that's okay.

I just wish they would let me choose my queen! I don't want to cycle through randomly generated queens and kings, I just want, MY QUEEN! :) It's just a few colors and 2 genders, but I always feel the need to roll the same blue dress with a dark horse, let me have it!

…

Expand

At first I found myself surprisingly addicted to this game. However, I can't get past the second level because multiple times now I've had

At first I found myself surprisingly addicted to this game. However, I can't get past the second level because multiple times now I've had game-breaking bugs related to builders not cutting down trees or building walls.
If not for that I would have kept going, but regardless, the game is way too simple and tedious. There's just not much to it. It's not very consistent and many things are unclear, like who is the guy that spawns at a level 4 base? Some kind of tax collector who doesn't collect taxes? Why does the trader sometimes charge me a coin and sometimes doesn't, and just how long does he have to sit in my base before he drops money, and how much longer before I can pay him to leave?
A lot of stuff is just poorly designed. Level 1 farms never produce money. You can't tell an archer to get out of a tower, even if the tower is not useful at all. Why is destroying the trader and destroying villager spawns an option? Sometimes you will have to because the randomly generated levels will generate very poorly (they often do).
The absolute worst part is the traveling. You have to be constantly traveling, which takes a long time. Your horse can run, but he has to rest for longer than the amount of time he can run (or you can stand still for 5 seconds to eat some grass as long as there are no trees within 100 miles). The game looks nice at first, but it's the same crap over and over. There will be huge stretches of screen with nothing in them at all. Your territory can be huge, but there's hardly anything to put down in it. You can make farms, walls and towers, that's it. You can pay an archer shrine to power up your archers. You run around. Just so shallow.
Even free would be too high a price for so much wasted time.

…

Expand