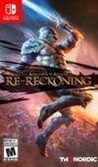 Summary:

The hit RPG returns! From the minds of the bestselling author R.A. Salvatore, spawn creator Todd mcfarlane, and Elder Scrolls IV: oblivion lead designer Ken rolston, comes kingdoms of amalur: re-reckoning. Remastered with stunning visuals and refined gameplay re-reckoning delivers intense,

The hit RPG returns! From the minds of the bestselling author R.A. Salvatore, spawn creator Todd mcfarlane, and Elder Scrolls IV: oblivion lead designer Ken rolston, comes kingdoms of amalur: re-reckoning. Remastered with stunning visuals and refined gameplay re-reckoning delivers intense, customizable RPG combat inside a sprawling game world. Uncover the secrets of amalur, from the vibrant city of rathir to the vast region of dalentarth to the grim dungeons of the brigand Hall caverns. Rescue a world torn apart by a vicious war and control the keys to immortality as the first Warrior ever to be resurrected from the grips of death.

* Build the ideal character for the most intense combat, choosing from a countless combinations of skills, abilities, weapons and pieces of armor
* The revolutionary destiny system allows you to continuously evolve your character class to your style of play
* Seamlessly Integrate magical and melee attacks as you take on scores of enemies in grand fight sequences and finish them Off with brutal fate shift kills
* Extend your experience in amalur with all DLC from the original release, from teeth of naros to Legend of Dead kel and more!
* Hundreds of hours of RPG play await! Travel from the vibrant city of rathir, to the vast region of dalentarth, and the grim dungeons of the brigand Hall caverns as you uncover the secrets of amalur!

…

Expand
Developer:

Kaiko

Genre(s):

Role-Playing

,

Action RPG

# of players:

No Online Multiplayer

Cheats:

On GameFAQs

Rating:

M
Kingdoms of Amalur: Reckoning has a special place in my heart and I would recommend it to anyone - and the Switch version is no exception.

The idea of the open world RPG has greatly expanded over the last several years, and it's perhaps that aspect where Kingdoms of Amalur has lost a bit of shine. But I think there's a certain charm to its big-but-not-too-big areas, and the impressive amount of polish and high quality of the creative components combined with the satisfying combat make for a solid adventure that will keep you busy for quite a while.

Kingdoms of Amalur: Re-Reckoning brings back to our day a marvelous RPG but instead of remaking it, this remaster adds some improvements to the original formula, rather than trying to rejuvenate its appearance. The result, which includes all the original game's extra content, is an effort whose gameplay experience fits perfectly today, and whose frantic combat and vast world to explore will captivate both the players who know the original and those discovering it now.

Kingdoms of Amalur: Re-Reckoning on Nintendo Switch is a decent remastering effort of a game that, while largely excellent for its time, hasn't aged flawlessly. Some of this is the unavoidable battering of time, but other things, such as the lack of a target lock, feel like improvements that could have, and should have, been implemented. Approaching Kingdoms of Amalur: Re-Reckoning from an entirely modern perspective, therefore, will likely lead to some frustration. However, if you can put yourself in the necessary headspace, Kingdoms of Amalur: Re-Reckoning is an enthralling, though flawed, adventure that perfectly encapsulates a very specific era in game design history.

How much you get out of Kingdoms of Amalur: Re-Reckoning is really going to depend on what you expect from it. It's a familiar fantasy action RPG, but comforting in that familiarity and easy to just lose yourself in. It may have been overshadowed by the games that have followed in its footsteps in the decade since Reckoning first came out, and Open World: The Game has well overstayed its welcome by now, but Kingdoms of Amalur finds the right balance of simple fun and routine yet satisfying RPG loops to make that format work, even today.

Kingdoms of Amalur: Re-Reckoning hasn't aged well when it comes to its presentation, and while the core of the game makes it quite playable, its less impressive elements prevent it from being a must-play if players missed it in 2012. It's not a bad title - the foundation of the game is too good, even years later, for that - but it's lost some of its greatness over time, and for those who haven't experienced it before, it seems like it might be difficult to discern why people enjoyed it back then. Old fans of Kingdoms of Amalur will no doubt enjoy revisiting it on Nintendo Switch, which is the best way to experience it given its smooth processing and portability - but it's a tougher sell for newcomers, who will have to decide if a now-by-the-book RPG experience is worth it for a still-excellent story.

There's nothing wrong or broken about Kingdoms of Amalur: Re-Reckoning on Switch, it's just an uninspired experience that pales in comparison to the genre greats.
This review contains spoilers

, click expand to view

.

I can't praise this game enough. This is a fantastic open-world RPG with great graphics, amazing colors, and fun story. Being new to Kingdoms of Amalur Reconing and Re-Reconing , I have no frame of reference when it comes to the playability on other consoles. But this game stays true to classic RPG fashion and gives the player control over difficulty, camera angle, and other settings to create a good experience for everyone.

…

Expand

Es un excelente juego tiene mucha duración y buen sistema de batalla recomendación

This game deserves more appreciation. I still find the graphics impressive even though its a remaster of an old game. Gameplay is nice. Rpg

This game deserves more appreciation. I still find the graphics impressive even though its a remaster of an old game. Gameplay is nice. Rpg element is nice. Will update if I encounter bugs and crashes that the others are talking about. But for me so far so good.

…

Expand

Not as good as Skyrim or the Witcher, but def scratches that hack and slash RPG itch. It's an old port, but I never played it when it came out

Not as good as Skyrim or the Witcher, but def scratches that hack and slash RPG itch. It's an old port, but I never played it when it came out and bought it on a whim and have already sank over 24 hours into it.

…

Expand

Excellent game. Plays very similarly to the PC version, runs at 30FPS, very few FPS drops which are -for me at least- not very noticeable or

Excellent game. Plays very similarly to the PC version, runs at 30FPS, very few FPS drops which are -for me at least- not very noticeable or bothering for a switch-port.
About the game itself, great fantasy setting, awesome soundtrack and the battle system is fun.

…

Expand

Full of magic and dialogs, the game is the fantasy RPG I was dreaming about as a kid.
But the amount of bugs is... overwhelming

How on Earth are people able to rate this game so highly? Not because it's bad, as it's actually quite good; I always felt KoA didn't get its

How on Earth are people able to rate this game so highly? Not because it's bad, as it's actually quite good; I always felt KoA didn't get its fair shake. No, I'm curious how people are rating the Nintendo Switch version as anything but a zero, let alone 8, 9, and 10s, as the game is hopelessly bugged and broken.

First off, a faction quest began dropping more crashes than it was loot. Specifically, certain dialogue breaks the game, as once you find a dialogue option that causes a crash, it always will, at the exact same time, on the exact same syllable spoken at the time. Then the final boss for that faction decided she stood no chance against me, and crashed the game anytime I try initiating the final dialogue she gives before her fight. You can't even skip through it; the crash comes almost immediately. This was highly aggravating, but it was a faction ie side quest. Plenty of more unbugged game to play.

Then I decided to give a codex to an elven king. This is FAIRLY early in the main story. An entire cutscenes triggers, and crashes in the first spoken sentence. Again, it will crash at the EXACT same moment. In case you missed the key words MAIN STORY, let me reiterate that. This is the main story. The cutscene has a long, silent beginning so you CAN skip this one, at least. However I consider that even less of a fix than skipping the previous incident: at least that was something option. This is, ONE MORE TIME, main quest, ie they absolutely did not do any form of QA on this as it's kind of impossible to miss and it happens early in the main story. Or, much more likely, QA testers discovered it but were ignored bc quality is fine and dandy but ship dates pay bills.

In all seriousness I have to assume other, more positive reviewers are just fans of the game as a whole and were optimistically showing it some love, as I cannot convince myself this is a rare, isolated case. I've found two other dialogue sections the crash happens on. That's just too many and too virulent to be rare. I do love this game and I hope the rereleases help give it the boost I always thought it deserved.

However, as of the current date (3/29/2021), do NOT buy the Switch port. Not only is it basically unplayable outside of watching skipped scenes on Youtube as if you're playing off a scratched PS1 disc, but it's VERY obvious quality was either low on the list of goals or missing entirely. Buy another version, or better: Wait if you can. Make them actually bother to fix their mess before you pay them for the clean floors.

…

Expand