Publisher:

Nintendo

Release Date:

Mar 16, 2018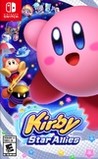 Summary:

The pink puff is backin HDand he's not alone. Kirby is backand he's finally on the Nintendo Switch console in HD. But this time, he's not alone. Recruit enemies by hitting them with hearts and gather helpers for a party of up to four characters. On top of that, you can join with up to three

The pink puff is backin HDand he's not alone. Kirby is backand he's finally on the Nintendo Switch console in HD. But this time, he's not alone. Recruit enemies by hitting them with hearts and gather helpers for a party of up to four characters. On top of that, you can join with up to three friends for a different kind of team-up action. Recruit up to three enemies as helpers by hitting them with hearts. Returning copy abilities include, Sword, Fire, Water, Bomb, Broom and many more. Imbue copy abilities with different elements, such as wind, water, fire and electricity, by borrowing or giving them to helpers to add more attack power, unleash powerful attacks, or solve puzzles. Up to 4 players can join in with the horizontal Joy-Con controller configuration, or 8 Joy-Con with 4 Joy-Con Grips.

…

Expand
Developer:

HAL Labs

Genre(s):

Action

,

Platformer

,

2D

# of players:

No Online Multiplayer

Cheats:

On GameFAQs

Rating:

E10+
Please enter your birth date to watch this video:
You are not allowed to view this material at this time.
Kirby Star Allies - Nintendo Direct Trailer
Kirby: Star Allies is an all-together pleasant game. Which is especially needed, both in the Nintendo Switch library and in the current climate of 2018. We need something simple and enjoyable that brings a smile to our faces. We need a game we can play with anyone we know, without worrying about possible barriers. It is a delight, and Switch owners will definitely appreciate adventuring with their buddy again.

Kirby Star Allies offers an interesting story, a good length and above all gameplay and mechanics that are truly fun, and some of which are innovative. The multiplayer game is very entertaining and has a good variety of modes.

Kirby Star Allies is a fun little game with a lot of interesting characters, amazing new powers, great gameplay and an old-new mechanic that keeps players guessing and makes it a fun party game. Those of you who want a challenge might want to look elsewhere but those of you who are looking for fun should definitely check this game out.

Kirby is back and it's as charming as ever, but this adventure isn't as good as the best ones in the series. It is a good game, but it's way too easy (even for a Kirby game) and a little uninspired.

Kirby Star Allies is entertaining, but as usual Kirby doesn't offer any real challenge for the hardcore fans of the genre. Still, using a group of characters at the same time is great fun.

While it lacks the substance to properly satisfy longtime Kirby fans, Star Allies does at least seem genuinely earnest in its underlying belief in the power of friendship. The game is frequently chaotic and a touch under-baked, but it's hard to be too upset at a game where you can break down long-standing bonds of enmity and heal foes with a kiss. Even if it's on the brief and simple side, Star Allies demonstrates the polish and personality you've come to expect from the series.

Kirby's games never seem fair on the enemies but this tiresome and poorly balanced co-op platformer offers little chance of fun for them or you.
Acabei de jogar a DEMO e digo sem medo de errar ... DIVERTIDO COMO SEMPRE !!
Vou comprar a versão física assim que der $$

El mejor juego de Kirby visualmente hablando, sus niveles son un poco faciles pero entretenido. Un juego rejugable sin duda

One of the best Kirby experiences out there and a must have for any Nintendo Fan.

Kirby Star Allies is truly a stunning Game with it's wonderful graphics and story. In the other hand it is really easy, but for a kid's game

Kirby Star Allies is truly a stunning Game with it's wonderful graphics and story. In the other hand it is really easy, but for a kid's game thats just fine.

…

Expand

Kirby Star Allies is a fun game that is what I expected. This is shirt but to the point.. Game is fun for someone looking for a easy no

Kirby Star Allies is a fun game that is what I expected. This is shirt but to the point.. Game is fun for someone looking for a easy no brainer that has that Nintendo stamp. I found the game to be ridiculously simple, however I bought it so I can play with my Wife and some friends who never play video games but though it might be fun to go through. It was fun and did not take that long to complete.. about 5 hours. You do unlock puzzles and there are a few Wii like Multiplayer games which were a pleasant step away from what you have been seeing on the switch.
Overall if money is not an issue and you collect Nintendo game.. grab this game. Also if you have kids or someone who likes games but can't usually play.. this is for them.
Other than that.. wait for a sale. Great game but if you are looking for this as your Nintendo branded switch game.. Get any other IMO over this.

…

Expand

While the fun and enjoyment is still there, it quickly devolves into boring button mashing your way through an easy gaming experience.

Wait for the sale! This is the easiest Kirby game ever; I beat it in 5 hours. Therefore, It should not be $60. I enjoyed the game though, just

Wait for the sale! This is the easiest Kirby game ever; I beat it in 5 hours. Therefore, It should not be $60. I enjoyed the game though, just wish there was a little bit more challenge to it. Get this game for good and fun experience.

…

Expand