Publisher:

Nintendo

Release Date:

Feb 24, 2023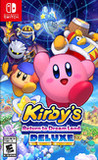 Summary:

The tough puff Kirby is back for a 4-player* platforming adventure. Copy enemies' abilities and use their power to attack with a sword, wield a whip, and float with a parasol. You can also laser blast with the new Mecha Copy Ability that makes a series debut! The extra muscle will be handy

The tough puff Kirby is back for a 4-player* platforming adventure. Copy enemies' abilities and use their power to attack with a sword, wield a whip, and float with a parasol. You can also laser blast with the new Mecha Copy Ability that makes a series debut! The extra muscle will be handy in finding missing pieces for Magolor's ship, which crash landed on Planet Popstar. Float and fight along with friends on the same system, where each player can control another Kirby or one of Kirby's iconic friends like King Dedede, Meta Knight, and Bandana Waddle Dee.

Take a break from the adventure and play subgames with friends

Play attractions built around returning subgames like Samurai Kirby as well as some brand-new ones like Magolor's Tome Trackers. Bring along up to 3 additional friends on a detour from the adventure as you compete on the same system* and share the fun together.

…

Expand
Developer:

HAL Labs

Genre(s):

Action

,

Platformer

,

2D

# of players:

No Online Multiplayer

Cheats:

On GameFAQs

Rating:

E10+
Please enter your birth date to watch this video:
You are not allowed to view this material at this time.
Kirby's Return to Dream Land Deluxe – Nintendo Direct 9.13.22 – Nintendo Switch
Kirby's Return To Dream Land Deluxe is much more than just a remake, offering plenty of new content to fresh and returning players alike. It's impossible not to smile while playing this game, especially alongside friends.

Kirby's Return to Dream Land Deluxe is a quintessential package for newcomers to the franchise. A fantastically realized set of Copy Abilities, swathes of worthwhile content, a great new epilogue, and gorgeously enhanced new visuals make for a timeless experience that's only hindered by a noticeable lack of difficulty.

Kirby's Return to Dream Land Deluxe is entertaining at its core. The game mechanics still feel fresh. It should have had a much more notable graphical improvement and valuable additional content because it looks like a repackaging of the same game that came out more than ten years ago. Despite the mistakes, it is a game worth it because it shows the best of Kirby.

A fantastic platforming game with Nintendo's seal of quality that is now even more fun thanks to the minigames and the new epilogue. The launch price is a bit steep though, so you might want to wait a little before "swallowing it".

The new-old Kirby feels right at home on the Switch, with beautiful graphics, lots of new content that feels like it's always been there, and of course the traditional lighthearted and fun Kirby experience that we love.

Kirby's Return to Dreamland Deluxe remains a fine jump-and-run game that makes mostly anything right concerning new HD graphics and new skills. It is fun to play, as long as you don't expect something very challenging. Also the scope of the game is fine, but especially fans of the Wii original should know that they should not expect too much from the completely new epilogue mode.

An underserved remaster to an unremarkable 2D platformer, that was the primary reason why the soft reboot of Kirby And The Forgotten was necessary in the first place.
Kirby's Return to Dreamland was originally a Wii game. Many Wii games do not hold up well, and Nintendo's recent "Remakes" have not been

Kirby's Return to Dreamland was originally a Wii game. Many Wii games do not hold up well, and Nintendo's recent "Remakes" have not been amazing. They're basically just $60 ports. However, this one looks different. Let's check out Kirby's Return to Dreamland Deluxe.

So as Kirby and friends are lollygagging around, a giant spaceship called the Lor Starcutter crashes down. Inside, an alien named Magolor is sad, because his ship broke and the parts are scattered around Kirby's homeworld, Dreamland. Kirby decides to help, and they set out on an adventure.

It's a 2D Kirby game, at its core. Your goal is to make it to the goal while collecting secrets. If you're new, Kirby can jump indefinitely. He can also suck up and spit out enemies. Some, he can absorb and gain their abilities. There are 2 brand-new ones: Mecha and Sand. Mecha turns Kirby into a cyborg, and it's a lot of fun to use. Sand is my favorite ability. It's so versatile. All the levels are accommodated for them, and they were never broken. The level design is amazing. They are a good length, but never drag on. There are many mechanics and they are never cumbersome. In fact, no level was poorly designed. Also, the bosses are very good. So 10/10 gameplay. It isn't very innovative, but it's still a lot of fun to play, and it's very clean and easy to use.

With the graphics, a big thing is that all the characters are cell-shaded. It's hard to notice during gameplay and it looks very good. The backgrounds and textures are gorgeous, and the game runs at a smooth 60 fps. The graphics are bright and colorful. When I saw a loop-de-loop rainbow, I fell in love with the presentation. As for the music, it has a special Kirby-sound font that I really love. 10/10 presentation. I guess someone could not like the cell-shadedness, but it has an amazing presentation.

There are 3 main modes in my opinion. The main story, a minigame collection called Merry Magoland and the Magolor Epilogue. There are 3-5 collectibles per level, and there are many levels. There's a harder mode after the main story, and 2 boss rush modes. There are also the Kirby staples like the extra games (If you haven't already, play Forgotten Land), the jukebox and theater.Merry Magoland is a minigame collection. It gives me heavy Nintendo Land vibes. There are 120 missions to complete, and you can get masks to wear during it and the story. Finally, the Magolor epilogue stars Magolor after the story. He's lost all of his powers and you need to collect coin-like things in order to get them back. You can do this by getting combos while defeating enemies. This is my favorite part of the whole package. It adds some much needed progression to the Kirby formula. I really like Magolor, and it's great to see him get more development. It even ties into the spin-offs! Also, all of the modes are playable with up to four players. This will take you a while, so don't be worried about it being over too fast. 10/10 on the content.

This remake hovered above and beyond my expectations. I really do recommend it. I'd say it's the best 2D platformer on the Switch! Please check out Kirby's Return to Dreamland Deluxe.

I hope you have a great day!

…

Expand

10/10 me gusta mucho el juego! Los juegos de Kirby son muy buenitos y divertidos. Este juego es bueno para jugar con tus amigos/amigas y con

10/10 me gusta mucho el juego! Los juegos de Kirby son muy buenitos y divertidos. Este juego es bueno para jugar con tus amigos/amigas y con tu familia tambien!

…

Expand

The original Kirby's Return to Dream Land was not a perfect game, it looked great but limited by the wii and RCA cables and in the controls

The original Kirby's Return to Dream Land was not a perfect game, it looked great but limited by the wii and RCA cables and in the controls department limited by the wii mote and the lack of joystick, well this remake fixes all of that and decides to add loads of new content, this is easily my new favorite kirby game and the peak kirby experience

…

Expand

I always loved this game as a kid. The remake improved in many things. It added new cool (and OP) abilities, improved design/graphics, and

I always loved this game as a kid. The remake improved in many things. It added new cool (and OP) abilities, improved design/graphics, and more. But it has it's flaws, such as the outline (that did not bother me, but many people did not like it) and they changed the sound Kirby makes when he gets a super ability
It is still better than the first one, and my favourite game of all times

…

Expand

Perfect Kirby game, better than last entries, for me is much better than Forgotten Land. I think only Superstar Saga, Canvas Curse and Kirby

Perfect Kirby game, better than last entries, for me is much better than Forgotten Land. I think only Superstar Saga, Canvas Curse and Kirby Dream Land 2 are better.

…

Expand

Nintendo and the developers from HAL Laboratory created a great remake for the Switch. The short storyline is fun to play and the familiar

Nintendo and the developers from HAL Laboratory created a great remake for the Switch. The short storyline is fun to play and the familiar characters grow on the player. In terms of gameplay, Kirby's Return to Dream Land Deluxe offers the classic gameplay with some helpful and interesting content. Above all, the new graphics, the fun co-op mode and other good improvements and content makes the title very good and a joy to play. However, the price raises a bit of a question mark, as a cheaper rate, in our opinion, would have been better. Still, with Kirby's Return to Dream Land Deluxe, you get another great and playable game for your Nintendo Switch.

…

Expand

Incredibly boring 2D platformer. You fight the same minibosses 200 times and most of the powerups are redundant and superfluous. I guess it's

Incredibly boring 2D platformer. You fight the same minibosses 200 times and most of the powerups are redundant and superfluous. I guess it's a good game for children but if you're a grownup you're probably going to fall asleep. Also, it's another Wii remaster being sold at full price, which is a BS business practice by Nintendo.

…

Expand