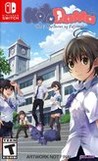 Summary:

Investigate the secrets of Fujisawa Academy across seven chapters of Visual Novel – where each chapter hides the truth to each of the seven mysteries.

• Uncover key words in the game's investigation phase. The more keywords and clues you find, the more potent your power in the puzzleInvestigate the secrets of Fujisawa Academy across seven chapters of Visual Novel – where each chapter hides the truth to each of the seven mysteries.

• Uncover key words in the game's investigation phase. The more keywords and clues you find, the more potent your power in the puzzle phase.

• Nothing is as it seems! Kotodama intentionally plays on classic tropes and clichés to continually twist the story and surprise the player.

• Repeated play throughs will yield new facts within the story. Uncover them all to unlock the true ending and a full gallery of artwork.

…

Expand
Developer:

Art Co., Ltd.

Genre(s):

Adventure

,

Visual Novel

# of players:

No Online Multiplayer

Cheats:

On GameFAQs

Rating:

T
I enjoyed Kotodama a great deal. It's just surprising enough to keep the narrative interesting, and the colourful humour and cheerful fan service certainly help make the game a delight to play. Could it have been more? Yes, certainly. There are plenty of moments in Kotodama that you'll think to yourself that it could have been much more than a straightforward fanservicey romp... but the developers have achieved exactly what they set out to do, and have done so with such precision and panache that it's a real joy to play anyway.

Kotodama is an entertaining visual novel, not very interactive, but ir does have some good ideas. If you like high-school stories, it can be a good choice.

Kotodama: The 7 Mysteries of Fujisawa is going to appeal to a very niche audience, but if you fit into that category, you're probably going to have a good time here.

Kotodama: The 7 Mysteries of Fujisawa brings some recognizable elements to this visual novel and its visual presentation and interesting characters will prove to be appealing points. The same thing can't be said, however, for its overly simplistic puzzles, repetitive soundtrack and especially, its plot gaps, which stand in the way of forming a meaningful, coherent story.

Kotodama could have been a perfectly fine mystery school adventure if it didn't leave you blindly groping in the dark through repeats of repeats for a tiny morsel of fresh content. Failing that it could have been a decent brain-teaser if only it had the depth of even the most casual of free-to-play phone puzzlers. It could even have been an actually erotic visual novel if your lead's "People I've met but without their clothes on" fantasies ever went anywhere, real or imagined. Kotodama is in every way too much of not enough; the individual elements do not work well on their own nor gel together to form something new and there is no unique fusion going on here, nor even a basic feeling of quality to the individual elements. Pick whichever part intrigues you most about this title then seek it out elsewhere.
Amazing game, this game changes the way I view life. Although I initially bought it because it was on sale, I now will recommend it to all my friends

Juego con una historia bastante entretenida y personajes carismáticos. Aparte lo conseguí en oferta por menos de 1 dollar, y para mí vale

Juego con una historia bastante entretenida y personajes carismáticos. Aparte lo conseguí en oferta por menos de 1 dollar, y para mí vale mucho la pena. Cuando entras a jugar el puzzle del Kotodama se pone bastante divertido, ya que debes analizar bien tus movimientos para hacer el mayor daño posible y así dejar a las chicas en ropa interior (también hay chicos y también los puedes dejar en ropa interior) . Mucho fan service para cualquier género.

…

Expand

Loved it! The game reminded me of Doki Doki Literature Club, but with less horror elements and fourth wall breaks, and more mystery (go

Loved it! The game reminded me of Doki Doki Literature Club, but with less horror elements and fourth wall breaks, and more mystery (go figure), twists and turns. The visuals are great, love the voice acting, and the characters are done well. The Bejeweled-like puzzles is different, but I liked it. For about a week I was hooked on this game. I was obsessed with revealing the secrets of each characters and where the story would go. I was thoroughly sucked into the world and invested in the story. There were times when I was stuck, but I refused to look up what to do. I managed to figure out everything and got the true ending, which was somewhat satisfying, but I want more. I hope to see a sequel, or at least more games like this. I don't play many visual novels, but I'm glad I gave this one a try, and now I'll be searching for more!

…

Expand

Pour une première expérience dans le développement et la création d'une licence inédite et originale, PQube s'est inspiré de divers éléments

Pour une première expérience dans le développement et la création d'une licence inédite et originale, PQube s'est inspiré de divers éléments des meilleurs Visual Novel existants pour nous proposer un thriller adolescent prenant place dans un lycée. L'histoire et le scénario se laissent suivre, notamment par des personnages plutôt bien écrits. Mais le jeu se démarque surtout par son côté coquin assumé, qui vous fera passer pour le plus grand des enquêteurs lorsque vous finirez à résoudre un des 7 mystères du jeu en vous retrouvant avec une héroïne presque nu et toute émoustillée devant vous. Se déroulant sous la forme d'un mini-jeu plutôt amusant, ces scènes d'effeuillage très sexy peuvent choquer certains ou certaines, mais qu'on se le dise, il y a un public pour cela!

À noter que le jeu est intégralement en anglais et qu'il est nécessaire de bien maîtriser la langue pour comprendre les spécificités du scénario. Nul besoin de préciser que le jeu n'est pas destiné à un public trop jeune…

PQube a réussi le lancement de sa première licence. On peut espérer une suite qui corrigerait certains **** défauts et qui irait encore plus loin dans le fan-service.

…

Expand

Kotodama: the 7 Mysteries of Fujisawa es una novela visual entretenida, que intercala su narrativa con fases a lo Bubble Gum. He de admitir

Kotodama: the 7 Mysteries of Fujisawa es una novela visual entretenida, que intercala su narrativa con fases a lo Bubble Gum. He de admitir que no tenia muchas expectativas y me ha sorprendido para bien. La historia es ligera y curiosa, que aunque quizás no enganche todo lo que debería, no me ha aburrido tampoco. Los personajes, aunque no destacaría ninguno, me han gustado, y ha habido un par de giros inesperados. Las fases estilo Bubble Gum, son divertidas, salvo cuando estás obligado a repetirlas varias veces para hacer las diferentes rutas de la historia, que se pueden hacer pesadas. A nivel visual, controles y menús cumple muy bien. Aunque a mi no me importe, hay que destacar que abusa demasiado en la sexualizacion y el erotismo con los personajes femeninos.

…

Expand

I really liked this game. It is a visual novel with an interesting story and characters. It has a match-3 game component that is pretty fun

I really liked this game. It is a visual novel with an interesting story and characters. It has a match-3 game component that is pretty fun and lazy fan service aside only adds to the title.

My issue is I CANNOT get the true ending because of a known bug. I did a lot of research on it and it was supposedly fixed last year but I am seeing it and just bought and downloaded it this month!

I tried all the different ways I could to reach but Devs but got no reply. It had been a few weeks since I have been stuck here so I decided to just YouTube the true ending. It is SO FRUSTRATING because I really was one final "Battle" from the true ending trigger. I missed out on MINUTES of game with this which makes it extra irksome!

I probably would have given this a 4 or 5 except for that.

…

Expand

I think this game is normally about $15, so when I saw it on sale for 99¢ I couldn't resist the temptation of purchasing it for such a deal. I

I think this game is normally about $15, so when I saw it on sale for 99¢ I couldn't resist the temptation of purchasing it for such a deal. I don't typically go for visual novels, but this one has a match-3 puzzle mini-game thrown in every once in a while and I do enjoy those. Unfortunately you have to slog through hours of excruciatingly bad writing between each mini-game. As far as match-3 games go, it's an original take but it takes some getting used to. What's worse, if you fail the mini-game you have to go all the way back to your last manual save (or start over if you haven't saved). Fortunately you can just fast forward through the game to each mini-game and answer branch, but you'll miss key information to actually finishing the damn thing. There are a series of endings, but the game insists you get the one it wants you to get and sends you straight back to the beginning. It's kind of interesting the first time, but then it happens again and again and again. It's just trial and error, the only reward being additional snippets of story before being sent right back to the beginning. Around the 5th or 6th time I decided I was done. I wasn't invested and I wasn't having fun.

…

Expand