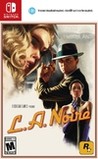 Summary:

Amid the post-war boom of Hollywood's Golden Age, Cole Phelps, an LAPD detective is thrown headfirst into a city drowning in its own success. Corruption is rampant, the drug trade is exploding, and murder rates are at an all-time high. In his fight to climb the ranks and do what's right,

Amid the post-war boom of Hollywood's Golden Age, Cole Phelps, an LAPD detective is thrown headfirst into a city drowning in its own success. Corruption is rampant, the drug trade is exploding, and murder rates are at an all-time high. In his fight to climb the ranks and do what's right, Phelps must unravel the truth behind a string of arson attacks, racketeering conspiracies and brutal murders, battling the L.A. underworld and even members of his own department to uncover a secret that could shake the city to its rotten core. Using groundbreaking new animation technology that captures every nuance of an actor's facial performance in astonishing detail, L.A. Noire is a violent crime thriller that blends breathtaking action with true detective work to deliver an unprecedented interactive experience. Search for clues, chase down suspects and interrogate witnesses as you struggle to find the truth in a city where everyone has something to hide.

…

Expand
Developer:

Team Bondi, Virtuos

Genre(s):

Action Adventure

,

Adventure

,

3D

,

Open-World

,

Third-Person

# of players:

No Online Multiplayer

Cheats:

On GameFAQs

Rating:

M
Please enter your birth date to watch this video:
You are not allowed to view this material at this time.
L.A. Noire Official Trailer 1
Overall, L.A. Noire is a solid release that gives me hope that if gamers support it, we may get some other Rockstar classics in the same vein. Can you image having games like the original Red Dead Redemption or GTAIV on the go?! I can!

L.A. Noire for Switch is simply one of the greatest ports for the console seen to date. It retains all the content from the original versions and adjusts it to the functions of the system in an outstanding way. Maybe the graphics pale when compared with the recent remastered editions, but believe us when we say that playing this game on the go is a complete delight.

Nintendo Switch offers the best version of this remastered Rockstar gem thanks to the use of the touchpad, which gives a new dimension for the investigation parts. A great game that takes us back in time.

Rockstar ports the underrated L.A. Noire over to The Switch and actually adds some interesting new control dynamics to the old title rather than just tossing on some gimmicks. That's a good thing.

If you never played L.A. Noire before is a great time to do it. The Switch version is a well made port from a game that is not perfect but it's unique in its genre.

All in all, L.A. Noire is still an enjoyable story-driven adventure game with an incredible atmosphere. The issues that it had in 2011 are still present, but they're more noticeable today, so it's not as enjoyable as it was back then. It may make more sense for people who skipped it in 2011 to enjoy it in small doses while they're on the go. It is unfortunate that the Switch version is priced higher than the other versions. Players who have access to another platform and aren't interested in a portable gaming experience may be better served by the PC, PS4 or Xbox One version.

L.A. Noire isn't quite an action blockbuster, but more of a serialised crime caper. The slow approach and moments of intrigue are welcome, and ends on an incredibly memorable note. DLC fills out the experience for Phelps fans.
The reason this game gets a 10 is because there is no 9.5, but it's definitely better than a 9. Always been a fantastic game, but this port is

The reason this game gets a 10 is because there is no 9.5, but it's definitely better than a 9. Always been a fantastic game, but this port is immaculate. 1080p docked, full 720p handheld, looks identical to the base PS4/X1 versions, only its portable, it has motion controls, HD Rumble, touchscreen support and new over the shoulder views. Oh, and it's 2 versions in one (killer Switch feature for all games). That's a lot of leverage over the other versions, especially when it's practically identical graphically

…

Expand

Es mi primer juego de Rockstar y de verdad me está dejando muy satisfecho, especial para los amantes del género policiaco, para quienes deseen

Es mi primer juego de Rockstar y de verdad me está dejando muy satisfecho, especial para los amantes del género policiaco, para quienes deseen un juego para pasarlo poco a poco, que los haga pensar y buscar pistas para resolver pequeñas misiones de crímenes.

…

Expand

Fantastic port from PC! Unique game about detectives! Great as all rockstar games.

A very fun detective game, now on the go! So far, I haven't had any issues with the game, at least not any major issues. Sometimes it can be a

A very fun detective game, now on the go! So far, I haven't had any issues with the game, at least not any major issues. Sometimes it can be a bit hard to read people's faces, a big part of the game, but it's good that it's not too easy. It runs pretty well on the Switch, and it's great for on the go or on the couch. Though you will need to either have subtitles, or listen closely to what people say. This is a pretty great game.

…

Expand

"L.A. Noire" fue uno de los mejores y más innovadores juegos de la pasada generación, en su regreso con gráficos renovados y adaptado para la

"L.A. Noire" fue uno de los mejores y más innovadores juegos de la pasada generación, en su regreso con gráficos renovados y adaptado para la nueva consola el juego de investigación de Rockstar vuelve a lucirse pero ahora como juego portátil gracias a las posibilidades de la Switch.
Nos ponemos en el rol del agente de policía Cole Phelps, en el inicio de su carrera en el Departamento de Policía de Los Angeles. El juego nos lleva a investigar varios siniestros buscando evidencias y entrevistando sospechosos. Con la información necesaria es cuestión de nuestra lógica y deducción el poder resolver los crímenes y enviar a los culpables a prisión.
Los controles como siempre son excelentes, la cámara tiene muy pocos fallos pero nada que arruine la experiencia de juego, sin dudas es un trabajo bien realizado como suele acostumbrar la productora Rockstar.
Para quién no lo haya jugado o quiera revivir un clásico, la versión de SWitch es la forma más innovadora de jugar "L.A. Noire", tener una experiencia de consola de sobremesa en un sistema portátil es sin dudas un gran lujo.

…

Expand

It's a good game. Good mechanics, good history, there is no side quest as such. Pretty linear but there is so much room for errors. This

It's a good game. Good mechanics, good history, there is no side quest as such. Pretty linear but there is so much room for errors. This Switch port it's not very good. Check for price deals.

…

Expand

L.A. Noire was a was a very good game last generation that is deserving of a Switch port, but it all falls apart once you see the full on

L.A. Noire was a was a very good game last generation that is deserving of a Switch port, but it all falls apart once you see the full on retail price. This is only exacerbated by the fact that you can get the best version on Steam for only $30 with all the DLC (if you wait for a steam sale you can get it for ~$5-10). If you only use consoles, you can get it on Xbox One or PS4 for $40. Why would you pay $10 more for performance issues on the switch due to once again not being properly optimized. At least we know Rockstar is treating the Switch like PC now and not fully optimizing their games on the platform and can plan to avoid them in the future. For a game this old to have performance issues at this price is unacceptable. In before Switch fanboys ignore all of the performance issues and price jumping all over Rockstar's jock because they finally released a mediocre port of an actual good game (Bully and manhunt 2 being the previous ones) on a Nintendo system... Nevermind, too late.

…

Expand