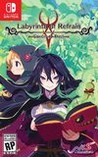 Summary:

Become the living book, Tractatus de Monstrum, and command a brigade of puppet soldiers as you navigate the twisting passageways of the labyrinth of Refrain.

When at your base, prepare for your journey by upgrading your brigade! Create new puppet soldiers, assign them different squads andBecome the living book, Tractatus de Monstrum, and command a brigade of puppet soldiers as you navigate the twisting passageways of the labyrinth of Refrain.

When at your base, prepare for your journey by upgrading your brigade! Create new puppet soldiers, assign them different squads and formations, synthesize better equipment, take requests from townsfolk, and get assistance from Dronya in the form of Witch Petitions.

Once you've entered the labyrinth, be sure to search every nook and cranny as you jump over barricades, solve puzzles, and smash your way through walls to delve further and further downward in search of treasure and rare artefacts. But be careful, the more riches you obtain, the more vicious the dungeon becomes. Can you survive long enough to bring your haul back?

Fight past terrifying monsters by giving orders to your puppet brigade. Change their formation, use special skills, or call for an all out attack! The battles you face will be challenging, so your success depends on your preparation and your strategy.

…

Expand
Developer:

Nippon Ichi Software

Genre(s):

Role-Playing

,

Adventure

,

General

,

Japanese-Style

# of players:

No Online Multiplayer

Cheats:

On GameFAQs

Rating:

M
Please enter your birth date to watch this video:
You are not allowed to view this material at this time.
Labyrinth of Refrain: Coven of Dusk - Official System Trailer | E3 2018
Whether it's the little details, the amount of trust it has in the player to make their own choices - even the wrong ones - as well as the respect to let players deduce its secrets on their own, Coven undoubtedly has become one of my favorite DRPGs of all time. Cryptic requirements for the true ending, some user interfaces quibbles, and other minor nitpicks aside - Coven might not be a perfect game, but for anyone starving for a hardcore DRPG experience with substance behind it won't find themselves disappointed with its journey.

Nippon Ichi continues to be one of the more experimental developers within traditional JRPG genres. Disgaea has always offered a fundamentally different approach to tactics JRPGs, and the two Witch and the Hundred Knight titles did interesting things with the action JRPG. Being different means they're not for everyone, but Labyrinth of Refrain is perhaps the developer's most mature, nuanced, and interesting effort yet.

Labyrinth of Refrain: Coven of Dusk is the dungeon crawler I've been waiting for. The way you build up characters and use them in battle is so incredibly well put together. Everything you do to prepare feels important, and readies you for what comes next. Naturally there are a few things to be said about the story's setup and the not-so-massive enemy count, but this can be forgiven in the grand scheme of things. The game knows what it wants to be, and I gladly spent well close to 100 hours seeing it all through. If you are looking for a game that will keep you going, Labyrinth of Refrain has your back.

The first-person dungeon-crawling RPG genre has produced its fair share of obtuse and needlessly difficult titles over the years, but Labyrinth of Refrain: Coven of Dusk remedies this by offering an easy-to-master battle system, silly characters and the ability to modify the difficulty of its dungeons. While its cutscenes are a little too self-indulgent in length, the voiceover work is surprisingly decent and although some story moments take the occasional questionable turn, Nippon Ichi has conjured an intriguing world to inhabit. The design of the dungeons can be a little repetitive, but Labyrinth of Refrain: Coven of Dusk is still a great way for newcomers to try out this age-old genre.

Labyrinth of Refrain: Coven of Dusk features engaging and complex gameplay systems, as well as a combat that is fast and compelling and more signs of quality in a production of this level. While those who are not into JRPGs will find it difficult to appreciate this game, those more versed in the genre will see here a quality and good performing game.

Sadly, Labyrinth of Refrain is a game far too convoluted with illusionary depth to be considered wholly enjoyable. With a dispensable story, poor mid-game communication (that often feels like a deliberate attempt to waste player time) and a hefty number of interfaces requiring a fair amount of cleaning up, Nippon Ichi's attempt to alternate from their usual Disgaea forte, though intriguing in a few areas, ends up being frustrating and cumbersome to the point of cancelling out the enjoyment it initially creates.

Although Labyrinth of Refrain: Coven of Dusk presents itself well enough, it ultimately falls short due to the incredible lack of pacing, a roller coaster of a difficulty curve, and generally not that engaging gameplay. Combat is mindlessly repetitive, exploration tedious, and progression is severely stunted. This is the culmination of too many moving parts that are for show, but don't achieve any real goal.
Etrian Odyssey's old school dungeoneering PLUS + Disgaea's love for huge numbers (characters/squads/stats) + Superb music/voice/artwork +

Etrian Odyssey's old school dungeoneering PLUS + Disgaea's love for huge numbers (characters/squads/stats) + Superb music/voice/artwork + Automapping/Shortcuts

= Labyrinth of Refrain~

Personally, if the dungeon layouts are randomly generated each play-through, it would be perfect. Still a solid 10 for me for its rng loot, deep content and overall quality.

…

Expand

I signed up for a metacritic account because this game was so good I had to give it a 10 on here. This is probably the best RPG I've played in

I signed up for a metacritic account because this game was so good I had to give it a 10 on here. This is probably the best RPG I've played in years, and definitely in my top 5 of all time. I'm a big fan of Etrian Odyssey, Disgaea, etc. etc. and this game is definitely a lot like those in many ways. The story, voice acting, animations, music, sound effects, and gameplay are all superb. The end game grind wasn't too bad either. I'm not sure I have anything bad to say about the game to be honest. Maybe they could have improved navigating around the menus a bit. I would have loved a bit more endgame, for example maybe as the one reviewer said a randomly generated dungeon or something a bit more rogue-like. Really hoping the have a sequel to this one!

…

Expand

Presentation. 8/10
Graphics TV. 8/10
Graphics Handheld. 8/10
Music. 7.5/10
Controls. 9/10
Fun-factor. 7.5/10
Score. 7.8/10

It's... ok. If you liked Etrian Odyssey, you might kinda like this one, but it's not as good as EO.

The cutscenes are terrible and I findIt's... ok. If you liked Etrian Odyssey, you might kinda like this one, but it's not as good as EO.

The cutscenes are terrible and I find myself skipping them now. The character generation is great. The combat is fine. The music is mediocre. The interface and menus are horrible (EO does twice as much with half the space). The price is ridiculous and indefensible.

There's just not much there to grab me, but I'll update as necessary.

…

Expand