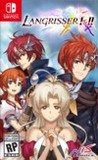 Summary:

Both Langrisser I & II have returned with their classic stories of good and evil now remade in beautiful high-definition visuals, reorchestrated music, and quality-of-life improvements to the gameplay and user experience.
Developer:

Kadokawa

Genre(s):

Strategy

,

Miscellaneous

,

Turn-Based

,

Compilation

,

Tactics

# of players:

No Online Multiplayer

Cheats:

On GameFAQs

Rating:

T
My time spent with the collection was great. Langrisser I & Lagrisser II both are immensely strong strategy turn-based RPG games, which make them so great. Fans who love the likes of Fire Emblem and Advance Wars are in for a treat with this collection. I can't wait to put more hours into this one!

Langrisser I & II is a faithful remaster that brings together two of the most important titles in the history of tactic RPGs. The updated visuals and illustrations of the collection make it accessible for new players, but the mechanics stay loyal to the originals for long time fans. Still, I would have enjoyed more differentiation between the two games because the similarities can be jarring at times. Regardless, this is a great game that offers hours of fun with unique characters and story that is affected by player-choice to dictate the tide of war. I could easily recommend it to anyone looking to scratch the retro SRPG itch.

Nintendo Force Magazine

May 1, 2020

If you're a Fire Emblem fan, there's little reason not to try Langrisser. [Issue #46 – May/June 2020, p. 72]

The appeal of Langrisser I & II is quite limited, and I don't think it's going to grab the attention of the Fire Emblem new converts that the developer was probably hoping to. With that being said, for the nostalgic, and people who like their traditional tactics JRPGs, there's a lot to like here. The re-drawn art is lovely, and while the narrative is a little too heavy on the shallow and cliche, the focus on the battlefield tactics action is certainly a refreshing shift from Fire Emblem's increasingly bold pivot towards being a waifu and husbando simulator.

The Langrisser franchise lands on Nintendo Switch for the first time with a new version of its origin, visually adapted to the console but retaining its classic style. The title will especially please the most loyal fans of SRPG.

We are more than happy to have the chance to replay (Langrisser) and play for the first time (Langrisser II) two seminal SRPG like these ones. That said, the price is a little too high and the remasters a little bare bones.

A blessing for bringing the original two games with the option of playing with the original art style, the soundtrack, plot and most aspects of its gameplay. A curse when it comes to its contemporary art style, which resembles that of a mobile game, technical flaws that make the game extremely slow and a sense that can make the experience a lot less fun than expected. Something to look into, for those who already know what to expect.
I was one of the people who didn't care much for the new art and I still don't but after playing through the game once I am now hooked the

I was one of the people who didn't care much for the new art and I still don't but after playing through the game once I am now hooked the endless new game + mode is amazing since I play langrisser 1 and 2 each year now I can play them every year in new game plus mode with multi path endings and numerous endings for the price you cannot I repeat cannot beat the value of this games replay-ability

…

Expand

i give this a 10 because i loved warsong on the sega genesis, and i like remasterizations of simple but fun action strategy games. what about

i give this a 10 because i loved warsong on the sega genesis, and i like remasterizations of simple but fun action strategy games. what about remastering genghis khan 2 or gemfire both of the 16 bit era ,i still play this game although 25 years have passed, sure fire emblem is the best strategy game on any platform and breath of the wild is the king of family friendly open world games, most modern titles are gore filled games made for psicopats, or cartoony games aimed for little children.LANGRISSER IS SIMPLE STRATEGIC AND FUN

…

Expand

A remake handled in the best way! With options to switch between remastered and classic versions of the music and visuals at any time, being

A remake handled in the best way! With options to switch between remastered and classic versions of the music and visuals at any time, being able to enjoy the new music and artwork while having the function to have a peak at what the game was more similar to back in the 90s is very much appreciated.

It's easy to recommend this game to anyone who likes strategy games, particularly Japanese ones with Anime art styles like Fire Emblem. The defining characteristic of the game is the many alternate story routes. The branching paths in the plot provide tons of replay value and give opportunities for characters to be developed in a variety of ways.

Absolutely loved every second of both games. Adored the classic 90s Anime artwork, catchy & emotional music, over the top dramatic plot lines and memorable characters. If Langrisser III-V get the remake treatment as well, they will be a must-buy for me.

…

Expand

A game that wants you to earn your victory. You'll make tough choices midbattle that may either earn or cost you the battle. The music is

A game that wants you to earn your victory. You'll make tough choices midbattle that may either earn or cost you the battle. The music is nice, the art is glorious and the voice acting suitably over the top. I like modern Fire Emblem a lot, but this old skool pair of gems is pretty damn excellent for totally different reasons. I love it!

…

Expand

It's a good solid 7. Down points straight away. The music is a bit crap. Another problem I have is that it doesn't seem to add up, so more

It's a good solid 7. Down points straight away. The music is a bit crap. Another problem I have is that it doesn't seem to add up, so more down points there. By this, I mean that one of my units can cross the same terrain and end up a grid piece short of an identical unit. Same for attacks. I can attack like for like and one of my units will take loads of damage and another will do loads of damage, even though the conditions and stats were the same.

The game feels nice and I by no means feel detached from it but I also just don't quite get sucked in to the atmosphere. This feels a bit like playing chess, whereas with Fire Emblem, I felt like I was playing out part of the story in battle. It just doesn't have the same emotional tie in.

Good things are the graphics. Nice bright, non depressing colours. Enjoyable battles. It's a lot of fun in general and very addictive. Is it worth £30. No not really but I think £20-25. So it's not far off the mark and it is a great game. I think this game is as good as it can be. It is never a 10/10 game. It's just not of that caliber. It really doesn't compete with the FE series and other great franchises but it's still a great game. Worth the physical purchase for strategy fans and worth a try for those who aren't.

…

Expand

My french review below:
You can Follow me on Twitter : @NintendoLegacy1
Langrisser I & II sont deux RPG-tactiques plutôt bons. Le systèmeMy french review below:
You can Follow me on Twitter : @NintendoLegacy1

Langrisser I & II sont deux RPG-tactiques plutôt bons. Le système de jeu est originales et plutôt différent des pointures du genre sur Switch que sont Fire Emblem et les Disgaea. La grande force de cette compilation est de vous proposer gratuitement (au contraire du Japon) le choix entre les graphismes et les musiques d'origines et les versions modernisés. Gros coup de coeur pour le chara-design d'époque…Le petit point faible du jeu, contrairement à la concurrence, est sans doute sa durée de vie. Comptez une dizaine d'heures pour Langrisser I et une petite vingtaine pour le second opus. Si vous aimez le genre, et si vous pensez avoir fait le tour des ténors du RPG-Tactique présents sur Switch, n'hésitez pas à donner sa chance à cette belle compilation.

…

Expand

This is not faithful to the original games, has changed foundational mechanics, and is at best a re-interpretation / adaptation that is

This is not faithful to the original games, has changed foundational mechanics, and is at best a re-interpretation / adaptation that is inspired from the original games. As an example, there is no 'Treat / Heal Command' for commanders (which incentivizes suicidal play from the AI). Instead healing is conducted by spells or by leveling up mid battle. Class branching has also been replaced. Perhaps an audience of gamer wanted these "streamlines" but I think it results in an ultimately weaker experience.
I preordered but will be returning for refund, and just loading up the ROMs.

…

Expand