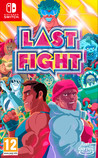 Summary:

Inspired by the french comic book Lastman written by Bastien Vivès and Galak and illustrated by Bastien Vivès & Michael Sanlaville.
LASTFIGHT is still a good brawler on Nintendo Switch, even if it still lacks an online mode.

LastFight lifts the classic gameplay of Capcom's Power Stone series and dumps it into an established comic book universe which it then entirely fails to utilise. It's sorely lacking in game modes and inexplicably fails to provide any online co-operative gameplay options. The AI here is pretty dumb, stages are bland and the central gameplay aspects are hampered by a lack of polish, from attacks that don't feel satisfying to long loading times between every bout. If you've got a bunch of pals who like to get down and dirty with a party brawler you may be able to knock more than a handful of hours of fun out of this one, but if you're playing solo, you'll genuinely struggle to stick with it for any reasonable amount of time.