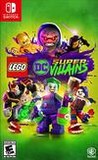 Summary:

It's good to be bad... Embark on an all new DC/LEGO adventure by becoming the best villain the universe has seen in LEGO DC Super-Villains. Players will have the ability to create and play as an all-new super-villain throughout the game, unleashing mischievous antics and wreaking havoc in an

It's good to be bad... Embark on an all new DC/LEGO adventure by becoming the best villain the universe has seen in LEGO DC Super-Villains. Players will have the ability to create and play as an all-new super-villain throughout the game, unleashing mischievous antics and wreaking havoc in an action-packed, hilarious story written in collaboration with DC. Set in an expansive, open world experience within the DC universe, the Justice League has disappeared, leaving Earth's protection to their counterparts from a parallel universe, who have proclaimed themselves as the Justice Syndicate'. It's up to you and a crazy group of misfits to uncover the intentions of Earth's new, strange, wannabe superheroes. Joined by renowned DC Super-Villains: The Joker, Harley Quinn, Lex Luthor, Deathstroke, Killer Frost, Sinestro, and countless others from the Injustice League, players will set out on an epic adventure to ensure their villainy remains unrivaled.

…

Expand
Developer:

TT Games

Genre(s):

Action Adventure

,

General

# of players:

No Online Multiplayer

Cheats:

On GameFAQs

Rating:

E10+
Please enter your birth date to watch this video:
You are not allowed to view this material at this time.
LEGO DC Super-Villains - Official Character Creator Trailer | SDCC 2018
Nintendo Force Magazine

Aug 22, 2019

There is a TON to do here. [Issue #38 – March/April 2019, p. 70]

As you'd expect, LEGO DC Super-Villains doesn't make many attempts to change up the formula that's served it so well for so long, but with a vast library of well-applied and famous baddies to draw from it offers a far more engaging and memorable story than the stretched-too-thin LEGO The Incredibles. However, with a brilliant cast on hand (can anyone really compare to Hamill's Joker?), a vast sandbox hub and all the customisation options you could want in Danish brick form, this familiar playground still has bags of charm.

LEGO DC Super-Villains brings the Lego series back to a Nintendo console and it goes without saying that this is a very welcome return. Thanks to a fun and comical plot, a high number of characters to choose from and major technical progress, LEGO DC Super-Villains keeps the overall quality of the Lego series while adding to it some much needed updating and renovation.

A Lego game with an original story featuring a who's who of DC villains (and a few heroes for good measure), a universe of great locations, and plenty of bricky humor. A few game killing bugs do hinder the overall experience (at least on Switch), but otherwise Lego DC Super-Villains is a blast to play, either alone or with another aspiring no-goodnick.

LEGO DC Super-Villains shows that sometimes it is good to be bad. Of course it doesn't break the LEGO genre mold, but I'm fairly certain everyone who is reading this or buying this game, knows what they're in for. While you have to push through the same tired mechanics, the game's story and stellar voice acting will have you wanting more. Just remember to look out for the Joker and the villains of the night!

If you love Lego games or have younger people around that do, then this game is one of the more fun ones in a while. The overall Lego formula stays the same, for better or worse. But if you're a DC fan they've once again gone all out on their characters, references and voice actors. Lego DC Villains brings together some of the well-known characters and the lesser-known, and chucks them into a decent story to make for a fun time.

LEGO DC Super-Villains distracts from its repetitive and formulaic gameplay with typical LEGO charm, great character interactions, and mirror-sheen polish. Ultimately, however, it's just a nice coat of paint on a framework that's on its last legs.
This review contains spoilers

, click expand to view

.

I love the video game it is my favorite video game. It has everything you want in a video game!!!!! It has everything that's the best in a video game!!!

…

Expand

I love DC. I love Lego. So i tried it out and it came out pretty good! I would highly recommend this game to anyone, even if their are not

I love DC. I love Lego. So i tried it out and it came out pretty good! I would highly recommend this game to anyone, even if their are not really familiar with DC. Anyways, why i gave a 9, and not a 10, is simply because the game is really buggy. I had to leave the level, search for the level so i can join it, and play again. Because there isnt a "retry level" button. That was really annoying sometimes but still doesnt make the game worse!

…

Expand

Lego regresa con una nueva historia para el universo de DC, donde las estrellas no son Batman o la Liga de la Justicia, sino sus villanos. Con

Lego regresa con una nueva historia para el universo de DC, donde las estrellas no son Batman o la Liga de la Justicia, sino sus villanos. Con personajes carismáticos como Joker o Harley Quinn y algunos históricos como Lex Luthor y Siniestro ésta entrega sobresale por la divertida historia y la variada cantidad de personajes por usar como nos vienen acostumbrando.
SI jugaste algún juego de Lego es más de lo mismo, es un juego para chicos en el cual tienes controles simples y acertijos fáciles de cumplir para poder progresar en la historia o desbloquear cosas en el mundo abierto. Todo bien detallado para recrear sitios como Ciudad Gótica y Metrópolis.
Hasta la actualización 1.0.3 tenía problemas para jugar en el mundo abierto de forma portátil con la Nintendo Switch, una vez que cambiaba los personajes cualquier cosa podía hacer que el juego se cierre. Pero con la actualización el juego se volvió fluido, sin errores.
En general es una gran compra para fans de DC Comics o chicos que están entusiasmados con el mundo de los super héroes, el juego no tiene un gran diseño gráfico así que la Nintendo Switch me parece la mejor opción por la posibilidad de poder jugar en TV o en cualquier lado con la tableta.

…

Expand

Solid Lego game which will get you addicted to the Collectathon gameplay. The loading times are painfully slow most of the time unfortunately.

I'm a big fan of the Lego games and I really wanted this game to be better. I didn't love it, I didn't hate it. There were a few glitches. The

I'm a big fan of the Lego games and I really wanted this game to be better. I didn't love it, I didn't hate it. There were a few glitches. The aesthetic was a bit too Suicide Squad movie for my taste. Its fine.

…

Expand

OMG this game is Sh....Poop on switch frame rate is terrible and when Iam playing 30 minutes game crashed