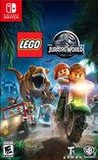 Summary:

Following the epic storylines of Jurassic Park, The Lost World: Jurassic Park and Jurassic Park III, as well as the highly anticipated Jurassic World, LEGO Jurassic World is the first videogame where players will be able to relive and experience all four Jurassic films.
Developer:

Warner Bros.

Genre(s):

Action Adventure

,

General

# of players:

No Online Multiplayer

Cheats:

On GameFAQs

Rating:

E10+
When it comes to the classic-style Lego formula that TT Games is famous for, Lego Jurassic World really captures the magic fantastically. From the charming world to the variety of fun gameplay scenarios, you're bound to enjoy your stay in Lego Jurassic World.

It's the same game of 2015, but now with all the DLCs included and the ability to play it anywhere. A reasonably good port if, as in other LEGO games' ports, you forgive some little issues, like some blurry textures. It keeps the Spanish voiceover, that always is a welcome news (although it's downsampled).

Overall, LEGO Jurassic World is a great love letter both to fans of the Jurassic Park franchise and fans of LEGO games. The strange addition of quick-time events to this entry was annoying, but looking past that, there is still a lot of content to enjoy. It would have been nice to see some Jurassic World: Fallen Kingdom content here too, but considering the game's original release window, it's still a must own for all Jurassic Park fans. Plus, having this package on the go makes the Switch version the ideal platform to play on. This may be just what a family needs in order to tide them over until Jurassic World 3.

If you're a LEGO or Jurassic World fan, then it is easy to recommend LEGO Jurassic World. If you already own it on another system, then whether or not you want to double dip will come down to how much you like it. This is a pretty solid port and the best mobile version of the game. The price accurately reflects that this is not a new game and provides numerous hours of LEGO fun for your hard-earned dollars.

LEGO Jurassic World brings what is expected from the LEGO series to the world of Jurassic Park in an effort that features plenty of humor, amusing moments and a co-op mode that proves just right for a fun two-player experience. Even if there are no significant new elements in this work, LEGO Jurassic World certainly does a good job at providing an enjoyable experience like other LEGO games have done.

While LEGO Jurassic World does nothing particularly 'new' or exciting to distinguish itself from other platforms (other than being portable, which it pulled off three years ago on PS Vita anyway), it's impossible to not be swept up by its charming recreation of the Jurassic saga. With a greater focus on puzzle-solving than combat, even the youngest of players will find it a safe and engaging place to muck around with Danish bricks. Much like every other LEGO release, its relevance to you comes down to your connection to the franchise, but if you have a penchant for clever girls and staying out of the long grass (and you haven't played it already), this port is bound to sink its claws into you.
This is a REALLY fun game to play. I'm not a diehard gamer at all; I liked the Jurassic Park/World movies, and I like Legos enough to play

This is a REALLY fun game to play. I'm not a diehard gamer at all; I liked the Jurassic Park/World movies, and I like Legos enough to play with them sometimes. I figured this game would consist of roaming around a world that had dinosaurs in it, and that is all.

Boy was I wrong! This game is full of challenging puzzles, items you have to find/create in order to move on (sometimes these can take a long time, which makes it all the more challenging and fun).

I would recommend this game to just about anyone; you can become different characters (even dinosaurs), and those characters each have special abilities or weapons that can solve different areas of the game.

The controls are really responsive in the handheld mode; I've not played on the TV yet, so I can't speak for that. I've also not played in 2 player mode, so I don't know how that works either.

This is one game you won't want to pass up.

If you found this review helpful, please leave a thumbs up.

…

Expand

This comes from a LEGO games and Jurassic Park series fan: if you like both too you will very much enjoy this game. The recreation of iconic

This comes from a LEGO games and Jurassic Park series fan: if you like both too you will very much enjoy this game. The recreation of iconic scenes from the movies combined with the silly and fun humor of the LEGO games brings a lot of joy. It may be true that the title doesn't add much to the LEGO formula, but it didn't bother me personally. Also, the game runs and looks great on Switch.

…

Expand

This is a typical LEGO game and I loved it. It plays great on the Switch and is a wonderful addition to the LEGO collection.

The Lego formula gets stale but it's good to have this game on Switch. Although it wasnt the best lego game even when iy was released,

Better than the older lego games, though not as good as the newer ones. The audio clips from the movie are cringeworthy, I think they would be

Better than the older lego games, though not as good as the newer ones. The audio clips from the movie are cringeworthy, I think they would be even if you've never seen it. I'll probably keep giving it a try though.

…

Expand